Last Updated on March 30, 2022 by
Golf carts are an excellent investment for businesses, providing them with everything they need and much more. Golf carts can also offer a better experience to your clients, as well as making the job of your employees easier. Having golf carts around gives customers an enjoyable tour through your course and venues so they will have a positive image of your company in their minds when they leave it.
Regardless, no matter how good a golf cart is, it will still be rendered useless if the battery doesn't give it enough power to run. Like any product, components are what really makes all the difference and choosing one that can provide the adequate amount of power and that is also durable enough considering all conditions including weather or terrain will ultimately determine just how useful or optimal for use your golf cart in particular can be.
Choosing the right cart battery is a tricky decision, especially when you don't have a clue how to go about it. We've reviewed some of the best 6-volt golf cart batteries in order to help any uninformed buyers out there make the best choice they can!
Top 6-volt Golf Cart Batteries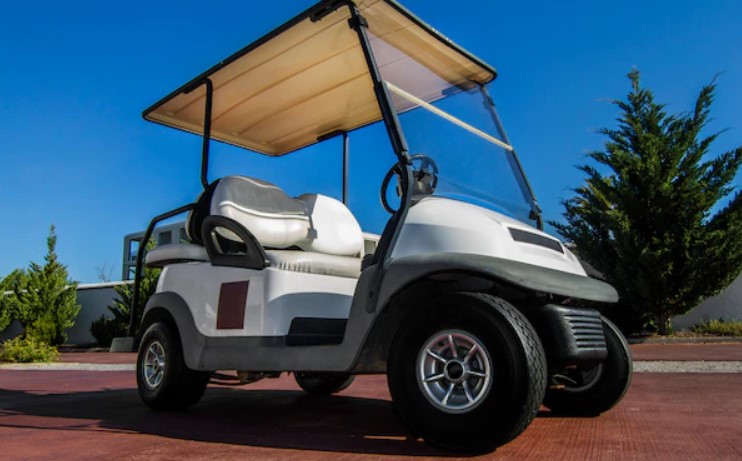 1. VMAX 6-Volt Battery
When it comes to selecting a battery within the powersport industry, there are many different varieties to consider and one of the best is VMAX's by Yuasa.   This battery is also considered heavy duty and has a long lasting quality with their AGM (Absorbent Glass Mat) technology. The VMAX battery is able to be charged very quickly as well as constantly giving off electricity at an extremely low rate of self-discharge thus making it positive for maintaining its initial power.
This amazing battery has been developed with the electrolyte suspension system. You can use this versatile battery for your golf cart, as well as while it is powering another vehicle. We'll say that this product was designed to better meet the performance and longevity consumers have come to expect.
Highlighted Features
Dimensions of the product: 10.2 x 7.1 x 10.8 inches.
Battery's weight: 74 pounds.
AGM technology: For longer durability.
Float voltage: 6.8-6.9 volts.
Cycling voltage: 7.2-7.35 volts.
Pros
Longer battery life
More durability
Fast charging
Spill-proofing
High versatility
Cons
The battery is on the heavy side weight, weighing slightly over 70 pounds.
2. The NP6-225Ah 6V Deep Cycle Battery
We'll be showing you another 6-volt battery today which uses the latest AGM technology. This type of battery comes in different shapes and sizes, including golf cart batteries and other things such as fire trucks, telecommunication systems and much more. The good news is that unlike most batteries of its kind, this one really stands out because it volleys most of the competition with a 100% quality guarantee! So if you're tired of being stuck with unreliable batteries for critical devices in your business, then now's a great time to learn exactly how to trade those in for something that packs quite a punch.
Highlighted Features
Dimensions of the product: 10.2 x 7.1 x 9.7 inches.
AGM technology: For longer durability.
Weight of the battery: 74 pounds.
Hours of the amp: The amp hours is 225. 
Pros
Vibration-resistance
Spill proofing
Warranty
Versatility
Cons
It's on the heavy side, weighing over 70 pounds
Slightly expensive
3. Trojan T-125 6V 240Ah Flooded Lead Acid GC2 Deep Cycle Battery
The last but not the least is the Trojan T-125 6V 240Ah Flooded Lead Acid GC2 Deep Cycle Battery. This amazing battery is built for performance and reliability. If you are willing to have this battery as a valuable addition to your golf cart, then be tension-free because it will serve you well, just like other T-125 batteries from the Trojan Company. This battery is designed to face any situation, including those in which your device might find itself on a golf course! Rest assured, you'll be able to move forward anytime!
Highlighted Features
Dimensions of the product: 10.4 x 7.1 x 10.9 inches.
Deep-cycle technology: Comes with the best deep-cycle technology.
Battery's weight: 68 pounds.
Hours of the amp: The amp hours is 240.
Pros
Extended battery life
Highly durable 
Better structure
Flooded technology
Cons
Slightly heavy, weighing 65 pounds.
What to Consider When Buying Golf Cart Batteries 

Batteries are something that we use in our day-to-day life, and some of them will surely last longer than others. However, every time you put a new one into your product, it won't last forever. This is why we urge you to get the most out of your batteries when they aren't about to expire. If you use your cart for playing golf or any other sport that uses this kind of technology, then you'll find changing your battery more often particularly suitable! 
We don't have any sort of statistics on how long each battery lasts exactly because it's something that can vary from supplier to supplier but at the very least, if you want to make sure – check how much run time they can give you before they're dying? For example: if each battery only gives 5 hours of playback and you're spending half an hour a week going golfing with friends? How long can these batteries hold up before they wear off? It's important to know when it is the right time to replace the batteries! Below are important factors to consider when replacing your golf cart batteries. 
Voltage
The majority of golf cart batteries today will be found to come in six, eight, or twelve volt options. In order to determine which you may require, check your owner's manual to determine what kind of voltages your cart makes use of and whether or not they're compatible with one another.
Amperage
How much electricity you can store in a single battery does not necessarily depend on voltage, but rather amperage. Amperage, or "Amp" for short, is simply short for "ampere" which is a measurement of electrical current flow similar to what we would see on an electric bill. The higher the amperage, the larger amount of time that this battery can last when constant use is involved.
Types of Batteries
When it comes to golf cart batteries, there are three major types used in cars. These battery types include lead-acid batteries, gel-lead acid batteries and AGM batteries. Lead-acid batteries  are the most popular choice and can hold a charge for longer than other choices. If you drive along a bumpy road regularly, these rechargeable batteries are the best for your car as they're very durable. The second type of rechargeable battery you have is a wet-cell one that isn't sealed and needs to be watered every now and again because these don't come with an electrolyte solution like lead-sets do so it's important to keep an eye on their fluid levels from time to time! These batteries may need to be watered more than usual in order to ensure they're functioning effectively. The "Low Power" indicator will come on every so often as a reminder and it's good practice to keep an extra pack of backup batteries handy with you throughout the day.
Terminals and Connections
When it comes down to all the technical figures, opt for a power bank that has at least 2 amps per port and cables with an 2.1-inch diameter. This will help maximize efficiency because the power that flows through will remain consistent rather than a larger cable which would mean the energy cannot flow smoothly through your device and instead results in overheating.
Price
Like any other piece of golf equipment, you need to factor in the cost of new batteries too. High quality ones are an important investment but if you skimp on a cheaper option, the cost could creep up on you down the road when your battery goes out in the middle of your round. Paying more upfront is worth it!
Used Batteries
We know that used batteries can be bought for cheap, but unfortunately using them can make your device less reliable and cause you to lose important data! For example, imagine you are texting on your phone with a friend but the battery is dying. While doing so, you realize your phone has loose contact due to a faulty cord it picked up while being in an accident previously when it was an unused car part. Most likely this will result in something causing loss of power, like a possible interruption while communicating which could lead to miscommunication! Additionally, if your date is interrupted by such loss of power and the battery runs out before returning home or back to his or her place, you may miss out on the opportunity to meet someone who might become significant later on in life.
Conclusion
We've come to the closing chapter of this article. We hope you were able to find good resources in your quest to know the top 6 volt golf cart batteries.