Last Updated on May 15, 2022 by
Soccer is a great sport, and so are football cleats. Many players love to play with the best football shoes that they can find. The two brands that provide the most high-end football boots are Nike and Adidas. Because there are so many people who happen to be fans of both brands in practically every major country/market, you may have found yourself wondering which brand's soccer cleats are better than the other? To help you decide, if you're wondering whether to get Nike or Adidas football boots – we've compared some of the similarities and differences between these two leading shoe brands in an effort to tell you which one we think produces the better soccer cleats.
The table below contains a comparison chart between Adidas cleats and Nike cleats.
| | | |
| --- | --- | --- |
| Parameters | Adidas Cleats | Nike Cleats |
| Price | Affordable | Fairly affordable |
| Weight | Lighter | Heavier |
| Balance | Offers better control and balance | Offers fairly moderate control and balance |
| Power capabilities | Delivers fairly moderate power capabilities | Provides higher power capabilities |
Adidas VS Nike Cleats – In-depth Details!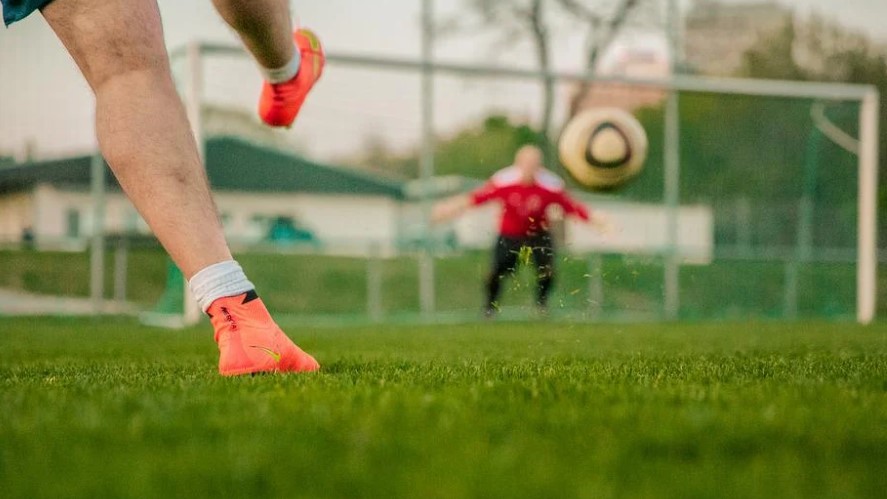 After extensive research, we've provided in-depth details of the major differences between Nike and Adidas. Let's have a look! 
Weight
Finding a pair of cleats for the sport of soccer can be quite challenging. There are many aspects to take into consideration before you make your final decision. One significant aspect is the weight of the soccer cleat. Soccer players are required to move quickly and agilely so it's imperative that they have shoes that will allow them to move around comfortably. If you're in need of finding soccer cleats, you should consider factors like the weight. 
Adidas cleats are a little lighter than Nike cleats. One of the most popular intermediate-level cleats is the Adidas Performance adiZero, which weighs as little as 5.8 ounces. These shoes give freedom and confidence to players so they can play at their highest potential.
Power Capabilities
If you're an attacker or a striker, it's important to wear the right gear that is designed specifically for the job. That said, strikers should wear cleats because they can make kicks more powerful. The reason for this is because cleats are reinforced where your foot makes contact which helps deliver an energy boost when striking the ball. This is why it makes sense to purchase a pair of cleats instead of, say regular athletic footwear or an alternative brand that has been known to be popularized by certain players.
Besides, Nike continues to impress soccer fans at every level. Its fantastic T90 Laser IV is best known as the epitome of high-performance. The strike flex zones are designed and engineered to enhance accuracy and create a more significant impact while hitting. Not to forget, the fin-like design also works efficiently, offering excellent control.
Control & Balance
Everyone loves the passion of playing soccer. On the field, it requires balance and control to remain steady and firm to handle any obstacle that comes your way. Set up a goal and move the ball around so freely like your walking down a field of flowers. Make sure that you're wearing shoes with excellent traction or grip for optimal stability when moving freely about on the hard surface.
Having said that, both Adidas and Nike seem to be leaders when it comes down to their collection of cleats. The Adidas Predator LZ cleat with its Lethal Zone upper makes sure that players are able to have control over the ball. In comparison, the CTR360 Maestri III comes equipped with control pads which help in improving the surface area for players that want improved traction.
Price
Price is very important in your purchasing decisions, but it's not the only thing you should look into when shopping for boots. The Adidas Copa Sense.2 and Nike Mercurial Vapor 14 are two excellent football options for beginners out there. Both of these entry-level models feature a classic design with a durable upper, high tech materials and comfortable footbeds. 
The reason we especially recommend both of these on our list is because they have been proven to retain their grip on the ball throughout intense matches and training sessions alike, while also allowing players to bend and move as they see fit without fussing over their footwear! Within the same price range, you can find that the Nike Mercurial Vapor 14 Pro comes in different colorways than the Adidas Copa Sense – though this may be due to its recent launch at black Friday last year!
When it comes down to buying football boots, the difference between expensive and cheap boots from a brand like Nike or Adidas are quite small. This means the toes of the high-end models may have a slightly wider area than cheaper models, but this will likely only be noticeable to seasoned professionals. The quality of both brands is similar due to the fact that they match in terms of technology as much as possible, meaning at an elite level there's no real discernible difference between high-end pairs and cheaper pairs.
Comfort
When making a decision between which of the following brands produces the boots with the best comfortability, we aren't sure what approach to take. Each person has differing opinions on what makes a shoe comfortable, so we can't say with certainty that any one company will win this argument. Nike and Adidas both go out of their way to provide excellent customer service where it counts: for example, these Nike Tiempo Legend 9s are manufactured with leather uppers and padded insoles, adaptive mesh tongues, and soft foam pods for maximum comfort and cushioning.
On the other hand, Adidas Copa Mundial's come with two different types of synthetic leather and widely considered some of the most comfortable boots on the market. If you can't tell, this shoe looks nothing like anything we've talked about so far and there's a good reason for that! Copa's are one of the most widely recognized brands from Adidas and have been around for years.
Final Words
Now that we've spent some time on comparing Nike vs. Adidas, you should know that overall the brand you decide to go with entirely depends on your needs. If you're looking for a brand with great agility, then yes, it's pretty clear that Adidas seems better. But if being powerful is what you're looking for then this is where Nike takes the cake since they are much more powerful than their competitors. Regardless of which brand you choose to help you get in shape and stay active, the most important thing to remember is that there are many ways to do sport whether it be basketball or tennis or weightlifting: all different but all achieving the same results!