Last Updated on March 25, 2021 by
Football is one of the most-watched sport in the world, with all the countries beginning their football seasons this year, it will be a bit tasking to find all the stats and info you need in one place. Knowing fully well that not all the football apps offer all the latest match scores, news, odds, stats, and live football information you need, you might as well miss some actions as a football fan. Choosing the best football stat app isn't easy at all, since there are thousands of apps available on Google Play Store and iStore. We've curated a list of the best football stats apps to help you get the latest match scores, news, odds, and stats. All the apps on our list are well researched and they truly deserve some of the extra space in your smartphone. 
1. Edge Football Stats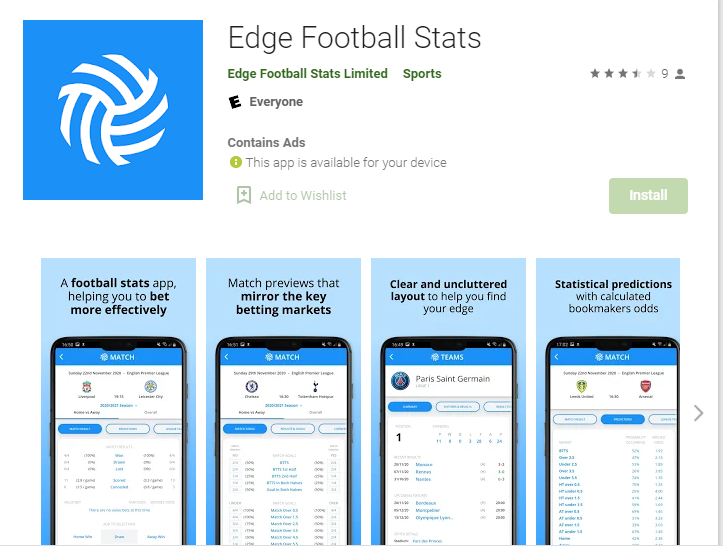 The first on our list is none other than the Edge Football Stats, which is a relatively new app on the sports market. This app is well-known for providing in-depth stats on how football teams have been performing in the betting market. Edge Football Stats started that its primary aim is to deliver accurate stats on how well football teams have performed in the betting market, to help users to make good betting selections or find trends. Most people may complain the Edge Football Stats app does not have possible features related to football. But even at that, this classic app is still the leader in the sports app market because it delivers a look at fixtures that you won't find elsewhere. Edge Football Stats app is a very good app for all football lovers and fanatic bettors. 
The match preview screen is arguably the most impressive feature of this app. This match preview screen helps to display the upcoming events in the betting markets. One thing we love about this app is its separate tabs for league table, recent results, the stat in each betting market, and predictions. You can customize all the stats to a period of just what you want, to either specific time frames or by the last number of games. What more? There are decent levels of analysis that you can't easily find anywhere else. For extra insights on football teams, you can split the stats to show even more home/away stats. While the info is going to be appealing to other football fans, the app details the statistics in a manner that reflects the primary key betting areas. Extra statistics showed to consist of Both Teams to Score (BTTS), every team's goals stats, and also the latest results of theirs, side by side. Moreover, you will find a complete card as well as corners stats for both teams. Even though you have no records offered of the achievements of these, the app comes with predictions, in the majority of the primary betting marketplaces, and benefit bets.
2. Stats Zone
Stats Zone app is one of the best football stats apps you'd find anywhere in the world. The live Opta Stats powers the data of this app. There's something uncommon about this app which is the capacity to analyze and review a huge number of data points which includes passes, shots, goals, dribbles, and many more. You can access all these data points available for matches in all top 11 leagues and competition, including Europa League, Champions League, Premier League, Bundesliga La Liga, and Serie A. Stats Zone app boasts of data that's arguably superior to its counterparts even if it's only available on the App Store and not the clearest app to use. The app excels when utilized as a "second screen", by looking at the app alongside the live game. By utilizing the app, which may help offer context to what has transpired as well as evaluate the flow of the game. Although the amount of stats is limited, it's a tremendous investment of energy and time to look for gain in the data and it is much more suited to professionals. While this might catch the attention of professional analysts, it's not likely to prove good for the casual football fan. One more thing you should know about this football stats app is that it's a multi-award-winning stats zone app. We loved that the app is one of the most comprehensive football stats app all around the world, with line-ups, over 1500 stats for every single game, live scores, and goal alerts. Also, you get free live coverage of Europe's biggest football competitions like the UEFA Champions League, Europa League, La Liga, Serie A, Bundesliga, Ligue 1, and English Premier League.
3. FootyStats
If you're been looking for a way to be in touch with info about the soccer teams that usually concede a goal by halftime or the ones that score most goals, then the FootyStats app is just what you're looking for. For people looking out for a football stats app with the most detailed and easy to use soccer statistics, data, and analytics available, just try to download this app!
2 Apps For Keeping Track of Live Football Scores
On a busy football-filled Saturday, checking out multiple scores and stats can be really time-consuming and a nightmare. But that's not gonna happen anymore, we've got two apps to help make checking the latest scores and stats from your favorite football teams straightforward and easy. 
4. OneFootball
OneFootball app is one of the most popular football apps you'd probably find out there. For a few years now, they've been dedicated to providing the latest scores, news, and results. OneFootball app offers a wide range of data, including live tracking of over 200 major leagues and competitions like the Confederations Cup, Premier League, Liga MX, Primera Division, and much more.
5. Forza Football 
This is our favorite football app because it comes with a lot to offer all football lovers. The app is designed to offer opinion polls, live scores, video highlights, and push notifications. All these features are certainly not something you often see packed in one app. 
Closing Thoughts – Rounding It Up!
There is numerous football stats app in the world today, but knowing which is the best is a bit difficult task because they are not designed the same way by their developers. With the help of this review, we hope you were able to know the top 5 football stats apps in the world today. Do not hesitate to contact us with any questions or comments. Thanks!