Last Updated on July 14, 2021 by
Whether you're a beginner or a professional, the type of gloves you play with has a lot to do with your performance just like it is with other golf equipment like golf clubs and balls. The most important feature a good glove should offer is a non-slip grip which should be very comfortable. 
Your performance on the golf course would be affected by the contact that your hands make with your golf clubs. So, getting the right gloves for your sweaty hands shouldn't be underemphasized. Every golfer would love to have a pair of gloves that feels soft and prevents sweaty wet hands. Golfers with sweaty hands go through a lot of struggle of keeping their hands dry during hot summer rounds on the golf course. 
There are hundreds of options out there on the market, but getting the right one is quite challenging. But don't worry! We're here to help you! We've handpicked the following best golf gloves for sweaty hands. These gloves will keep your hands dry throughout your playing time on the golf course. 
Why Do You Need Golf Gloves For Wet Conditions?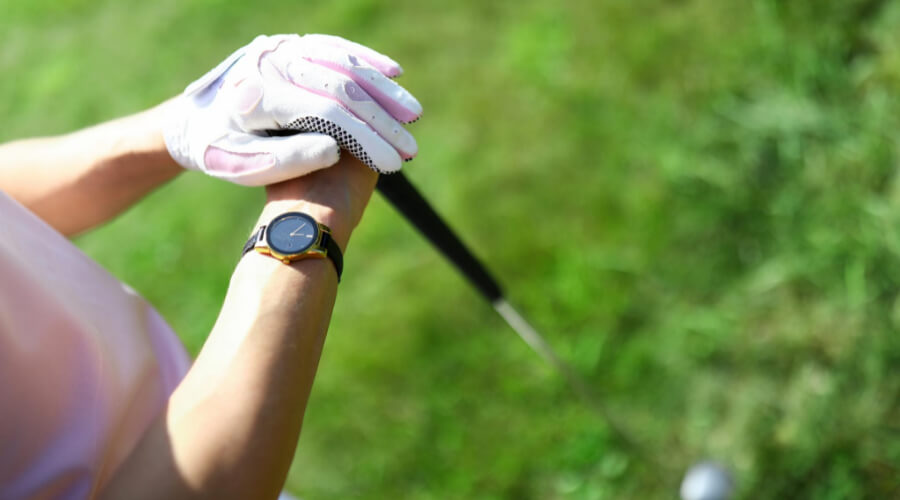 Every golfer needs a pair of gloves for a great feel and improved performance during golf swing on a course. You'll produce 100+ swings from your range session during your golf rounds. And to be honest, making 100+ swings a couple of times within a month is almost too much to ask of your hands.
If you'll be practicing or playing around or more during the rainy season, it is ideal to go for rain gloves which are capable of delivering great interaction between your hands and the golf club and also protecting blistering for a long period on a golf course. With good rain gloves, your hands will be dry, making better golf shots and staying in place throughout your stay on the course. 
Choosing The Right Size Of Glove Offers Great Control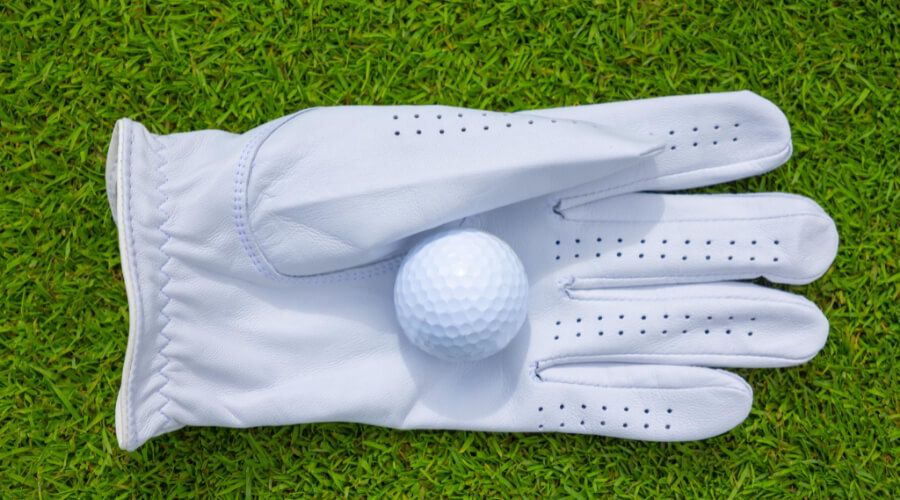 Normally, you'll find two different finger types and a variety of sizes in the best golf gloves for sweaty hands. The traditional gloves fit larger hands and come with fuller fingers. However, you'll find the cadet-style gloves comes with non-slip fitting for players with squat fingers.
Cadet gloves are suitable for women or junior golfers because it offers a better fitting. Golf gloves should be snug-fit without any limitations or discomfort. Note that any pair of gloves that leave a branded logo on your skin is just too small or tight. 
Moreover, if your glove length is extending from your fingertips, then it's probably oversize and it can have a negative impact on your overall performance on the golf course.  You'll find the perfect glove size for your hands when you consider the glove fitting guide offered by some pro shops and retail stores. 
Buying Guide For The Best Golf Glove For Sweaty Hands 
You might not know the best details available on the market if you're a newbie in the game of golf. Since your overall performance and scores will be affected by the equipment and hear you use for playing golf, it is ideal you take your time to get the right one. There are different models of golf gloves on the market, each promising to deliver an outstanding result, only to perform under par after purchase. 
How frustrated will you feel to find out that you spent a good amount of money on something and it didn't meet up to expectations? Very frustrating…  But never mind! We've got you covered! We've compiled some things to look out for when searching for the best golf gloves for sweaty hands. Make sure you read through each of these factors, as they help you make the right buying decision.  
Build Quality
You need to consider a pair of golf gloves with good build quality if you want to get the most of it to keep your hands from being sweaty. Golf gloves built with cheap materials will deliver poor performance and bad scores. So, make sure you lookout for a golf glove with the best build quality for enhanced performance and great traction when you're shopping for a new pair. 
Grip
Before buying the best golf gloves for sweaty hands, it is very important to check the grip of the glove. If your glove doesn't deliver enough grip on your golf club, it will definitely affect the performance of your game because it comes in direct contact with it. So, whenever you're buying a pair of the best golf gloves, make sure it features a good and non-slip grip for better control of your swings. 
Breathability
The breathability of your golf glove is another important factor to consider before making a buying decision. If you go for a pair of gloves that's not breathable, it will make you sweat profusely and get wet quickly in hot weather conditions, affecting your game negatively.
It is advisable to go for a pair of golf gloves that's breathable to ensure your hands are kept dry and clean always. As a golfer, you'll have more confidence when you're playing with dry and clean hands even if you're playing in hot weather for a long period. 
Comfort
Your playing performance will drop greatly if you're wearing a pair of gloves that's not comfortable. Factors kike build quality, breathability, the material determines the comfort of golf gloves. You need to ensure that you go for a pair of gloves that's comfortable in any weather condition. 
Price
The price range of your preferred golf glove is another important factor to consider before making a buying decision. You need to do some market price comparison to know which is affordable or too costly. This will help you get the best golf gloves with great features at a reasonable price. You don't necessarily have to break the bank to get a pair of golf gloves for sweaty hands. 
Comparison Chart 
The table below is a comparison chart of the best golf gloves for sweaty hands. 
1. Titleist Men's Perma Soft Golf Gloves
Titleist is one of the biggest brands in the golf equipment industry and they've maintained a good reputation for producing high-quality golf balls, clubs, gloves, and many more. This golf glove is leather-built, making it very durable, soft, and comfortable.  Every golfer will enjoy playing around with this pair. You'll find this pair much more comfortable, thanks to its great fit. 
We loved that users will enjoy a good grip in their clubs which brings about improved performance on a golf course. Concerning its finish and build quality, we found out that the glove was well-seamed to make sure you don't feel any rough surface on it. This pair will fit your hands like a second skin. That's not all. We also noticed that the surface area of this glove was reinforced with satin. This satin finish delivers a non-slip grip which plays an important role during swings.
Users will feel very comfortable wearing this glove in any weather conditions as it helps to keep their hands dry and warm. Thanks to the mesh in the knuckle and finger area of the gloves, it offers great breathability. No matter how sweaty your hands get, they'll dry up quickly. More of a reason why the Titleist Men's Perma Soft golf gloves made our list. It's just too good to be true. 
If you have sweaty hands, there's no better option out there than this pair of golf gloves. It is quite affordable with incredible features that'll surpass your imagination. We assure you of great benefits when you purchase this loves for your sweaty hands today. Some golfers complained about having restrictions when wearing other gloves. But that's not the case with this pair.
You won't experience any restrictions in your hands during quick movements when using these amazing gloves. To be honest, using this pair will improve your game performance significantly. Let's take a good look at the pros and cons of these amazing gloves. 
Pros
1. Good breathability 
2. Comes in various sizes 
3. Perspiration and rain resistant 
4. Highly durable, thanks to well-placed stitching 
5. Comfortable and soft feel on your hands 
Cons
1. The palm of the glove wears out quickly 
2. FootJoy Men's WeatherSof Golf Gloves
The next on our list is the Men's WeatherSof golf gloves from FootJoy. FootJoy is one of the big fishes in the golf equipment industry, delivering premium quality products for golfers of all levels. Talk of elegance at its best? This glove is stunning both in look and feel. All your rounds of golf will be enjoyed in total comfort with this pair of gloves. The advanced performance leather used for the construction makes it a good option for a comfortable feel in harsh weather conditions.
 There's high-quality leather equipped at the palm and thumb patches of this glove. You'll enjoy complete control over your shots, thanks to the excellent grip provided by the glove. Another thing we love about this glove is that your palms and hands will get full support in all required areas for maximum comfort and improved performance. 
Concerning its material, the glove features an exclusive FiberSof that delivers a secure grip, soft and comfortable feel, and consistent fit throughout your stay in the course. The glove will never impede your quick hand movement when making swings or shots even if you can feel its touch in your palm. 
Thanks to the inclusion of the soft PowerNet mesh around the knuckles, you'll get to enjoy the best breathability from this pair. Enough air will flow in and out, making your hands completely dry during hot and humid conditions. Scared of the cold in the winter months? Not anymore! This pair of gloves comes with leather palm and thumb patches to keep your hand warm through the game. 
Another eye-catching feature of this pair is its ComforTab closure that functions well to help you get a good golf experience. There's an adjustable fit equipped in the wrist of this glove. As a result, it will never slip off and you'll find it comfortable when you're making quick movements with your hands. 
If we talk about the overall grip, its non-slip grip provides excellent traction during wet and dry conditions. Since comfort and grip are two important factors that impact a golfer's overall performance, it is necessary to go for a pair of gloves that offers the best for sweaty hands. Another thing that will make you fall in love with this glove is that it comes in a packet of two. 
As a result, you'll get two pieces in one package for the same price one. Isn't that interesting? Why not click on this link below to get your hands on these amazing gloves. To be honest, most users feel like it'll cost them more to buy two pairs of gloves when they actually needed a pair for both hands.
Except for this, the glove is a top-notch performer with incredible features at an affordable price. Let's take a good look at the pros and cons of this pair. 
Pros
1. Comes in various sizes 
2. Ideal for use in all weather conditions 
3. Affordable and durable 
4. Premium quality 
5. Highly flexible, offering hand freedom of movement 
6. Highly breathable, making it suitable for sweaty hands 
7. Tab closure and elastic band for better adjustment 
Cons
1. Users reported some offensive odor during use 
2. Comes in smaller sizes than other brands with the same size labels 
3. FINGER TEN Men's Golf Glove Rain Grip Pair Both Hands
FINGER TEN isn't a new brand in the golf equipment industry. They've been around for a while, manufacturing high-end golf equipment to improve and enhance the performance of every golfer. If you look into the quality of comfort and grip offered by this glove, you can agree that it's the best option for golfers with sweaty hands. Thanks to its high-quality 3D performance mesh that delivers impeccable breathability, your hands will be completely dry during hot or humid weather conditions. 
The 3D performance mesh is known for its great ventilation. Meaning that it will help remove the moisture away from your sweaty hands and keep your hands dry through the game. That's not all! This is the lightest glove on our list and being light doesn't impede its durability. It's quite durable. Concerning its grip, it was equipped with the best material for a better grip on your golf clubs. You'll enjoy a significant grip even if you have sweaty hands.
The moisture on your sweaty hands will quickly wick away from the gloves, leaving your hands dry and fresh even in the hottest weather conditions. You'll get to purchase this glove either in single pieces or pairs. Just go for the one that suits your needs. The only thing to know is that you'll have to wear the glove in the left hand if you're a right-handed player. Also, if you're a left-handed player, you'll have to wear it in the right hand. 
This pair comes in different sizes that deliver a secure fit. You don't have to worry about the grip, as a matter of fact, this pair offers a great fit and comfort through your game. It is advisable to consider the pricing of the glove. It is costlier to buy in a single piece than buying in pairs. So, the price is another important factor to consider before making a buying decision. Let's take a look at the pros and cons of this amazing pair of gloves. 
Pros
1. Quite affordable 
2. High breathability 
3. Quality QuickDry knit material 
4. Elastic and lightweight 
5. High-quality product 
6. Reliable brand 
7. Maintains the traction when wet 
Cons
1. Not great for use in cold weather conditions 
4. Callaway Golf Men's OptiColor Leather Glove
The next on our list is the Golf Men's OptiColor leather glove from Callaway. If you're a golfer, you'd have probably heard of Callaway. Callaway is one of the bestselling brands in the golf world today. They are dedicated to providing premium quality golf equipment and wear. For a while now, they've maintained a respectable reputation for bringing the best value to golfers at affordable rates.
 The Golf Men's OptiColor Leather Glove is one of the best golf gloves for sweaty hands on the market. It was built and designed with top-notch leather material that offers a combination of premium looks and feels in your hands. Golfers who are in search of a pair of gloves that performs and looks great at the same time should rush in her for this pair. It is definitely the best option out there on the market.
The breathability of this glove is one of its features that catches people's minds. The leather material in the glove is well perforated for enhanced breathability. If you really want a pair of gloves with the best breathability, this is certainly the best option for you. It's highly breathable, keeping your hands dry and warm at the same time in all weather conditions. 
You don't need to worry about losing your grip because of your sweaty hands anymore. The gloves will easily wick out moisture from your hand in hot and humid weather conditions. Whether it's raining or not, this pair was equipped with the best grip to offer you great performance during any weather on the golf course. 
Concerning the finish and fit of this glove, it features an OptiFit adjustable closure system that delivers a very comfortable fit. That's not all. You shouldn't be scared of losing your gloves to tear and wear. This glove was manufactured with high durability in mind. It will last longer than you expected it runs true to size.  Let's check some of its pros and cons. 
Pros
1. Highly durable 
2. Quite affordable 
3. Great aesthetic value 
4. Impeccable breathability 
5. Available in different colors 
6. Comes in different sizes 
Cons
1. Some mentioned that the dye rubbed off on their hands 
5. Grip Boost Worn on Right Hand Golf Glove
Here's another top-class glove for golfers with sweaty hands looking to improve their games in any weather conditions on any course. This incredible glove combines great build quality with a non-slip grip and comfort. We loved that Grip Boost produced this glove with a mix of high-quality Cabretta leather and imported nylon which delivers an excellent feel and touch on your hands. 
Concerning its breathability, it was equipped with nylon mesh to keep your hands dry during hot and humid weather conditions. The only problem is that it isn't suitable for use in cold weather. This pair comes in single pieces, allowing you to buy according to your preferences. Lastly, the glove is available in different sizes and it runs true to size. What more? It offers a great secure fit so you don't have to worry about it slipping off your hands. 
Pros
1. Reasonable price 
2. Delivers great ventilation 
3. Highly breathable 
4. Very comfortable 
5. Offers secure fit in dry conditions 
6. Notably decent stitching 
7. Reliable brand 
Cons
1. Palm area can be improved 
2. Seams quality need to be improved 
6. Bionic Stablegrip Golf Glove 
The Bionic Stablegrip comes with additional padding on the palm where enough padding is actually needed. It is made of genuine leather for additional longevity and endurance. You don't necessarily have to squeeze right on golf clubs to make swings as this glove was designed in an even way out of your grip. 
Pros
1. In-built Lycra in the glove for moisture-wicking and cooling 
2. Additional padding on the palm for extra longevity 
3. Quite stylish 
4. Reliable brand 
5. High-quality build 
Cons
1. A little pricey 
7. Bionic AquaGrip Golf Gloves 
The Bionic AquaGrip golf gloves are quite suitable for sweaty hands Jn hot humid weather. This pair of gloves is usable in the rainy season or dry and sweaty season without any hassle. It was designed and built to last long. 
Lycra material was used in making the flexible areas of the globe for added comfort and flexibility. This glove has all the necessary beneficial features for all golfers with sweaty hands. Using this pair of gloves will definitely improve your golfing experience. You won't be disappointed! 
Pros
1. It's quite durable, built to last long 
2. Grips are lighter and more stable, thanks to their great padding system 
3. Improves the golfing performance of golfers with arthritis 
4. All-weather gloves, suitable for rainy, sweaty, and humid weather conditions
Cons
1. A little expensive 
2. Its flexibility decreases a little when it gets wet 
3. One colored glove 
Golf Gloves Materials
Let's look into the different materials used for making golf gloves. 
Leather Gloves
Most leather gloves are made of tanned leather which is of great quality. Certainly, the best leather gloves are quite more expensive than some other types of mediocre leather. The quality of the leather differs from a model of golf gloves to another. So, look out for the glove with the best leather quality. Golf gloves made from leather are often the best type since they are durable and deliver snug fitting. How the gloves will fit your hand depends on the network of seam placement inside each glove. 
Synthetic Gloves
Synthetic gloves are usually made with a blend of satin nets or spandex (synthetic fabric) and leather. These materials are common in flex model gloves, delivering unique cooling functions. If you sweat a lot as a golfer during climates with higher temperatures, you need a pair of gloves to help your hands stay dry and cool. We love that synthetic gloves are more durable than leather gloves due to their multi-material construction. 
All-Weather Textured Gloves
When other glove types fail to hang onto the golf club during bad conditions, the all-weather gloves come in handy to deliver more traction. All-weather gloves prove effective in any weather conditions, be it rainy, snowy, or sunny. They provide an improved feel and great traction on golf clubs when practicing or playing a round of golf during bad weather conditions. As a pro or newbie on golf, it is ideal to have a pair of all-weather golf gloves in your bag any time you're going to the golf course for a round or more because the weather can be really unpredictable sometimes. All-weather gloves are the best gloves for all weather. 
Thermal Gloves
Thermal gloves are improved all-weather gloves with dense and insulation cotton to deliver warmness to your hands during the winter months. These types of gloves wrap your hands completely releasing a warming effect. These gloves are built with a blend of insulated cotton filaments and synthetic leathers. Golfers who play in the winter should opt for thermal gloves for an improved feel and performance on the golf course. 
Golf Gloves Mitts
Cold weather and winter periods on the course require thick gloves to keep your hands warm. Most golfers wear golf gloves mitts when riding in a golf cart or between rounds of golf. You'll have more and more control and grip on your golf club when you warm your hands in between shots. This is a great way of improving your overall performance and scores. Golf gloves mitts are a must-have for all golfers who want to enjoy the game out there on the course during the winter months
Can I Wash My Golf Gloves With A Washing Machine? 
No! Don't try washing your golf gloves with a washing machine. You have to be careful about the temperature at which you wash these gloves. Don't use hot water as it will lead to crusting. Cold or warm water would be very effective. 
Are Bionic Golf Gloves Legal?
In most golf tournaments, Bionic gloves are not allowed. It is only when you have a certain medical condition that you'll be permitted to use bionic golf gloves. 
Closing Thoughts 
As you can see, all of the gloves on our list are worth buying. If you're a golfer with sweaty hands, try one of the gloves here and you won't regret your purchase. We've reached the closing chapter of this product review. We hope you were able to find good and reliable resources in your quest to know the best golf gloves for sweaty hands. If you have any questions or comments about the article topic, don't hesitate to contact us. Thanks!