Last Updated on August 23, 2021 by
The racquetball ball is one of the many essential pieces of equipment needed to play an enjoyable game. The balls are designed with a high bounce and fast actions in mind, making them perfect for any player who's looking to get their adrenaline pumping! The racquetball ball is what you need for a satisfying game of racquetball. Racquets are essential, and the balls will make your performance even better!
Depending on the kind of racquetball balls you choose to play with, you can either become a blooming winner or a vast loser in all games. Picking the right ball will help you play racquetball at your best. But the truth is, finding the perfect balls, sometimes, can be challenging. 
This is because of the diversity in the marketplace. With our extensive research, the buying process will be much easier for you. We've handpicked the 7 best racquetball balls for your immediate needs.
If you want to discover consistent performance, real power, and bounce, try out one or more of these racquetball balls. Furthermore, we've composed a comprehensive buyer's guide which contains the vital information you need to pick the right ball that will offer you the best playing experience. 
Comparison Chart – Best Racquetball Balls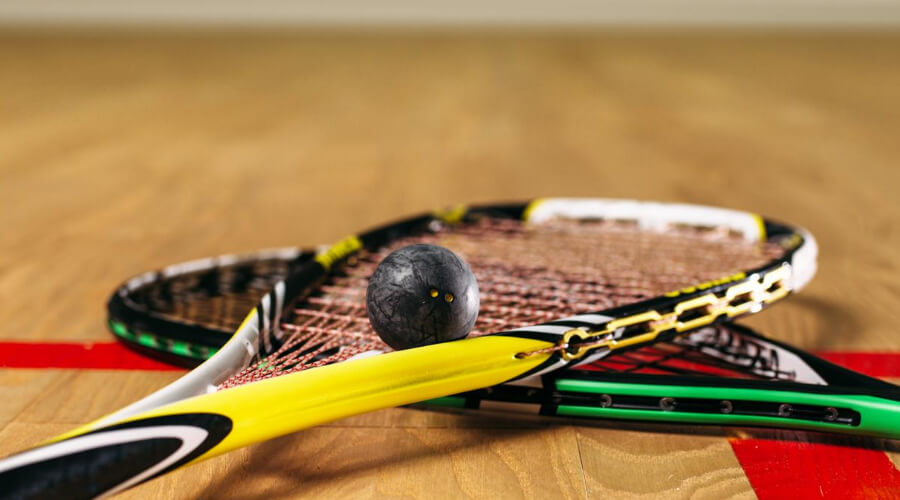 The table below is a comparison chart for the best racquetball balls. You'll find each ball's highlighted feature, the reason for pick, and the color type. 
1. Best Buy: Penn Ballistic 2.0 Racquetball 
If you're looking for an exceeding fastball for your racquetball games, the Penn Ballistic 2.0 is an excellent choice for you. The manufacturer "Penn" announced that this model is one of their fastest balls, so definitely, it should be one of the fastest you'd see anywhere. 
1. High Visibility: Penn Ballistic 2.0 racquetball features highly visible color and high speed, making it an incredible option for outdoor play. That's not to say it's a bad choice for indoor games. Ballistic 2.0 racquetball is available in red color, making it very visible on the court. 
3. Highly Durable: This ball is well designed and built with an appropriate thickness which makes it long-lasting and durable. Its enhanced durability makes it robust enough to withstand intense and explosive gameplay. 
4. Easy Maneuverability: This racquetball combines incredible control and speed which helps you to maneuver it easily on the court during gameplay. It doesn't matter if you're just starting with a racquetball game, this ball will make it much easier for you to blend in. 
5. Versatile: Penn Ballistic 2.0 racquetball is quite versatile, meaning that you can use it for different purposes such as pet toys. 
Overall, this model proved to be very efficient and user-friendly m If you're looking to take your game to a whole new level, then buy Ballistic 2.0 racquetball today! 
Pros
1. Very flexible 
2. Great for all levels of play – whether beginner, intermediate or advanced level
3. Can be used even in dim lights 
4. High visibility 
5. Equipped with a meticulous combo of speed and control 
6. Competitive price 
7. Reliable brand 
8. It is quite versatile
Cons
1. It's a bit too squishy 
2. Best Budget: Penn Ultra-Blue Racquetballs 
If you're an avid racquetball player, you must have heard about the Penn Ultra-Blue Racquetball. It's one of the most recognized balls used by top professionals in the game of racquetball. As a beginner or an intermediate player, you'll benefit greatly from using the Penn Ultra-Blue Racquetballs because it combines impressive power and skill shots to give you decent gameplay. 
1. High Visibility: Penn Ultra-Blue Racquetballs are available in visible blue color, which makes it a common option for serious games like tournaments and competitions. 
2. Microscopic Texture: This ball features a microscopic texture that allows it to have an excellent grip on the court. Penn Ultra-Blue Racquetball will perform excellently on different court surfaces, including concrete and wooden. 
3. High Versatility: Ultra-Blue Racquetball is used for different purposes other than for the racquetball game. We've seen the ball used for therapeutic purposes to promote strength and grip. Also, we've seen the ball used as toys for pets. Lastly, this fastball offers a neutral blend of control and speed. 
4. High Durable: This super ball is made from a high-quality material which makes it quite durable enough to withstand a long, uninterrupted play.
Pros
1. High-quality material 
2. Versatile; can be used for other purposes 
3. Delivers good grip on any court surface, including wooden and concrete 
4. Provides a neutral combination of control and speed 
5. Reliable brand 
6. Competitive price 
Cons
1. Its blue color isn't suited for use in bad lighting conditions 
3. Best Brand: Wilson Blue Bullet Racquetball
Looking for something that is highly durable and still comes with incredible speed? Then this Blue Bullet racquetball from Wilson is the ideal option for you. Wilson is one of the big fishes in the industry of racquetball equipment and sports equipment as a whole. For more than a decade now, Wilson has been delivering premium quality products all at competitive prices. 
1. Unique Rubber: The Blue Bullet racquetball is built from a unique rubber material that helps to make the ball tough as it provides a true bounce. If you'll be playing for a long time on the court, you'll need a durable set of racquetball balls like the Blue Bullet racquetball. 
2. Bursting Speed: Players looking for fastballs will find this model very useful since it comes with blasting speed. These balls offer great speed suitable for all levels of players, including beginners, intermediate, and advanced levels. 
3. Moderate Control: Blue Bullet racquetball from Wilson delivers moderate control with added snap than most balls on the market. Don't even think the only good thing you'd get from these balls is great speed. They are still of moderate control to help you enjoy your game time on the court. 
4. High Versatility: Wilson Blue Bullet racquetballs are quite multipurpose. You can use them for muscle-soothing or as toys for your pets. 
Overall, Blue Bullet racquetball is suitable for all levels of play and it delivers the most speed and control with more snap. So, you'll definitely get the value of your money when your purchase these balls today. 
Pros
1. Very bouncy 
2. Equipped with high speed 
3. It comes with a very good control 
4. High-quality material 
5. Durable, built to last long 
6. Ideal for use for both outdoor and indoor courts 
Cons
1. Not quite lively as its counterparts on the market 
4. Best For Recreational Gameplay: Propenn HD Racquetball 
This HD racquetball from Propenn is the talk of the town because of its exceptional beneficial features. More of the reasons why professional Tour racquetball players make use of the HD racquetball. Not only that but you'll also find this ball in use International Racquetball Tour. It's just so good! 
1. Well-engineered: Propenn HD racquetball is well designed and built for multipurpose use. It is designed to be soft and very fast on the court. 
2. Soft: This classic ball is soft, making it easy to control and play with. You don't have to stress or put too much pressure on your elbow, arm, or shoulder before playing with this ball. That's why we always recommend HD racquetball for players with elbow, shoulder, or arm injuries. 
3. High Visibility: This ball comes with a purple color which makes it very visible on the court. 
4. Lightweight Design: It's a very light racquet with a good bounce, which makes it easy on the arm or shoulder. 
5. Durable: Propenn HD racquetball is quite durable and well-engineered. It will maintain high speed for a long during explosive games. 
Overall, the Propenn HD racquetball is one of the best out there. Trust us, you won't get anything better on the market at this price. 
Pros
1. High durability 
2. High-quality material 
3. Comes with a good balance 
4. Lightweight design 
5. Tested brand 
6. It's highly visible 
7. Offers great speed 
8. Suitable for recreational gameplay 
Cons
1. Might not be good enough for fast-paced gameplay 
2. Overall quality can be improved 
5. Best For Lightweight: Python 3 Can Blue Racquetballs 
The Python 3 Ball Can Blue Racquetball is a sure bet for people who really want to enjoy racquetball with optimum performance. Thanks to the lightweight design and high visibility of the ball, you'll be able to play a consistent long game with it. 
1. Excellent Visibility: It comes in blue color which makes it offers high visibility with extremely fast speed
2. Versatile: It is highly versatile and multipurpose. You can use it for both indoor and outdoor racquetball matches. Just like the other models on our list, the Python 3 Ball Can Blue Racquetballs can be used as toys for your pets. We also loved the fact that the balls blend durability and bursting speed.
3. Lightweight Design: Just like the Propenn HD racquetball, this ball was built to be lightweight. Hence, it will be easy on your arm and shoulder. Players with arm or shoulder injuries can play racquetball with these great balls. 
All around, the Python 3 Ball Can Blue Racquetball has almost the same beneficial features as the Propenn HD racquetball. That being said, you'll benefit greatly from the outstanding feature of this model. 
Pros
1. Lightweight design makes it go easy on the arm and shoulder 
2. Equipped with incredible speed 
3. High durability 
4. Ideal for recreational gameplay 
5. Boasts high visibility 
6. Comes with good bounce 
7. Reputable brand 
8. Reasonable price 
Cons
1. Overall quality can be improved 
6. Best For Versatility: Wilson Hope Pink Racquetballs 
There's likely no better option out there when it comes to delivering a consistent bounce, impressive visibility, and excellent speed. With all these exceptional features, you shouldn't be surprised to see professional players use these balls in big tournaments. 
1. High Visibility: In terms of its visibility on the court, this ball comes with a sharp pink color which helps you to keep track of the balm better. 
2. All-round Playability: Due to its high visibility, Wilson Hope Pink racquetball enables high-end playability. This racquetball is an excellent choice for all levels of play in the game of racquetball, including beginner, intermediate, or advanced levels. 
3. Highly Durable: Wilson Hope Pink racquetball is quite durable. It is designed and built to last long. 
4. Versatile: Due to its high versatility, you can use it as a toy for your pets. Also, you can use the ball for working out the tight muscles of your body. It's definitely a good value for money considering its high versatility. 
Overall, the Wilson Hope Pink racquetball is a good value for its price when you consider all its outstanding features. However, if you're just starting with the game of racquetball, this ball might be a bit expensive for you. 
Pros
1. Performs well on the court 
2. Highly durable, built to serve you well 
3. Highly visible, easy to see on the court 
4. Reliable brand 
Cons
1. A bit expensive
7. Value For Money: Gearbox Racquetball Balls
The gearbox is one of the leaders in the equipment industry. They've maintained a reputation for manufacturing smooth sailing racquetballs that deliver moderately paced accessible rallies. The Racquetball Balls-3 Ball Pack is the latest racquetball product from the Gearbox company. 
1. High Visibility: It features high visibility, thanks to its black color. Its black color makes it quite easy to see on the court
2. Natural Feel: When you're playing with this racquetball, you'll notice it feels natural. You don't necessarily have to stress your arms or shoulder to get the ball where you want it. 
3. Durable: The high-quality material used for this ball makes it quite durable. You'll be able to play long, consistent games with this ball. It is durable, consistent, and predictable. 
4. Fast-paced: Looking for a fast-paced racquetball to get you going on the court, then opt-in for Gearbox Racquetball Balls-3 Ball Pack. It is fast enough for quick games and slow enough for you to improve your techniques if you're a beginner. 
Overall, we'll recommend this model to all beginners out there. It will help you master the required techniques to become a pro. 
Pros
1. It's highly durable 
2. Delivers a good bounce 
3. Good visibility 
4. Value for money 
5. Reputable brand 
Cons
1. A bit pricey 
2. Not suited for players who love to play intense or explosive rallies. 
Racquetball Color Types 
Color types of ball used might seem unnecessary in other sports like tennis, but it is very important in racquetball. The difference in speed is influence by the difference in colors of racquetballs. Each type of color of the racquetball ball is equipped to denote a certain ball type which delivers unique features and abilities. There is a myriad of color types to choose from to suit your needs. The colors in which these balls come are pink, blue, green, black, red, and purple. 
Blue Racquetballs 
People in search of the best racquetball for recreational games should go for this type of ball. Generally, blue racquets are most suited for beginners as they offer a mix of mediocre speed and consistency. 
Green Racquetballs
Normally, green racquetballs are designed to be the fastest among others. Due to their high velocity, green balls are faster than blue balls. When compared to other outdoor racquetballs, green balls are more durable. 
Purple Racquetballs
Purple racquetballs are often seen with advanced players because it's quite fast and lively. It's not suited for beginners as it might not help master the techniques of the game. Also, it is less durable. 
Black Racquetballs
Black racquetballs combine speed, durability, and consistency. What most avid players like about this type of ball are its longer trajectories and prolonged time in the air. 
Red Racquetballs 
The key components that are jammed into red racquetballs are enhanced visibility, durable construction, and speed. Red racquetballs are most suitable for players that are prone to tough thrashes. 
Pink Racquetballs
This type of ball isn't that popular as people don't really like the color. But to be honest, it's not that bad. Pink balls still pack great speed and lively play. 
Multi-colored Racquetball
This type of ball is designed and built to thrive in both indoor and outdoor courts. 
Comprehensive Buyer's Guide
Truly, racquetball is a game that basically depends on the experience and skill of the players. But some racquetball equipment like the racquetball balls can help to improve your overall performance on the court. And like we said earlier, there are numerous options to choose from on the market. 
If you're just starting, it might be a little bit confusing on which is the right one for you. That's why we've composed this buyer's guide to help you through the buying process. This buyer's guide contains the things you need to consider before making a buying decision. 
Ball Size & Material
Generally, racquetball balls measure about 2.25 inches according to the requirements of the United States Racquetball Association. You don't have to worry about the size of your racquetball since all the balls used in tournaments are the same size. 
In terms of the material, most of the manufacturers in today's market make use of soft rubber. It is the most common material used for making racquetball balls. So, you might not necessarily need to pay attention to these two factors. The most important factor lies in color and weight. 
Number Of Balls In A Pack
Racquetballs normally come in a pack, jar, or can. You are supposed to look out for the number of racquetball balls in the pack before making a purchase. Some may come in 2, 3, 4, or even 12 balls per pack or jar. We recommend that you go for the 12 ball jar because it's cost-effective. 
The only thing with buying bull racquetball is that the balls in the jar will gradually lose their bounciness due to the air pressure that leaves the jar as soon as you open it. These balls will slowly lose pressure once the jar seal is opened. The bounciness of a racquetball ball isn't really evident in gameplay and it should be a problem especially if you're just starting out with the game. 
Durability
Ordinarily, durability shouldn't be a problem for pro players who play racquetball in tournaments because new balls are used in every new match or game. However, recreational players or beginners should look out for the racquetball with the best durability. 
Pro racquetball players will always say that a racquetball should be changed as soon as its brand logo begins to fade. As a beginner, it doesn't make much sense for you to buy new balls per game. So, pick from the ones on our list as they were made from a high-quality material which makes them last longer. 
Brand
One of the most important factors to always consider when you're picking a new set of racquetball balls is the brand. As a beginner, we advise that you go for a well-known and trusted brand. Some of the popular and reputable brands are Wilson, Penn, Ektelon, Propenn, Python, and Gearbox. 
There are other good brands on the market today, but these are our favorites. Most of the balls manufactured by these renowned brands are labeled "USAR Approved". Seeing this alone on the balls should be a good sign that you'll get a good value for money. 
Court Type
The court type which is either an indoor or outdoor court is another important factor to consider before making a buying decision on your preferred racquetball ball. Since each court type comes with different surface materials and lighting, it is very important to pay attention to it. When you're playing the racquetball game on the wrong court, the visibility of the ball can be deterred. 
This situation can, therefore, result in an insignificant performance. More of a reason why racquetball balls are normally colored to enhance visibility in indoor courts. Outdoor courts usually have concrete surfaces, so balls used here are colored to be more clearly seen in bright sunlight. You'll normally see red, blue, and green balls used on outdoor courts. 
Closing Thought 
People who are just starting out with racquetball should ignore all the unnecessary specifications. The most important thing is that you find a quality ball that bounces well and has good visibility. As you keep experiencing racquetball, you will grow and learn about what you need. Almost all the racquetball balls on our list are ideal for all levels of play. Just go for the one that's easy on your arm and helps improve your game. We've come to the end of this round-up review. We hope you were able to find good resources in your quest to know the best racquetball balls. If you have any questions or comments about the article topic, don't hesitate to contact us. Thanks!