Last Updated on August 23, 2021 by
A good amount of spin on shots is needed to thrive in the modern game of tennis. Generally, it is almost impossible to keep the ball in play without some topspin on groundstrokes. 
Producing a good spin is normally attributed to a player's skill level and experience, but some racquets can help make an even better spin than others. If you'll love to create some nice spins during your gameplay, you'll need a racquet designed for topspin. 
Choosing the right racquet for topspin can be daunting sometimes because of the diversity of models in the market. But don't worry, we've got you covered!  In this post, you'll get to know the 7 best tennis racquets for topspin. Also, we've prepared a well-detailed buying guide to help you make a good buying decision. 
Comparison Chart – Best Racquets For Topspin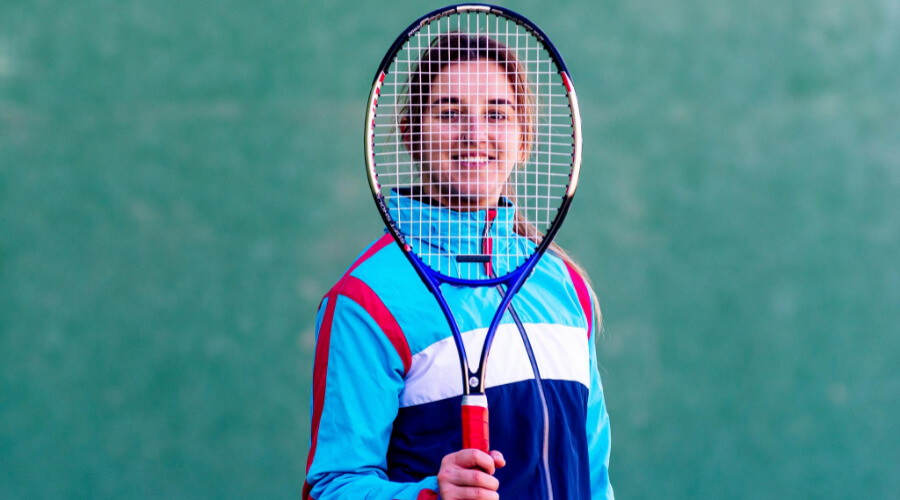 The table below is a comparison chart of the best racquets for topspin. 
1. Best Pick: Babolat Pure Aero Tennis Racquet 
Babolat is one of the best manufacturers of tennis equipment in the market. They've been consistent in delivering premium quality tennis racquets, balls, and other equipment at reasonable prices. The Pure Aero tennis racquet was endorsed by one of the greater players ever in the game of tennis, Rafael Nadal. 
Hence, you should be assured that this racquet packs some incredible beneficial features including high spin. Nadal, as we all know, uses his forehand to hit the ball with a ton of topspin.  For a pro player who puts a lot of spin on shots, he'll definitely need a tennis racquet that can handle all of that. 
1. New Modification: Babolat announced that they will be releasing the latest model of the Pure Aero which will incorporate a lot of functions not only help pro players but also beginners to create enough spin and speed. 
2. FSI Spin Technology: The Pure Aero has been equipped with the new FSI spin technology which spaces lit the string a little more for a wide hit surface from all over the court. 
3. Lightweight Design: This model comes with a lightweight design which makes it easy to whip around for extra spin on the ball. Thanks to its lightweight design, you'll be able to enjoy great top shots and volleys.
4. Stability: The Pure Aero model is quite stable, giving you more control when you're hitting the ball. Stability is very important as it determines whether you're going to handle the racquet properly during shots. 
5. Good Head Size: With a head size of 100 square inches and a length of 27 inches, you'll be at the forefront of increasing your RPMs. 
Overall, the Pure Aero is a very good option, especially for advanced players who need more spin on the ball during gameplay. One thing we assure you is quality when you're buying from a big brand like Babolat with a reputation for helping tennis players develop their spin. The only downside is that the model is not the most arm-friendly racquet. 
Pros
1. Delivers powerful shots 
2. Plays well all around 
3. Helps improve stability and precision 
4. Spin-friendly, one of the best overall spin in the game
5. Handles racquet head speed
6. Reputable brand 
7. Competitive price 
Cons
1. Not the most arm-friendly racquet
2. Best Buy: Babolat Pure Drive Tennis Racquet 
Truthfully, the Pure Aero seems to be better than the Pure Drive in some areas, but that's not to say that the Pure Drive is ineffective in creating power and spin. With its great strong bed and an open pattern, you'll be able to hit through the ball for greater spin and power. 
1. Powerful: After we tested the Pure Drive, we found out that it is slightly powerful than the Pure Aero. If you really want to hit with speed with just enough spin at the end of your shots, the Pure Drive is an excellent choice. 
2. Head Size: Babolat still used the same head size as the Pure Aero, which is great for delivering a lot of space to shoot with when you're trying to create shots with a great spin during long rallies. 
3. User-Friendly: One major thing we loved about the Pure Drive is that it is very easy to handle, especially for amateurs when compared to the Pure Aero. 
Overall, the Pure Drive is a sure bet for amateurs who are looking to improve their games and get more spins on shots. However, advanced or intermediate players can go for something like the Pure Aero model. The Pure Drive only has one flaw. Many end-users contained that the racquet is stiff. 
Pros
1. Blends incredible speed and power
2. Great spin and control 
3. User-friendly, easy to use 
4. Improves overall game performance and efficiency 
5. Delivers powerful shots 
6. Stable and solid in feel and design 
Cons
1. Stiff
3. Best Flexibility: Head Graphene 360 Gravity Tennis Racquet 
If you're an advanced player looking for something balanced to take your game to the next level, the Head Graphene 360 is a wonderful choice. Head designed this racquet with enough spin area to help players get decent hits every time they hit the ball from all angles on the court. For a better feel and more comfortability when hitting shots with a lot of spins, Head upgraded this racquet with a few functions. 
1. Rounder Head Shape: It comes with a slight rounder racquet head that's a bit longer in the string bed. With this feature, you'll have a more comfortable feel when you're hitting the ball, creating even more spin easier and better. 
2. High Speed: One of the things we loved about this racquet is its high speed that comes in handy when you're taking swings. With this function, you'll be able to swing the racquet on serves and the ground more quickly. That's not all. You get to enjoy added power as well as a better spin. You can easily get the ball to jump off the strings on the first bounce even if the racquet seems it can't plow through the court. 
3. 18×20 String Pattern: This string pattern might not be the best considering is not much open, but it will still be enough for the majority of players. With this, you'll be assured that the risk of encountering broken strings from the racquet is reduced drastically. 
Overall, the Head Graphene 360 is a must-have for all advanced players looking for a high-end racquet for great spin and power. However, many end-users feel like the manufacturer could have done more about creating more spin in this model as seen in modern racquets. From a spin perspective, most of the racquets from Head haven't really satisfied end-users. Also, we notice that this model was built with more to us on control than pace with serves.
Pros
1. Top-quality for an affordable price 
2. Renowned brand 
3. Great build quality 
4. Lightweight design 
5. Comfortable and easy to use 
6. Fast enough to whip a spin 
7. Effortless to take a full swing 
8. Comes with a bigger spin window 
9. Delivers larger sweet spot
Cons
1. Focuses more on control than pace with serves
4. Best Comfortability: Wilson Ultra 100 Tennis Racquet 
Wilson is one of the most popular brands in the industry of tennis equipment and sportswear. And this Ultra 100 comes with several options for you to pick from, with all of the available options delivering better power and spin outputs. It all comes down to your choice. You might like to make a balance between your overall weight and swing weight or choose a heavier option. Whichever way it is, Wilson built the Ultra 100 very well to offer incredible spin. 
1. Easy To Use: Even if this is your first time handling this racquet, it will be quite easy for you to know that it is user-friendly from the beginning. Amateurs will find it easy to use even if it is a performance racquet from Wilson. Like we said earlier, there are different weight options, and even the heaviest option still feels great in the hand, allowing you to find your footing while trying to create powerful shots and spin. 
2. Effortless Spin: With this performance racquet, you can easily develop spin-on serves and groundstrokes. But it does better when produced on the ground. This model helps even beginners to develop fast racquet head speed, which helps you swing in a way that creates stunning spin. 
3. Easy To Control: The racquet is easy to control with shots, which is beneficial to players who have suffered from sacrificing control for a little more spin. 
Pros
1. Fits a lot of playing styles 
2. Good strong pattern increases natural topspin
3. Best comfortability 
4. Reliable brand 
5. Great price for top quality
6. User-friendly, easy to use
7. Easy to control  
Cons
1. Not very pacy 
5. Best For Lightweight: Prince Textreme Warrior 100 Tennis Racquet 
The price might not be as popular as many other brands on the market when it comes to manufacturing racquets that deliver great spin, but they've always been doing their best to help advanced players reach their peaks. The overall playability of the Textreme Warrior 100 has been its selling point as it has been in the market for a long time. 
1. Headlight Balance: Weighing just 11.1 ounces, it is not too lightweight or too heavy to deliver a whip effect for players to hit powerful shots. To create a powerful spin, all you have to do is swing the racquet like a whip. 
2. Heavy Head Type: This model comes with a heavy head type which helps advanced players to create both pace and spin on their shots. Most beginners might find this racquet quite challenging to use because it might take a very light racquet to discover spin potential when you're not a professional. 
3. Handle Maneuverability: The Prince company has been improving in the last few years. And the fact that this racquet is built to help the ball to jump off the string bed shoes that they are really improving in a short time. When you're trying to create a better and new spin like a pro, you'll definitely enjoy having the right racquet to handle maneuverability. 
Overall, the Prince racquet is quite impressive. And it will definitely help improve your overall performance on the court. All you need to do is overlook the general perceptions that people normally say about the company concerning the inability to produce the best racquet for topspin. Apart from the fact that the racquet is light and it is easily pushed around against great players, the Prince Textreme 100 is still a good option for topspin. 
Pros
1. Comes with a lightweight design for an easy spin
2. Delivers great balance which is good for better whip action 
3. Good price 
4. Good build quality 
5. Helps to deliver both pace and spin on your shots
Cons
1. The racquet is light and it is easily pushed around against great players
6. Best Technology: Yonex VCORE 100 Tennis Racquet 
Over the last few decades, Yonex has become the fastest-growing manufacturer of high-quality tennis racquets. You'll normally see professional players like Stan Wawrinka, Naomi Osaka, and Denis Shapovalov on the court using Yonex tennis racquets. That's to tell you that the brand is tested and trusted by these players. 
1. Multiple Head Sizes: The VCore model comes in different head sizes which help to deliver a large sweet spot for excellent spin and power. It comes with a head size of about 100 square inches which is great from a spin perspective. We recommend this great racquet for everyone who wants to up their game. 
2. Bionics Technology: VCore 100 comes with the new technology which makes the racquet feel very aerodynamic. You'll certainly be much more inclined to hit with topspin as the swing is speeded up. 
3. Unique Head Shape: The head shape of this model is quite unique and if you're just using it for the very first time, you might find it strange. Yonex makes the head shape unique so that it will serve as a signature. Its head shape is also ideal for a great spin because the larger sweet spot will allow a little more forgiveness for beginners or amateurs. 
4. AMD Material: Yonex has really tried to take the spin created by this racquet to another level by using a new material called an AMD. The addition of the graphite material with the frame makes room for more spin as you make shots. If you're trying this racquet for the very first time, you'll get to explore the addition of this new material to the frames. 
Overall, the Yonex VCore 100 is another great option for all tennis players out there. It packs incredible features that help you get more power and spin on your shots. 
Pros
1. Great build quality 
2. Feels incredible on all types of shots 
3. Unique head size delivers a larger sweet spot 
4. Reliable brand 
5. Fair price 
6. Concrete construction 
7. Beginner-friendly
8. Endorsed by top professionals 
Cons
1. Not the easiest to control
7. Value for Money: Volkl V-Feel 8 Tennis Racquet 
Last but not least on our list of the best racquet for topspin is the V-Feel 8 from Volkl. It comes in three different weights including 315g, 300g, and 285g. This variation in weights makes it ideal for different people with different weight preferences. 
1. Fast & Powerful Spin: If you play your game from the baseline, this is a very fast racquet that generates a lot of power and spin at ease. With this racquet, your spin becomes more evident quickly depending on how you take your swing. 
2. V-Feel Technology: Volkl V-Feel 8 model comes with V-Feel Technology which is very effective in delivering a good feel alongside excellent spin. The feel of this racquet is pleasing to almost all its users. People who are tired of using racquets that are stiff and rigid would appreciate this Volki V-Feel racquet.
3. Unconventional String Pattern: There's a slightly unconventional strong pattern at 16 × 18. It's nothing to worry about because it still opens up the pattern a bit to deliver a good amount of spin and power. We love this racquet because it was designed and built for players in need of high-quality spin and power. 
Pros
1. Comes in three different weight options 
2. Open a strong pattern 
3. Reliable brand 
4. Affordable price 
5. Delivering good feel alongside excellent spin
6. Suitable for almost all levels of play 
7. Not rigid 
8. Exceptional feel 
Cons
1. Not widely available 
Detailed Buyer Guide 
There are different manufacturers and models of racquets for topspin. Certainly, you'll come across different models having varied functions and specifications which might make the buying process tricky and time-consuming. To make the right purchase, you need to consider some important factors. Our buyer's guide contains the crucial things to put in mind when you're choosing the right racquet for topspin. 
Weight 
The weight of the racquet is one of the most important factors to consider before choosing your preferred tennis racquet for top performance on the court. However, even advanced players, sometimes, find it tricky to pick the right racquet for their needs because both lightweight and heavy racquets come with certain benefits. 
Racquets with a lightweight design deliver better ease of use and speed, which makes you enjoy a great plow-through. Lightweight racquets are also known to improve players' drop shots, groundstrokes, and volleys. Whereas a heavy racquet offers less shock, more powerful strikes, and better stability when you're hitting the ball hard courts. 
The best thing to do in this case is to choose a tennis racquet that's built not to be too lightweight or heavy for you. Moreover, your body weight and build must match the weight of your preferred tennis racquet.     
Power
Here's another important factor to pay attention to when you're shopping for the best racquet for topspin. Generally, the head size determines the amount of power in your swings. So go for racquets with bigger head sizes if you aim for the powerful swing and return of power to your opponent. 
Racquets with a bigger head size offer you a sweet spot, more power, and a larger hitting area, making it more forgiving on off-center hits. Don't buy the standard size which is between 97-100 square inches. We recommend sizes ranging from 93 to 135 square inches. 
Control
Comfort, stiffness, and type of string are the common elements that affect a player's control over his/her tennis racquet. More of a reason why your control over a tennis racquet is quite an important factor to consider when making a buying decision.
We recommend stiffer tennis racquets for advanced players because it helps reduce bending to deplete less energy from the ball. On the other hand, advanced players tend to have more energy loss when playing with a flexible racquet that bends more often. 
Like we said earlier, your comfort will be affected as soon as you're unable to control your racquet properly. So your tennis racquet is quite difficult to control, then you're definitely going to have an uncomfortable experience on the court. 
Besides, you need to put in mind that the more power a racquet provides, the less control you'll have over it. So, before you pay a dime for any racquet, make sure you know your overall proficiency, the type of string installed, and the racquet's frame.  
Ergonomics 
After the introduction of Lawn Tennis back in the 1870s, there has been advancement in the development of tennis racquets. Tennis racquets have seen changes and modifications in inertial properties, geometric, number of multifilament strings, dynamic properties, and even measurements. 
Before 1870, wooden materials were used to manufacture tennis racquets, weighing up to 350g. Thanks to innovative technology, fiber-polymer composites, and metal were used to replace heavy, wooden materials. We also saw modifications to lower masses and larger heads. 
Professional players have their preferences and needs which need to be catered for to help them have the best experience on the court. So, before you choose your preferred tennis racquet for a spin, consider the stiffness of its frame, strings, handles, and grips. A player's success on the court will be influenced by these features.