Last Updated on August 29, 2021 by
Golf stand bags are designed to help you carry all your golf clubs and other valuables. They are the most versatile of all golf bags with club dividers to help keep your clubs in place while you walk around on the course. Golf is an enjoyable game, but it can go from enjoyable to unenjoyable if you don't have the right golf bag. 
[amazon box="B07WPYKGG6″ grid="1″ price="none"]
When you carry a heavy bag around the course, your golfing experience would be loathsome. There are a lot of options to choose from on the market. A lot of brands produce different golf bags with different designs, materials, and technologies. It can be a little bit confusing to choose the right one for you even if you're a seasoned golfer.
To lessen the stress of the buying process, we've decided to review the Cleveland CG Stand Golf Bag which is one of the best golf bags on the market at the moment. That's not all. We've also prepared a comprehensive buyer's to hell you know whether this model is the right option for your golfing needs. 
What Is The Cleveland CG Stand Golf Bag?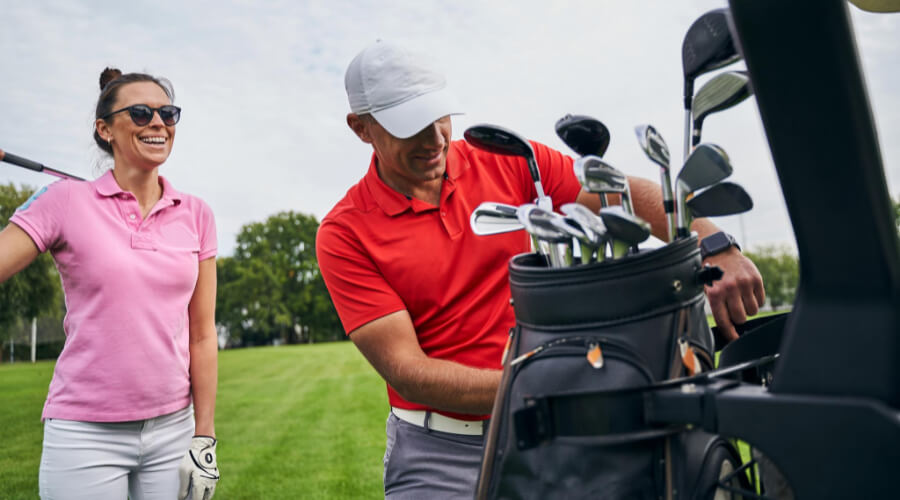 The Cleveland CG stand bag is a golf bag designed with a built-in stand mechanism to help golfers carry their clubs while walking on the course. They are the most versatile of all golf bags with club dividers and pockets to help you carry all your golf clubs and other valuables.  
Who Is The Cleveland CG Golf Stand Bag For?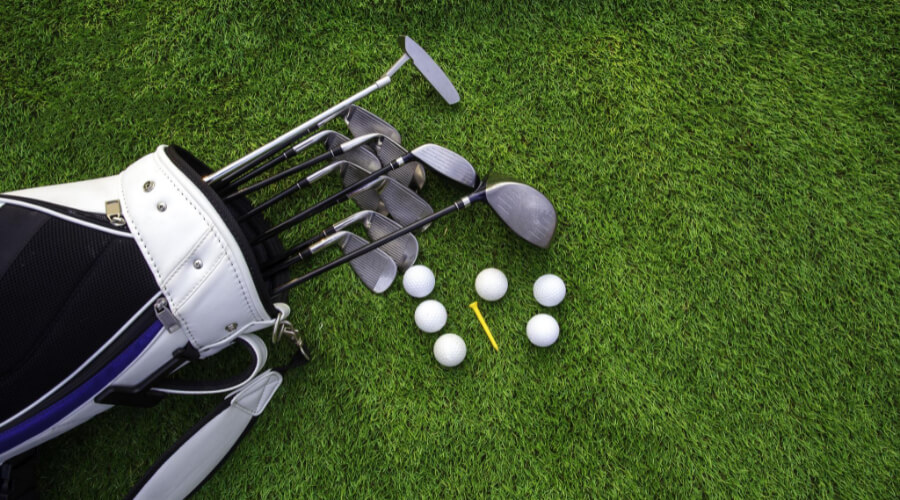 The Cleveland CG stand bag is for all golfers who love to bring a lot of clubs and valuables to the course. It is best suited for the seasoned golfer who plays with a lot of irons, a laser rangefinder, golf balls, and many more! 
How Much Does The Cleveland CG Golf Stand Bag Cost? 
The Cleveland CG stand bag isn't expensive. It is budget-friendly but still reliable and durable. It costs around $150 on Amazon. 
Cleveland CG Stand Bag Review 
Looking for an excellent choice for golfing tours? Then look no further than this ultralight golf stand bag from Cleveland. It comes with a 14-way divider that helps to keep your clubs safe and quickly accessible. You'll be able to find and pick them from the bag without any hassle.
There's a 3-way grab handle that makes the bag easy to maneuver around with a good grip on it. Thanks to its custom grip leg and base, this bag is designed for a cart. We love that the bottom side was designed to fit in well on motorized and pull carts. You'll be surprised to find a comfortable mesh hip pad and a wide dual strap which makes the bag much easier to use. When it comes to organizing pockets, this incredible stand bag offers you a lot of options. 
Golfers will enjoy a total of four accessory pockets that can be used to store extra valuables. Besides, there are two additional pockets that can be used to carry golf apparel that fit in there. Furthermore, you'll get a valuables pocket designed to help you keep your important items like phones and wallets safe. 
There's an extra pocket for keeping a bottle of water or any beverage. We were surprised to see that the bag comes with an umbrella and a matching hood which makes it perfect for golfers that travel out of the state to play golf, especially during the rainy season. 
Beneficial Features Of Cleveland CG Golf Stand Bag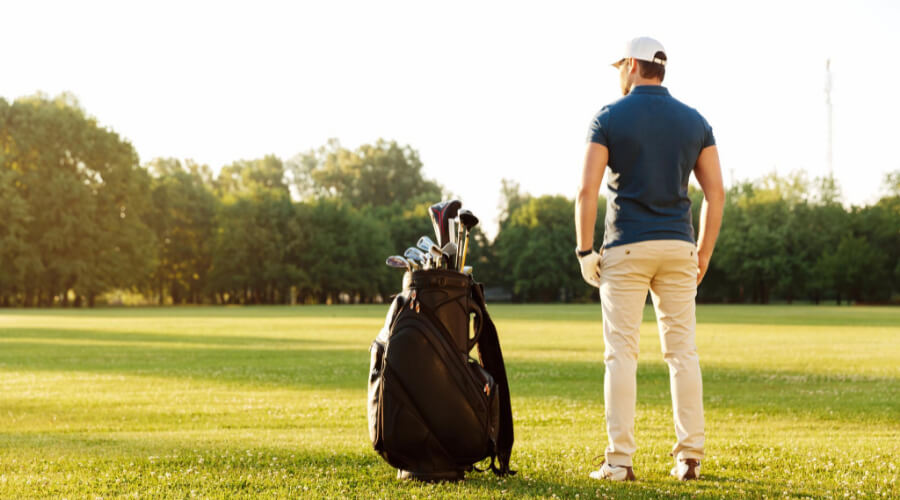 This golf stand bag has a lot of beneficial features. We've listed some of them for you to know why it's the best option. Let's check them out! 
1. Lightweight Design
The Cleveland CG Bag isn't heavy, weighing only six pounds. It might not be the lightest in the market but it's way better than other models. 
2. 14 Club Dividers
This stand bag comes with 14 club dividers to keep your clubs in place. Not just that alone. It can store everything you need from a water bottle to golf shoes and an umbrella. 
3. Dual Strap
There's a dual strap that is designed to make walking with the bag much easier and comfortable. The straps are sturdy and very comfortable to use with ample padding on them 
4. Three-Way Grab Handle 
It comes with a molded 3-way grab handle for easy maneuverability around the course. The only thing we dislike about the handle is that it is a bit hard. 
5. Ample Storage Options 
If you want a stand bag that can carry more than 10 clubs, then this one is for you. It is durable and robust enough to handle a lot of clubs in its compartments at once. That's not all! There are a lot of storage options for carrying your valuables and important items. 
6. 6-Way Full Length Club Divider 
The bag features a 6-way top with a complete length club divider to deliver ample storage space for your clubs. You'll be able to access your clubs conveniently without any hassle. The only thing is that you'll have to spend some extra time and effort to place the clubs in the dividers. 
7. Durable Stand 
The stand of this bag is well designed to be sturdy and robust with custom grip leg end caps. You'll be able to keep the bag secure when riding, thanks to its leg containment strap. The bottom of the bag is tough and it fits in well in the cart. 
Overall, we highly recommend this Cleveland GC Golf Stand Bag to anyone looking for a fancy and top-notch golf stand bag. 
Pros 
1. It comes with a lightweight design, weighing only six pounds 
2. Its comfortable dual straps make walking easy on the course 
3. Very durable legs hold a considerable amount of weight 
4. Fleece-lined valuables pocket with a waterproof zipper 
5. Comes with six zippered pockets for your storage needs 
6. It boasts a 14-way divider that helps keep your clubs organized 
7. Equipped with air vents along the side of the bag 
8. Insulated beverage compartment 
9. Durable and robust bag bottom fits in well on a pull cart 
10. Comes with a 3-way grab handle for easy maneuverability 
Cons 
1. Some zippers are stubborn 
2. Takes a little time to straighten clubs in the divider 
3. Hard handles 
Detailed Buyer's Guide 
It is always a good move to invest your money in the right golf stand bag whether you're a beginner that's just starting out with golf or you're a seasoned professional. When you have a lot of golf equipment to pack to the course, you'll need something of better quality to keep your equipment safe. 
There are a number of different Callaway golf stand bags out there with different designs and you might just find it difficult to pick the right one for your immediate needs. That's why we've composed a detailed buyer's guide to help you with the buying prices. This buyer's guide contains the factors to look out for before making a buying decision. 
Materials
Sometimes looks might be deceiving when you're on the market shopping for a new golf stand bag. You might have gotten a product with a good aesthetic design only to find out that the materials are not up to the standard of what you need especially if you've been playing golf for a long time. We've also seen instances where manufacturers rely only on their marketing to sell bags, relinquishing good quality management. 
The material used for the construction of the bag tells a lot about its durability. High-quality materials tend to be more durable and efficient than low-quality materials.  Check the zippers to know if they are made of plastic or metal. Also, check if the tab is easy to grab. Check if the shoulder straps are sturdy. You wouldn't want to buy something that won't last a year at least. No golfer would love to invest in golf stand bags every six months. 
Club Dividers And Pockets
The number of pockets and club dividers available is one of the most important things that you need to consider when you're planning to get a new golf stand bag. When you're on the course carrying your golf bag from one place to another, the clubs in it could smash against each other in different ways if they are not properly divided and arranged. Club dividers help to keep your clubs organized from the moment you picked up the golf bag from your home to the course. Also, it helps reduce the tear and wear on your golf clubs. A good golf bag should have at least three to five dividers or more. 
Graphite Shaft Protection Feature
You should look out for the graphite shaft protection feature of your bag especially if you're going to buy graphite clubs. Most manufacturers make use of a common material known as fur. However, some people don't like this material because it easily accumulates don't and dirt eventually. 
This dirt and dust form up to sand which, in the long run, stick to your shaft's coating. We recommend felt and rubber linings because they help to protect the graphite shafts without accumulating dirt and dust. 
Weatherproof Design
Dealing with unexpected changes in weather conditions is something you should expect if you're going to play golf. Sometimes, you might just be expecting a sunny day, and then it starts raining unexpectedly. In this case, your golf should be able to protect your priced investment such as the golf clubs, rangefinder, watch, phones, and other gadgets. It should come with a 100% waterproof design. 
Storage Options
When you're going on a golf expedition as a serious golfer, you might want to bring in some of your needed valuables such as phone, gloves, golf balls, a laser rangefinder, and other gadgets. So, you need to make sure the golf bag you're planning to buy has enough storage options. You'll find some good golf stand bags with fleece-lined pockets. Fleece-lined pockets help to keep your valuables safe and secure. 
Strap
When your bag is fully loaded with valuables and golf clubs, it can definitely get heavy. A good bag should be easy to carry around. If you're going to be playing on the course for a long period of time or if you will have to move out of your state to play, you'll find straps very handy. 
Straps should be well-designed and padded for added comfort. Furthermore, the straps should be wide enough to fit different body types. Golfers might be short or tall, fat or skinny. So, the straps should fit perfectly. Some golf bags work just like a backpack because they are equipped with double straps. With that, you'll be able to stay upright and walk. 
Weight
Nobody wants to carry something that's too heavy. As a golfer, your overall performance might be negatively influenced if you're carrying a heavy bag around the course. Fortunately, there are a lot of lightweight golf stand bags on the market today. The Cleveland golf stand bag is reasonably lightweight and easy to carry. It weighs just six pounds. 
You should put in mind that a lightweight design will always come with its price. By the way, you should know that the lighter your bag is, the fewer its storage options. Don't forget to always look out for good durability. In most cases, lightweight golf bags aren't the most durable because they are made of thinner materials, meaning they might not hold out longer than the bags on the heavy side. 
Sturdy Legs
Another important thing you need to check out for when you're buying a golf stand bag is the stands/legs. A good golf stand bag should come with sturdy and easy-to-setup legs. During a golf game, you shouldn't find it difficult to collapse and expand the legs. 
Budget
You have to consider the amount you're willing to invest in a new golf stand bag. You don't have to break the bank to get a good golf stand bag for your immediate needs. Cleveland golf stand bag is quite cost-effective and affordable. 
Closing Thoughts 
The Cleveland Golf stand bag is quite durable, spacious, lightweight, cost-effective, and 100% waterproof. It is well designed and built with comfortable dial straps, a sturdy stand, 3-way grab handle, insulated beverage compartment to deliver an enjoyable golfing experience on the course. The trade-off for those outstanding beneficial features, however, is that the handles are a little hard, some zippers are stubborn, and it might take some time to straighten clubs in dividers. 
Make sure you read our buyer's guide. It will help you decide whether this model is the perfect option for your next golfing expedition. We've come to the end of this single product review. We hope you were able to find good and reliable resources in your quest to know about the Cleveland Golf Stand Bag review. If you have any questions or comments about the article topic, don't hesitate to contact us. Thanks!