Last Updated on March 21, 2022 by
 Joe Buck is an American superstar sportscaster, globally renowned for his role as the lead play-by-the-player announcer for NFL coverage on fox sports. He also covers Major League Baseball (MLB)and the United States golf association (USGA) which includes baseball, American football, and golf sports. Born to the legendary announcer and Hall of Famer Jack Buck, Joe seamlessly took over the mantle from his late father. He won the Emmy award among several accolades, which ultimately cement his status as one of the most famous and outstanding personalities in the American sports broadcasting industry.
Who Is Joe Buck?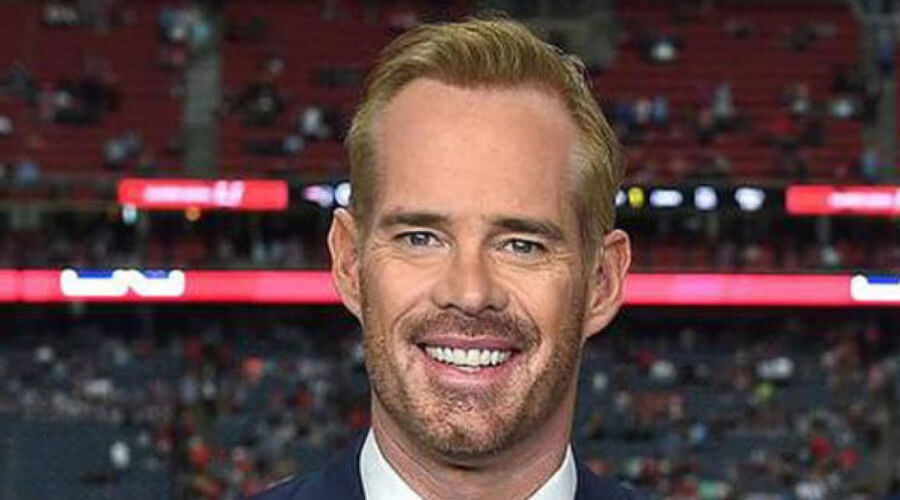 The famous Joe's full name Joseph Francis buck was born in Saint Petersburg, Florida on the 25th of April, 1969. He spent his early childhood days in the Clayton-Richmond heights area in Missouri. He started his education journey by attending Saint Louis country day school and eventually joined Bloomington university in Indiana.
Joe buck's broadcasting journey interestingly started right from his undergraduate days in the university. During this period, he usually travels around the country with his father to watch him announce games. This resulted in his first opportunity in broadcasting when his father surprisingly left the announcement booth for him to take over. He finally made his career debut officially in broadcasting in the year 1989 and get the opportunity to announce the cardinals games on radio and television in 1991. Joe Buck's stock continues to rise as he got hired by fox sports in 1994, becoming the youngest person to ever announce a daily schedule of NFL games on network television at just 25years of age. 
Did He Play American Football Or Any Sports? 
As famous and renowned Joe Buck is, globally recognized for his impact on the industry of sports broadcasting, he didn't participate in any sports professionally. His father's successful career as an announcer groomed him from his teenage days to attain this pinnacle in sports broadcasting, winning the Emmy personality award an impressive seven times in his career to date.
Aside from his illustrious career in sports broadcasting, he's well recognized and his philanthropic works and generosity to mankind. He is actively involved in charitable events, both locally and nationally. The imaging center of the St Louis children's hospital was funded by the money raised from Buck's classic golf tournament and he closely works with several foundations.
Joe Buck's Personal Life
Joe Buck's marital journey is started on a good note, getting married to Ann Archambault in 1993. The union produced two lovely daughters – Natalie buck and Trudy buck before they got divorced in 2011. He quickly moved on to a new relationship with Michelle Beisner, who was famously known as the bronco's cheerleader.
After a couple of years, the two lovebirds decided to exchange their marital vows, in a colorful but private ceremony on the 12th of April, 2014 in Mexico. Joe buck and Michelle Beisner have been going strong together as one despite the rumors of marital strife and divorce and at the time of writing this article, Michelle Beisner s Joe's official wife, and the duo appears to be enjoying their marriage.
Joe Buck's Famous Move To ESPN
After several decades of success with fox sports, there has been a widespread report that Joe is set to quit fox and join ESPN to take up a role as a Monday night coverage broadcaster. This move will allow him to continue his broadcasting journey with his long-term partner Troy Aikman, who left fox to join ESPN at the end of the recently concluded NFL season. Although Joe still had a year on his contract with Fox sports, He was permitted to explore other options which allowed him to speak with ESPN. Interestingly, Joe has been calling the world series on fox sports for the past twenty-four years and has called six super bowls since he joined fox sports in 1994. This groundbreaking move is expected to be the biggest in the broadcasting industry for over thirty years.
At the age of 52years and still, in his prime, Joe Buck's reported contract with ESPN is expected to be worth 60-75 million dollars for five years, which supersedes the 11 million dollars he earns with fox sports.
FAQs
We have a compiled list of frequently asked questions about who Joe Buck uck is and what he does.  Let's check them out below.
Did Joe Buck Ever Play In The NFL?
No! Jack buck is renowned for his special works as a broadcaster in the world of sport but he never played in any sporting event as a professional. He was mentored by Jack buck, his late legendary father who was a hall of Famer in the American broadcasting industry.
Where Is Joe Buck now
Joe buck is currently the lead play-by-play announcer in fox sports' overall coverage of the NFL. He also presently covers the world series and baseball league championships.
What is Joe Buck's Annual Income
Aside from his broadcasting role with fox sports, Joe buck is also a TV host. His salary is 6 million dollars per year and with many broadcasting gigs, his net worth is a whopping twenty-five million dollars.
What Channel Does Joe Buck Work For
He's currently contracted with fox sports where he has been calling games for over 19years alongside Troy Aikman. This streak of longevity is only second behind John Madden Pat Summerall in NFL history.
Closing Thoughts 
 Joe Buck is the son of the legendary Jack Buck, who was inducted into the hall of fame as an elite sportscaster before his demise. He first married Ann Archambault, producing two daughters before they divorced in 2011. He is presently married to Michelle Diesner, a former cheerleader who has become his colleague in sports broadcasting. 
Furthermore, he has won several accolades during his still existing illustrious career so far, notably winning the Emmy personality award seven times. He never played any sport as a professional but his work as a sports broadcaster is well recognized across the globe. He is presently working as an announcer with fox sports, under a contract till 2023. 
We hope the information the article provides gives you the right answers to who joe buck is and what he does. Kindly give us feedback if you have any questions regarding the article topic.