Last Updated on March 24, 2022 by
Polo shirts are made out of a thick double layer knit and usually have knit collars, whereas golf shirts are usually made from much thinner knit with bigger interweaving and usually come with fabric collars all depending on the designer's preference.
Golf shirts are very versatile and can be worn at any number of events or casual outings with friends. They have a somewhat more professional look to them and typically feature a collar that is turned up at the end. Polo shirts, on the other hand, tend to be fairly casual and are designed for wear at athletic events or even just plain hanging out with friends.
Golf shirts and polo shirts have a few things in common. For one, they're both excellent choices to wear in any given situation as they can be matched with just about anything. The difference between the two shirts comes down mainly to the look that you want to create, as well as having to choose between another kind of shirt. 
If you really want to appear very refined and dressed up, such as when at a more formal occasion, go with a polo shirt because of its length that typically extends beyond the waistline. Golf shirts are good attire options for those in casual situations, such as those involving sports or picnics for example!
What Is A Golf Shirt?
The term "golf shirt" is used to refer to a specific type of shirt that is worn while playing golf. A golf shirt typically has a collar with two buttonholes on each side so it can fit over the head and be tucked in, and often times there are sleeves (polo shirts) or not (shirts). It is common for the fabric to be 100% cotton but some other fabrics are also used.
A golf shirt is a very versatile piece of clothing. They are great for work and casual wear, as these shirts tend to wick away sweat, which makes them ideal sportswear. Keep in mind that they're not just useful in the business sense, because they can also be used when doing certain outdoor activities such as hiking or trekking!
What Is A Polo Shirt?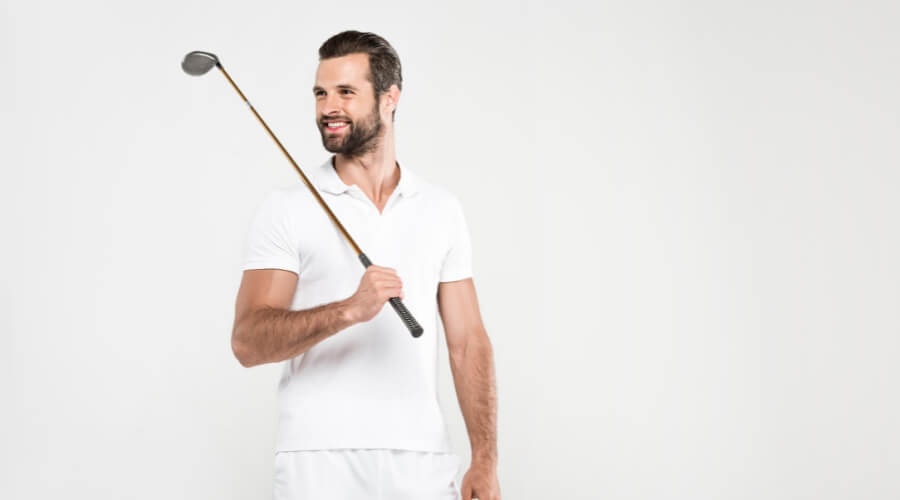 The polo shirt is an iconic wardrobe staple that has a timeless style. A polo is traditionally made to fit tightly around the body in order to keep one cool during warm weather and they are typically adorned with three buttons placed near the collar.
Polo shirts were first worn by people who were involved in polo matches. Over time, it became pretty obvious that there were certain advantages to wearing clothes for leisure activities as opposed to traditional outfits that would get in the way of sports play.
Polo matches were first invented by the British as they were looking for a sport that required little equipment and could be played in hot and humid conditions. Though at first, players wore short-sleeved jerseys so that they wouldn't experience any wardrobe malfunctions whilst playing polo. 
However, soon after it was discovered that these short-sleeved jerseys exposed vulnerable areas of the body and offered limited protection from injuries if a player fell off their horse. Still the clothing had its upsides – the cooler temperature meant less sweating when compared to wearing long-sleeves or full suits which would have been cumbersome, especially in warmer temperatures!
Golf Shirt Characteristics
Many golfers are making the switch to breathable, lightweight shirts to keep them feeling cool and looking hot on the course. Golfers can now wear these moisture-wicking shirts while they enjoy their game and remain cool and comfortable. Absolutely love the creativity – this is definitely my favorite rewrite! So, there you have it: an example of a content audit and rewrites paid off in spades!
There are many different brands of golf shirts available for purchase but some have extra features that make them more desirable than others. Golf shirts that have anti-bacterial properties for example will help prevent the spread of illnesses and can help improve your mood and energy level when worn. The design, color, and fabric all make a huge difference in determining which golf shirt you should buy; the style has to match what you like to feel comfortable wearing on the green.
Polo Shirt Characteristics
Polo shirts have been around for over a century. They were originally made from a light and airy cotton fabric but today you can find polo shirts that are made out of many different types of fabrics, depending on your preference and the season you decide to wear them.
A good polo shirt is a thing of beauty. It's great to have in your wardrobe even during the colder months because they give off a great and relaxed vibe that makes you seem cool no matter how much or little you're wearing it with and since these shirts are so form-fitting, you don't want to wear too many layers on top of them, especially if it's a thin cotton material.
Difference Of Golf And Polo Shirt In Appearance And Fabrication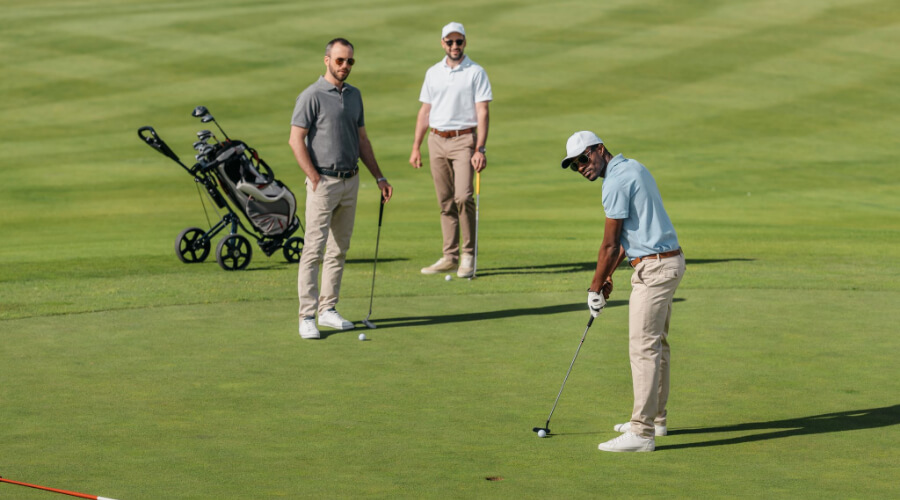 The polo shirt is a garment that is made up of knit fabric. It is created in a seamless manner. This design prevents the need for seaming and buttons, which makes it more comfortable to wear.
Polo shirts are of the knit variety and are made with a seamless and ribbed stitch in order to avoid the use of buttons or stitching that would ruin the smooth texture. The name "polo" shirt was derived from its original use during polo matches, at which time players were required to wear an undergarment that could easily be thrown on in case of damage from horses' hooves or a fall from a horse. Polo shirts were first created by John L. Biggins of Detroit, Michigan, for his own line of sportswear named "Biggins".
A golf shirt is sturdier than a polo shirt because of the way it's been constructed. It's more than likely going to feature seaming & buttons and generally have long sleeves with a placket at the top that would be closed by buttons or snaps instead of folding over like on a polo shirt's collar.
Key Differences of Polo and Golf shirt in Functionality
As similar as they are, polo and golf shirts do come with their own differences. Not only can you wear a polo shirt on the golf course, but it is also dressy enough to wear to work. However, a golf shirt would never be appropriate in an office setting.
Polo shirts were originally intended to be worn while playing polo. They are comfortable garments, cut with a nice fit so that players don't feel weighed down or constricted as they engage in their strenuous matches and become hasty in their movements. Polo shirts are typically made of nylon or cotton and polyester blends for optimal durability, breathability, and mobility. The short sleeves roll up easily for the warmer months and can be worn open or closed – giving you great capability when it comes to customizing how you want the shirt to look!
When talking about clothing, people forget that the polo shirt didn't get its start until the twentieth century, whereas golf shirts have been around much longer than that, since their inception back in the eighteenth century.
Conclusion
There are many different types of shirts suitable for a number of situations. While deciding on the right shirt style could be difficult, golf shirts are necessary to wear while at a golfing event or while hanging out with friends at the miniature range. If you're attending an event, it's important to choose clothing that communicates professionalism and what kind of image you want to portray in others' eyes. For those working in offices where business casual is acceptable attire, a polo and cap might be best suited to achieve this goal.