Last Updated on October 12, 2023 by Alex PT
FirstRowSports alternatives include SportslemonTV, Live TV, FUBO TV, VipBox TV Stopstream, Sportrar.TV, WatchESPN, and MAMAHD. These are all amazing websites to stream live sports games from anywhere in the world for free. 
Top 7 FirstRowSports Alternatives 
After extensive and exceptional analysis, we've handpicked 7 top alternatives for FirstRowSports. Let's see what they have to offer!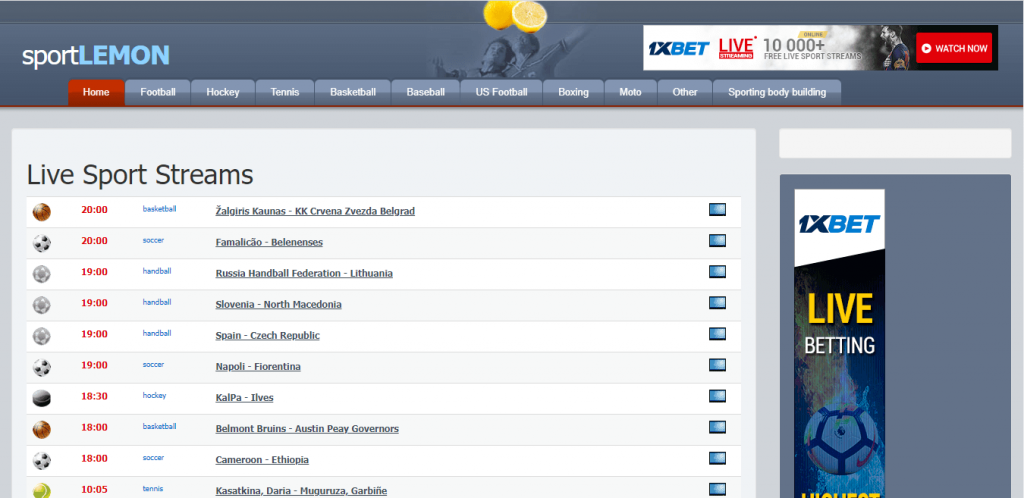 Sportslemon TV is one of the incredible sports websites alternatives for FirstRowSports, and it's completely free and available to everyone. It comes first among the alternatives of FirstRowSports on our list because it is an extremely reliable and accessible sports website. This website gives you the option to choose your time zone, sporting events, and sports. You'll be able to stream almost all the sports content on this website for free like football, tennis, hockey, boxing, table tennis, basketball, cricket, etc. The truth is you'll see some ads pop up while streaming this website. But it's not too big and obstructive. Sportslemon TV provides sports content that can be streamed with external software and it also delivers a number of links for live streaming. People really appreciate the fact that the website gives room for multiple links which promotes great accessibility.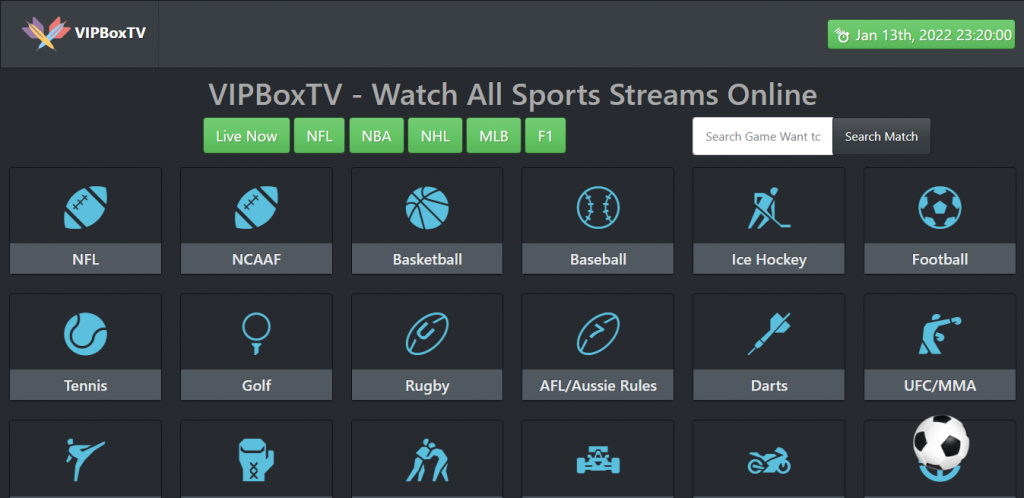 The VipBox TV picks the 2nd spot on our list because it is a multinational sports broadcasting website dedicated to providing live sports games and events. If you're looking for one of the best sports websites for streaming live sports content for free, then the VipBox TV is a great choice. It specializes in soccer and American football. So, foosball/soccer lovers would find this site helpful. However, that's not to say it doesn't show some other sports channels too. As a matter of fact, you'll still stream sports like basketball, hockey, tennis, etc.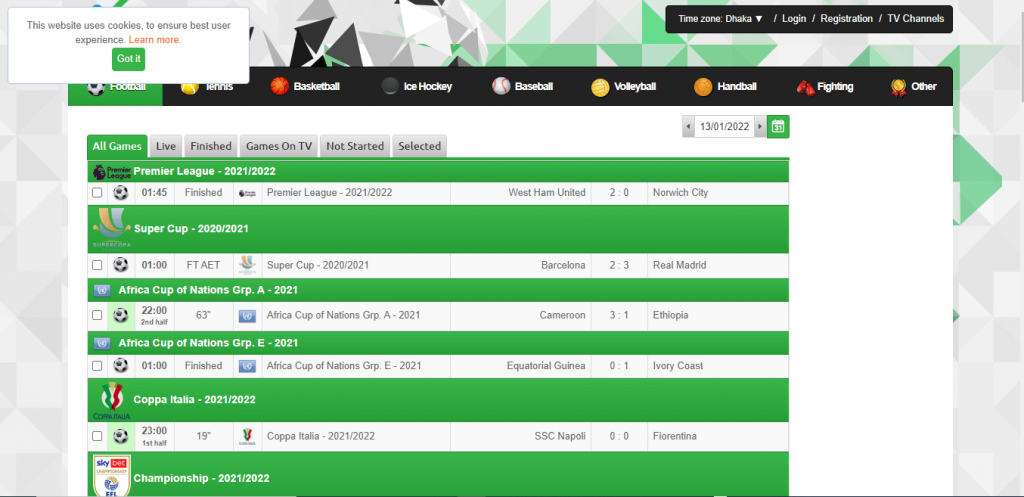 Here's another great alternative to FirstRowSports. One thing we loved about this live sports streaming website is that it was designed with a detailed schedule and match results. This interface is always updated and it's located on its main page. It helps you stream a large variety of sports games like Football, Tennis, Basketball, Baseball, etc., and allows you to follow up with your favorite team. For easy access to the exact schedule of the match streaming, it comes with an adjustable time zone. 
4. MAMAHD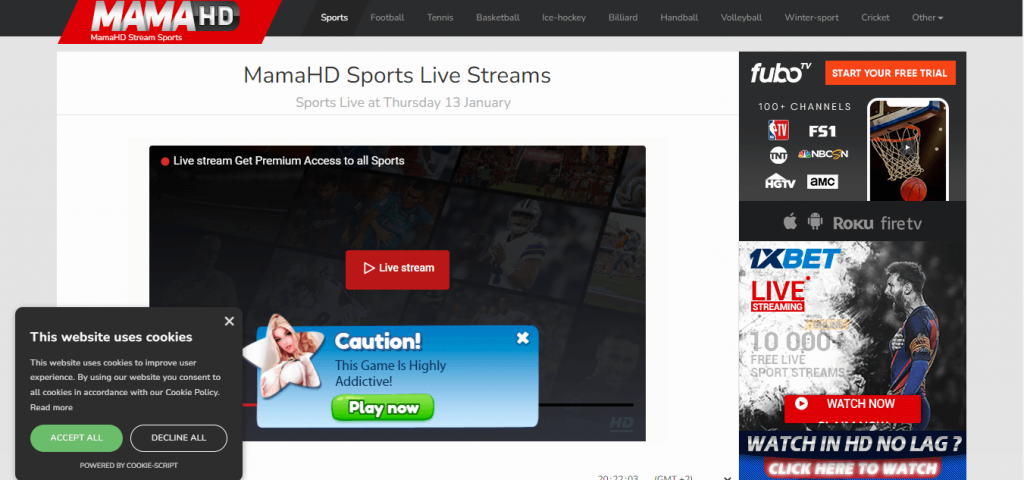 MamaHD is a free sport streaming website with premium-quality resolution while streaming, and it's one of the best FirstRowSports alternatives. It works well on your smartphones and personal computers, giving you full access to stream unlimited live sports games and schedules without any hassle. With MAMAHD, you'll get to watch a range of different sports games like football, basketball, table tennis, hockey, badminton, etc. Many people have been praising the page for its high-quality resolution. That's not all. You'll also get to chat with fellow fans and sports lovers of particular sports and drop comments. By the way, MAMAHD is free and accessible to everyone in any part of the world.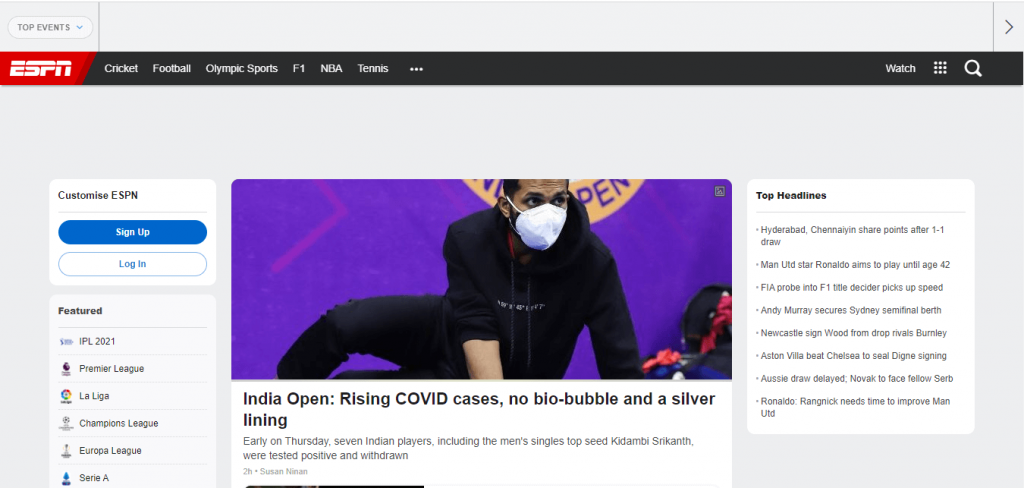 ESPN, which is a leading sports channel in the world today offers WatchESPN (a free sports streaming website). The very first thing you should know about this page is that it is specially designed for US subscribers only. So, if you reside in the United States and you're looking for a FirstRowSports alternative, then you should probably consider watching ESPN. Its exceptional interface allows you to watch live sports games. That's not all. It also updates you on new, upcoming events or archived playback content. Besides, this page only lists selected ESPN sports content of the United States. These include Softball, Tennis, Wrestling, Rugby, American Football, Basketball, Lacrosse, Hockey, and many more. 
Looking for a sports streaming site that's similar to FirstRowSports? If yes, then try Live TV today! This site is a multi-lingual streaming platform that's designed in Russia. It offers a number of languages like Russian, Spanish, English, Italian, and others for easy accessibility. Users will be able to stream sports events like hockey, baseball, football, basketball, racing, and many more! 
This sports website is an American television service that helps to stream a selected number of sports events like NBA, NFL, MLB, NHL, MLS, etc. It's only designed for US subscribers, and it offers the opportunity to stream live sports games and DVR live sports. FUBO TV is uniquely designed to offer entertainment and sports news. 
Final Thoughts 
No doubt about it, FirstRowSports is an amazing live sports streaming website. But the truth still remains that there are some exceptional alternatives that are just as great as FirstRowSports. We've done a really great job by listing & explaining some of the websites that provide top-quality sports content just like FirstRowSports. We've reached the closing chapter of this informative article. We hope you were able to find good and reliable resources in your quest to know FirstRowSports alternatives. If you have any questions or comments about the article topic, don't hesitate to contact us. Thanks!
References:
https://www.javatpoint.com/firstrowsports-alternatives
https://filmora.wondershare.com/live-streaming/top-best-firstrow-sports-alternatives.html