Last Updated on October 21, 2023 by Alex PT
Harley Quinn's baseball bat is a signature prop that she uses in the DC Comics universe. It is typically written with the phrase "Hush little baby, don't say a word. Momma's gonna kill for you the whole damn world." and is decorated with other symbols and phrases, such as her signature red and black diamonds, hearts, and skulls.
From Harley Quinn's bat: in black and blue colors
" HAHAHAHHAAHAHAHAHAAHHA hush little baby, don't say a word, mama's gonna kill for you the whole damn world. And if the world should wonder why, momma's gonna make it cry and cry. All the weirdos and freaks can't lay a finger on me cause anyone Kraus who's my baby. HAHAHA! Hey baby, want me to teach these losers a lesson? Eat your heart out. Hush little baby, don't say a word, mama's gonna kill for you the whole damn world. And if the world should wonder why, momma's gonna make me cry and cry, laugh and laugh near tears of laughter. Oh my God. You are so funny. You are killing me! Laughter and lie, pudding, and pie, all the weirdos are freaks. Can't lay a finger on me, everyone knows who's my baby, my boss likes me to wear a smile to work, a good thing I like to swing this bat. Does that make me batty? Hahaha, you are killing me am I killing you? Wanna play daddy? Haha!"
In Red Colors
Hush little baby, momma's gonna kill for you the whole damn world 
Killing me
You are so funny
No, I am
Hush little baby
Killing you
You are killing me
Or I am killing you?
HAHAHA HA
Outside these quotes, there was also a big red-colored capitalized 'GOOD NIGHT.' Also with capital letters, but with a blue pen, 'KISS THIS'. And then a kiss-shaped lipstick below it. 
Harley Quinn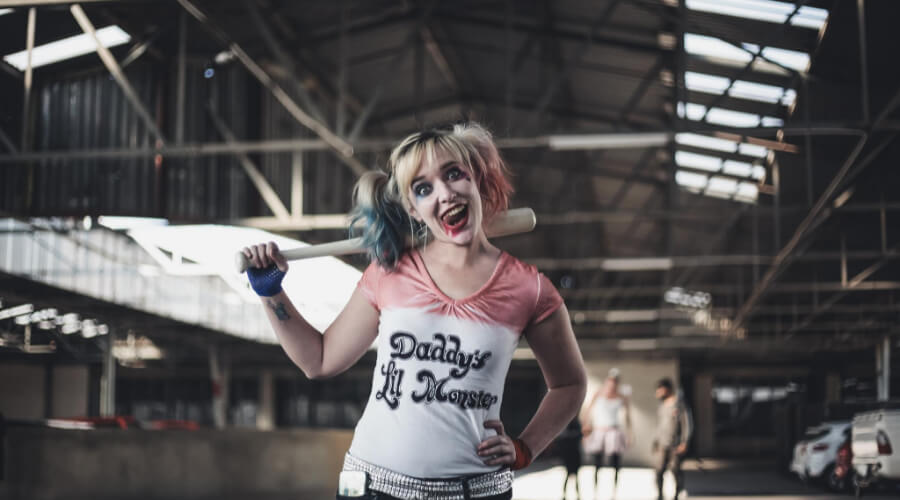 Harley Quinn is a fictional character from the hit movie suicide squad. The name Harley Quinn is a short version of Harleen Quinzel. She played the role of Joker's psychiatrist while Joker was in prison. She fell in love with Joker and helped him escape so many times before she got caught, of course, she lost her certification when she was caught. This drives her to become Joker's loyal accomplice and shorten her name to Harley Quinn. 
We will Describe Harley Quinn's choice of weapon as a wooden replica. With writing all over it, we can especially see the word "Good Night" written boldly on it with capital letters. Covering the handle of the bat is a strip of worn dirty fabric.
History Of The Fictional Character Harley Quinn
The fictional character Dr. Harleen Frances Quinzel was created by writer Paul Dini and an artist named Bruce Timm. For the Batman animated series in 1992, an episode named Joker's favor was written initially to be an equivalent of a walk-on-role. Normally, Harley was to come up in one episode in the series but as he was writing, he got inspiration from The Molls; a 1960 live-action Batman series to give Joker a female apprentice. Harley was based on a roller-skating jester character which was a dream sequence in the soap opera "Days of Our Lives" which was played by Arleen Sorkin. A lot of Sorkin's personality and character were put in Harley. Soak in was called to do the voicing for Harley and she spoke in her Brooklyn accent and a bit of Yiddish because the character was also Jewish. While designing the character, Dini put in a simplified supervillain version of the harlequin gear from the Comedia dell'arte original. First, he took the jester hat, the ruffled collar, and the diamond pattern, then he put them on a red and black bodysuit. The diamonds were placed for easier animation. The red and black motif was from the Golden Age comic book called Daredevil. 
Origin Of Harley Quinn 
February 1994, the one-shot. The Batman Adventures: Mad Love, Harley was originated. This story was written by Dini And drawn by Timm, this story was their first collaboration. According to the story, Harley Quinn was a pop psychologist who fell in love with the Joker. Her name was Harleen Quinzel, she was an intern at Gotham City's Arkham Asylum. The story also entails Harley's transformation into the Joker's accomplice and also the maltreatment she received from him. 
Harley Quinn's Hammer
Before using a baseball bat, Harley Quinn used a hammer with flat sides. Smiley faces were drawn on the flat sides of the hammer. Just like her baseball bat, there was a written message to Joker on it. These exact words were written on Harley Quinn's hammer "You are killing me." 
What Is Written On Harley Quinn's Jacket And What Does It Entail?
According to the movie, the evil mistress wore a choker that said "pudding." This is important because it elaborates on the writing on her jacket "property of joker." The fact that she is owned by the joker is further backed up by the choker since it resembles a dog collar.
Did Harley Quinn Have Any Superpower?
Harley Quinn, a popular DC Comics character, does not possess superhuman powers. She is a highly skilled acrobat, gymnast, and hand-to-hand combatant. Her main attributes include intelligence, unpredictability, and a strong penchant for using various weapons. While she does not have superhuman abilities, she often teams up with superpowered individuals like the Joker or Poison Ivy, making her a formidable and complex character in the DC Universe. Harley's character has gained significant popularity in comic books, animated series, and live-action films, making her a fan favorite.
What Is The Length Of Harley Quinn's Bat? 
31.5m! The character's choice of weapon was recreated and made as a wooden version. Although the writing and details on the bats were all intact. The designs and the strap around the handle. The length of the bat is 31.5. 
Of All The Weapons Used By Harley Quinn Which Was Her Best?
Her oversized mallet! Harley Quinn's favorite weapon in any movie or comic in which the character has appeared is her mallet. This is so because we have seen a new version of this weapon on her every appearance. 
Closing Thoughts
Making your personal Harley Quinn bat is also an option, for those who love the character so much, there are steps to follow that make it easier than it seems. We've reached the end of this informative article. We hope that this article helped you find resources in your quest to know what was written on Harley Quinn's bat. Do not hesitate to contact us with any questions or comments. Thanks!
References:
https://www.quora.com/What-is-written-on-Harley-Quinns-bat
http://dccomicsmovie.com/the-words-on-harley-quinns-bat-in-suicide-squad-revealed/