Last Updated on January 14, 2022 by
Yes! The Mazda Miata series are sports cars, and they are regarded as the lightest car sold in the United States. These car series have incredible features and functions that make them exceptional sports cars. The latest edition has new safety-related features, a standard rearview camera, and a new telescoping steering column.
Besides, Mazda made let us know that the needle on the Miata's bathroom scale north by only seven pounds. Mazda continues the production of these series even after selling more than a million Miata series in less than thirty years. It's a beautiful, little sports car, and people love it. In 1989, all Mazda dealers in the country got the first set of Miata produced, and these cars were equipped with modern-day functions, making them lightweight, front-engine/rear-wheel-drive sports cars. If you're looking for resources in your quest to know whether Mazda Miata is a sports car or not, then read on. You've come to the right place. We've handpicked some important reasons why we love and consider the Miatas sports cars. 
Reasons Why Mazda Miata Is A Sports Car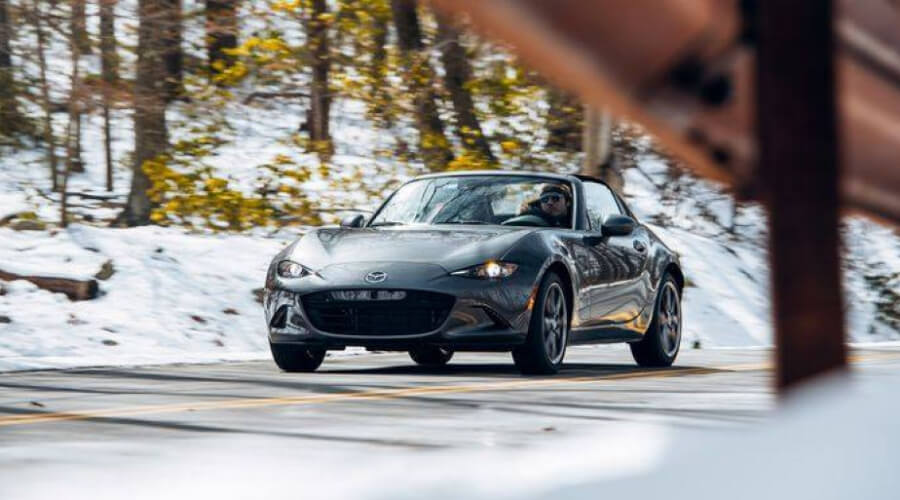 It Comes With A Small Cabin
The Mazda Miata was equipped with a small cabin. But the classy touches such as body-color upper door panels and cut-and-sewn dash trim with contrast stitching cover-up for its small cabin. The truth is that luxury matters less. The most important things about this beautiful sports car are its large, front-and-center tachometer; its snug sport seats; and its new tilting and telescoping steering column. All these features make the sports car easier for drivers with long legs to be in a comfortable seating position when driving. 
Manual Transmission With A Smooth Shift Pattern
Earlier Miatas comes with a five-speed manual transmission that allowed drivers to shift precisely with short gear throws instead of rowing through the gears. It's a proper stick shift for a little sports vehicle like the Miata. A six-speed manual transmission is available in modern cars, such as the 2017 Mazda MX-5 Miata Club. All variants with a manual transmission
More Than A Million Car Products
Mazda made a general announcement that they've sold more than a million Miata cars. By the way, these cars are still in production. Mazda still makes them today. If you're looking for a very small, beautiful sports car, then you should consider one of these Miata editions. 
Handling Perfection: Rear-Wheel Drive/Weight Distribution 
Rear-wheel drive allows a car's front wheels to maneuver without having to worry about putting the engine's power down on the road. In less technical terms, rear-wheel drive is a solid foundation for designing a sports car because it's a fun configuration to drive. The Miata is a rear-wheel-drive sports car with approximately 50/50 front-to-rear weight distribution and exceptionally compact dimensions. (The 2019 Miata is just a smidgeon shorter than the 1989 version!) As a result, it responds to steering inputs with vigor. The Mazda's soft suspension also allows for some body roll, dip, and squat, all of which accentuate and clarify the impacts of the driver's inputs, making the Miata feel faster than it is—and more fun than nearly anything else on the road.
There Are No Limits To How Many Beams You Can Have Per Hour
This automobile is just plain entertaining. It has a lot of power and handles well. Earlier models had a manually operated fabric top that folded into the trunk – something you can do while waiting at a stoplight. For a Targa look and feel, newer models, such as the 2017 Mazda MX5 Miata RF, allow you to remove the overhead panel and lower the back window.
Nearly-Perfect Weight Distribution
Mazda made the engine of the recent Miata mounted close to the feet of the driver, and lengthwise in the front. This way, it helps to push power the rear wheels. With this, you'll enjoy an even balance with handling that's lively, incredible, and responsive.
Comes With Recaro Sport Seats
The new Mazda Miata comes with the new Recaro-branded sport seat option. That's a lovely feature. But the truth is that the well-bolstered seat requires users to first step up to the mid-level Club model, then review the pricey alternative box for the BBS wheel and Brembo brake assortment.
FAQs
After extensive research, we've compiled a list of frequently asked questions and answers for a better understanding of Miata Sportscars. 
Is The Mazda Miata Considered A Sports Car?
Yes! Most people think Mazda Miata is only technically a sports car, but that's not true. Mazda Miata is actually a sports car even though it's not the quickest, strongest, and most agile on the market. 
Is The Mazda Miata A Good Sports Car?
Definitely! The Mazda Miata is a very good sports car even if it has its drawbacks and disadvantages. Its drawbacks include a light cabin, a very small trunk, a bad for bumpy roads, and it's a little loud. 
Is A Miata A Sports Car to Insurance?
The Mazda Miata is reasonable to insure despite sporty driver profile and inherent risk connected with convertible sports cars. The good thing is that Miata costs far less to insure when compared with its counterparts. 
Does Mazda Have A Sports Car?
Yes! The Miata and RX-VISION rotary sports cars are two modern sports cars from Mazda with the next-generation SKYACTIV-R rotary engine and Mazda's conception of the ultimate in front-engine, rear-wheel-drive sports car design. The Miata model is a representation of a vision of the future which illuminates the soul of the Mazda company. 
Closing Thoughts – Rounding Up! 
Just so you know, the Mazda Miata series are incredible sports cars with incredible features and functions like the new safety-related features, a standard rearview camera, and a new telescoping steering column. We've also listed some of the major reasons why we consider these series of sports cars. Check them out! You'll also agree with us!  We've reached the closing chapter of this informative article. We hope you were able to find good and reliable resources in your quest to know if Mazda Miata is a sports car. If you have any questions or comments about the article topic, don't hesitate to contact us. Thanks!