Last Updated on October 13, 2023 by Alex PT
OTA in pro football stands for "Organized Team Activities." It includes non-contact practices, drills, and workouts. NFL teams have 10 OTA days in the offseason, crucial for player development and preparation.
OTA Football – What Does OTA Mean In Pro Football?
The OTAs organized by the teams are mainly optional and no team is allowed to penalize a player that misses a day of the OTA. There is always a loophole for activities like this but when a team is allowed to pick out players that would play on the team match, the players have to attend because 95% of the time, the players that get involved with the OTA are the ones that the teams pick. OTAs generally take up to 9 weeks, this doesn't mean that you have to be there for the whole seven days a week. Most teams start this activity during the last days of April and end most time in June. The OTA calendar is made up of three phases. 
Phase 1: The first two weeks of the OTA window are just about strength and conditioning. Mostly the weight room activities and some runs are what make up phase 1. Players who have injuries were also given instructions to do some of the activities that they could pull off so that their progress could be viewed. For instance, players who have their arms or hands injured would be trained to throw with their injured arm so that their growth can be monitored. Although they wouldn't be given the liberty to run routes. 
Phase 2: During the first three to five weeks, teams are given the chance to do anything related to football, although they wouldn't be allowed to play on defense and offense sides. What this means is that the offense can go through the playbook and do the routes and things like that. The offense side cannot line up against the defense. 
Phase 3: During the last four weeks comes phase 3 where the teams are given the liberty to slate at least 10 days of practice without contact. This is a situation where the offense and defense are allowed to line up and face each other head-on without tackling and using full speed. Blocking is also not allowed during this period. Offensive and defensive linemen can make contacts but they would have to do this with a very low speed. The defensive backs are allowed to run the normal routes and make defensive moves, the same as the receivers. They do this without hitting or making any harsh defensive move. 
Furthermore, while these four weeks are going by, the 10 days of practice chosen by them. During this whole period, the teams are permitted to pick a very important veterans minicamp that would last for four days. These mandatory days are always mentioned on the contract of every player. The only way to miss out on this particular mandatory meeting would be if you are a player whose contract had been completed or ended without renewal for the next season. Although, this player is allowed to attend this activity if he wants to. This activity also doesn't allow players to make contact, just the normal drill, and some training activities are done with a little jostling. 
For the rookies, it doesn't matter if drafted or first-year free agent players are given permission to join in the extra rookie minicamp that can take up to seven weeks. During this time, contact is allowed, although none of them are done at high speed. This period has been made out to teach the rookies how the team works and the playbook before they do some full training. The teams who have just gotten new coaches are also given time to do the extra voluntary veterans minicamp because the coach also has to understand how the team works. 
A Table Showing The Different Training Camp Sites For Different Teams 
| | | | |
| --- | --- | --- | --- |
| Team | Site | Location | Year |
| Arizona Cardinals  | State farm stadium | Glendale, Arizona  | 2013 |
| Atlanta Falcons | IBM performance arena | Flowery Branch, Georgia | 2005 |
| Baltimore Ravens | Owings Mills, MD | Owings mills, MD | 2012 |
| Buffalo Bills  | Growney Stadium | Pitt for, New York | 2000 |
| Carolina Panthers | Gibbs Stadium | Spartanburg, SC | 1995 |
| Chicago Bears | Halas Hall | Lake Forest, Illinois  | 2020 |
| Cleveland Browns  | Cleveland Browns training center | Berea, OH | 2012 |
| Cincinnati Bengals  | Paul Brown stadium | Cincinnati, OH | 1992 |
| Dallas Cowboys  | Ford Center at the star | Frisco, Texas  | 2016 |
| Denver Broncos  | UCHealth training arena | Englewood, CO | 2003 |
| Detroit Lions | Detroit Lions training arena | Allen Park, MI | 2002 |
| Green bay parkers | Schneider stadium | De Pere, WI | 1958 |
| Houston Texans | Under armor Performance center  | Houston, Texas | 2002 |
| Indianapolis  | Grand Park | Westfield, Indianapolis  | 2018 |
| Las Vegas Raiders | Intermountain health care performance center | Henderson, Nevada | 2020 |
How Many OTAs Do The NFL Teams Do A Year?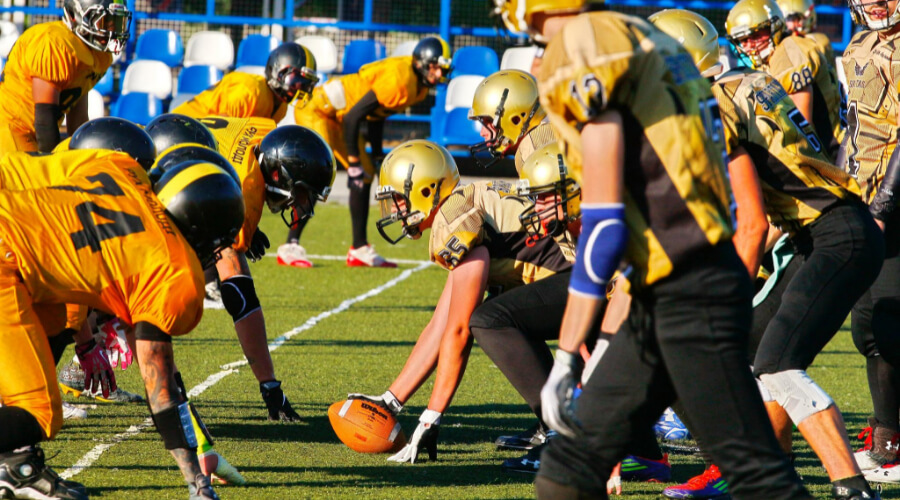 Every team is given permission to have 10 OTA practices and minicamp practices are also added to it, just three times. The OTAs for the team players are optional, unlike the minicamp which is mandatory. The normal Covid protocols are now being followed which has been able to limit the players that attend some of these activities. 
What Are The Rules Guarding OTA?
The rules for clothing are just the normal helmet and guards that protect the players. Also, they are given knee pads and shoulder pads too. Al the NFL teams have three weeks set out OTA, the last week is to the minicamp. Any team violation of any of the OTA rules could be fined. 
What Are The Roles Of The NFL Coach During The Offseason?
The head coach of an NFL team uses most of the offseason period preparing for the schedules for practice. This means that they are preparing for the next season. At the college level, the coach just tries to recruit students coming from high school. 
What do NFL OTAs Include?
Organized Team Activities (OTAs) in the NFL are a vital part of a team's offseason program. They include a variety of activities aimed at player development, preparation, and team cohesion. Here's a detailed breakdown of what NFL OTAs typically include:
Non-Contact Practices: OTAs involve on-field practices where players work on their skills, techniques, and understanding of the playbook. However, these practices are non-contact, meaning no tackling or heavy physical contact is allowed.
Individual Drills: Players participate in individual position drills, focusing on improving their specific skills. Quarterbacks work on passing accuracy, receivers on route running, linemen on blocking techniques, and so on.
Team Drills: Teams run through offensive and defensive plays, helping players get accustomed to their roles and responsibilities. This is a crucial time for quarterbacks to build rapport with their receivers.
7-on-7 Drills: These drills involve the quarterback, receivers, and defensive backs. They simulate passing plays, aiding in the development of passing routes, coverage skills, and communication between players.
11-on-11 Drills: This is a simulation of real game situations, with the full offense and defense on the field. It helps players practice plays, play-calling, and game-like scenarios without full contact.
Strength and Conditioning: While football skills are essential, maintaining physical fitness is crucial. Teams incorporate strength and conditioning workouts into OTAs to ensure players are in top physical condition.
How Long do OTAs Last?
OTAs, or organized team activities, are voluntary workouts that NFL teams hold during the offseason. They typically last for about 10 days, spread out over four weeks. Teams are not allowed to hold OTAs for more than six hours per day.
During OTAs, teams can conduct a variety of drills, including individual drills, group drills, and 7-on-7 and 11-on-11 drills. However, live contact is not permitted.
OTAs are a valuable opportunity for players to get back into shape, learn the new playbook, and bond with their teammates. They are also a good time for coaches to evaluate their players and see how they are progressing.
Conclusion
OTA period is very valuable and could be of a lot of help to the player.
References:
https://www.sportingnews.com/us/nfl/news/ota-nfl-football-meaning-schedule-voluntary-workout/v1gahi0nagpv4xsfcnigra4n
https://sports.betmgm.com/en/blog/nfl/what-does-ota-stand-for-nfl-bm06/