Last Updated on August 29, 2021 by
SKLZ is known for its reliable reputation among soccer players, coaches, and parents when it comes to delivering high-quality sports products for solo training, passing, and volley. Today, this brand is one of the prominent manufacturers of soccer goals on the market.  SKLZ's soccer goals are available in different styles, multiple sizes, and also at a range of different prices. Their soccer goals help soccer players master passing techniques and enhance the control of the ball. 
Soccer goals from SKLZ are not only versatile but also affordable. Truthfully, there are hundreds of manufacturers and models on the market. But getting the right model from a reliable manufacturer isn't the easiest task. More of the reason why we've reviewed this affordable and versatile Quickster soccer goal from SKLZ for you. That's not all! In this article, you'll get to know the things to consider before making a buying decision. Without wasting time, let's get to know about this wonderful soccer goal! 
What Is An SKLZ Quickster Soccer Goal?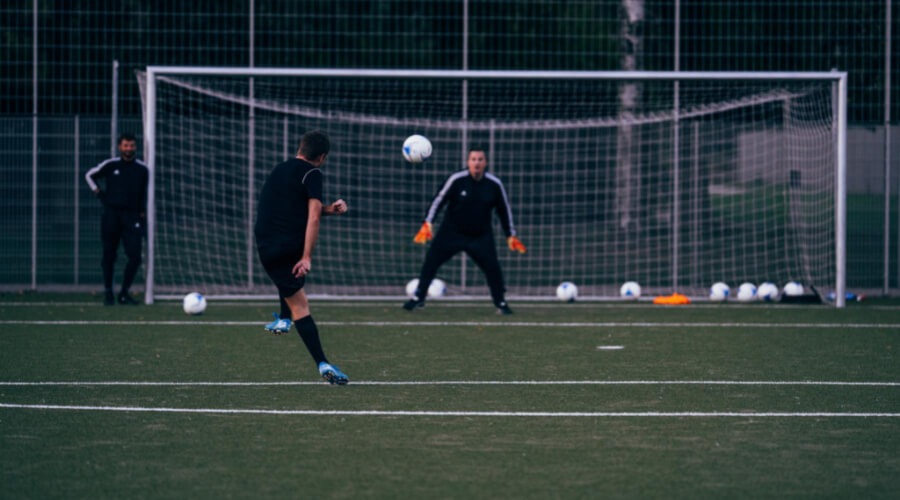 SKLZ Quickster soccer goal is comprised of two vertical goalposts connected at the top by a crossbar. This ultra-portable soccer goal is placed at the center of each goal-line and it helps you improve your soccer techniques through repeated practice. 
How Much Does SKLZ Quickster Soccer Goal Cost? 
The [amazon link="B000A1FCN4″ title="SKLZ Quickster soccer goal" /] is cost-effective and affordable. It costs only $89.24 for 12×6 feet while 6×4 feet costs about 118$. It is available on [amazon link="B000A1FCN4″ title="Amazon" /] and Dick's Sporting Goods. 
Who Is The SKLZ Quickster Soccer Goal For? 
This ultra-portable soccer goal is best suited for soccer coaches who have minimal setup time, players under the age of twelve, and indoor soccer games. 
What's Included In The Package?
The package comes with stakes which helps to keep the goal in place even in the winds. Also, it comes with an easy-to-use carry bag. This carry bag helps to transport the soccer goal easily. 
SKLZ Quickster Soccer Goal Review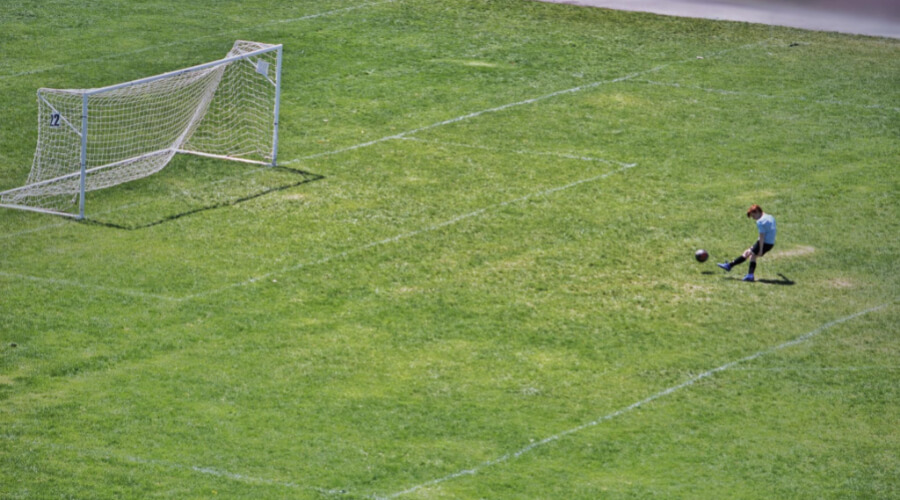 Looking for how to master your passing, shooting, heading, and volley skills? Then look no further than this SKLZ Quickster soccer goal. With this soccer goal, you'll be able to improve your control of the ball from head to toe. You'll be surprised to know that this soccer goal returns the ball just like it is in-game conditions. It is quite lightweight and ultra-portable, weighing only 13 pounds. 
Its portability makes it easy to carry anywhere you go. Quickster soccer goal cones with laces and instep which makes ideal for training on your half volleys and volleys. One thing we love about this equipment is that it is very easy and quick to dismantle. Within 7-10 minutes, you'd have dismantled it and pack it. Besides, you can easily maximize the reps with your chest, feet, and thighs to trap the ball out of the air. 
It is no surprise that parents, players, and coaches are buying the SKLZ Quickster soccer goal at a higher rate. It packs a lot of beneficial features to helps people have an enjoyable soccer experience. With this goal, you can easily practice improving your shot power as well as your shot techniques. 
Beneficial Features Of SKLZ Quickster Soccer Goal
We've listed some of the outstanding beneficial features of this wonderful soccer goal. Let's find out what makes them special! 
1. Easy Setup/Dismantling 
If you're a coach or a player who's looking for a soccer goal that's accessible at any time, then the SKLZ Quickster soccer goal is perfect for you. Once you follow the instructions in the manual, it wouldn't take more than 5 minutes to set it up. Its quick setup makes it ideal for coaches and players who are always on the go. No time to waste time! Dismantling is as easy as setting it up. No hassle at all! An internal bungee cord is mostly used to connect the goal to make the installation process easier. However, you should know that the posts and the net don't come attached to the mainframe. You've got to attach it yourself. 
2. Budget-Friendly
 This soccer goal is really cost-effective, especially when compared to other goals in the same category on the market. However, you have to know that sometimes, prices vary throughout the year. But be assured that you'll always get the best price and value for money. You can check Amazon for the current price of this goal.
3. Ultra-Portable
This goal is quite portable and easy to move around. It comes with a nice easy-to-use carry bag with ground stakes which makes transporting this soccer goal pretty easy. We, however, suggest that you carry two or more separately in different carry bags. Carrying more than one goal will end up becoming a little uncomfortable and if they fall, they might get damaged. So, handle with care. We don't recommend carrying this goal on public transport because you might end up hitting it on something or someone. 
4. Durability 
It is well designed and built for high-intensity training. SKLZ equipped the soccer goal with heavy gauge tarpaulin facing, easy connect click-lock tubing, and durable 2-ply netting, If properly used and taken care of, this soccer goal is durable enough to last you for some time. The goal shouldn't be used for professional soccer games, only suitable for youth and elite players. Also, you wouldn't want to leave it outside. Pack it into its bag after every use to ensure it lasts long. 
5. Multiple Sizing Options 
The SKLZ Quickster soccer goal is available in 12×6′, 8×5′, and 6×4′, making it perfect for any level of player. You'll get to enjoy a real game-like experience for authentic action and scoring, thanks to its official shape. This model can be used by players of different age groups as it is available in various sizes. Just buy the size that suits your kids or players. 
Pros 
1. Quite easy to transport
2. Fits easily in the trunk of your car 
3. Safe for kids of all ages 
4. Sturdy and durable 
5. Easy to fold in the carry bag 
6. Lightweight design 
7. Quick and easy to set up and dismantle 
8. Well-designed and built to last long
9. Comes with a durable multi-touch rebounder that enables skill improvement
10. Delivers a true-roll that helps master shooting and passing 
11. Helps you master receiving as well as passing 
12. Available in multiple sizing options for good games and practice 
13. Helps you work on volleys and half volleys with instep
Cons
1. Thin shoulder straps on carrying bag 
2. Does well only in a grass soccer field 
Detailed Buying Guide
We've composed a comprehensive buying guide which contains various features and factors of a soccer goal. These factors will help you decide on whether the SKLZ goal is the right one to buy for your immediate needs. 
Material
Soccer goals are generally made of two materials – metal or plastic. Goals made with metal material have better performance and durability than plastic goals. They are comparatively expensive and features a high-grade design for high-impact games. Metal goals come in different sizes as they are used in leagues, tournaments, soccer clubs, etc. Plastic goals, on the other hand, are more affordable, portable, lightweight, and built majorly for the youth. The SKLZ goal is built with steel and some other material to deliver top-quality performance  
Soccer Goal Size
When you're about to buy a soccer goal for your league, club, or players/kids as a coach or a parent, you need to know that soccer goals come in different sizes for different age groups. Take, for example, players within 6-7 years of age would need 15 yards W x 20 yards L goal size in the field, while players more than 13 years of age would need 50 x 100 to 80 W x 120 L. SKLZ soccer goal can be used by players of different age groups as it is available in various sizes. 
Portability
Do you need something permanent or do you prefer a portable soccer goal that's lightweight, foldable, easy to store and transport? These are the questions you need to ask yourself before making a purchase. Soccer goals like SKLZ can be used for games, practice, or training on public fields. This soccer goal is affordable and it's available in various sizes, making it ideal for installation in places with no permanent goals.
SKLZ is best known for its lightweight and portability. On the other hand, semi-permanent or permanent soccer goals are more expensive and quite heavy, but they are more reliable, durable, and they have high stability. Permanent or semi-permanent soccer goals are commonly used in stadiums, schools, professional teams, etc. 
Versatility
One of the crucial things to have in mind before investing in your preferred soccer goal is its versatility. Your preferred soccer goal should be perfect for both pieces of training as well as playing. A versatile goal should be portable, easy to assemble and dismantle, lightweight, and available in different sizes. SKLZ goal is a great option for people in search of a versatile soccer goal that can be installed easily in your backyard or even at a park. 
The Net
The net that comes with your soccer goal shouldn't be outdated, tangled, or damaged. If you find out that it's not good enough, then changed it immediately. However, you should ensure that you get the standard size that will fit the goal frame perfectly. 
The net depth is another thing you should take note of. If you want a goal with more room inside, then go for soccer goals with greater net depth. We recommend soccer goals with three or more dimensions i.e. length, width, top, and bottom base depth. Just like the SKLZ, the soccer nets should be secured by net fastener systems in for of bars and clips for your backyard usage. 
Purpose Of Your Soccer Goal
The purpose of your soccer goal is another important factor to consider when you're shopping for one. Are you buying it just to play soccer in your leisure time, for training, or to enhance your techniques and skills? SKLZ Quickster soccer goal, for example, is designed and built to help you gain control of the soccer ball and master passing and shooting. 
Player's Age Group
Lastly, you need to know the age group of players that are going to be practicing with the soccer goal to determine the right goal size to purchase. Go for a small-sized goal if you're planning to buy a soccer goal for your little kids. A small-sized goal will help your kids develop soccer skills.
You should know that an adult-sized soccer goal would be too big for your little kids to play with. Scoring in a wider goal will be much easier and it wouldn't help them at all. If your kids are above age 13, you can buy a moderate size soccer goal for them to practice shots and passing. 
Furthermore, you should consider the level of experience of a soccer player before getting a soccer goal. An advanced soccer player should train with the standard size soccer goal. However, it will not be the best option for a beginner who's just strung out with the game. 
Final Words – Wrapping Up! 
The [amazon link="ASIN" title="SKLZ Quickster Soccer Goals" /] are quite durable, lightweight, versatile, cost-effective, and easy to set up. It is well designed and built for high-intensity training to help you improve your soccer techniques through repeated practice. The trade-off for those outstanding beneficial features, however, is that the SKLZ Quickster Soccer Goal has thin shoulder straps on the carrying bag and only does well in a grass soccer field. 
Don't forget to make use of our buyer's guide. It will help you decide whether this model is the perfect one for your backyard, suiting your requirements. We've come to the end of this single product review. We hope you were able to find good and reliable resources in your quest to know the SKLZ Quickster Soccer Goal review. If you have any questions or comments about the article topic, don't hesitate to contact us. Thanks!