Last Updated on October 12, 2023 by Alex PT
There are 11 Spanish sports clubs that have "Real" as a part of their names:
Real Madrid Club de Fútbol
Real Sociedad de Fútbol
Real Betis Balompié
Real Club Deportivo Espanyol
Real Club Celta de Vigo
Real Club Deportivo Mallorca
Real Club Deportivo La Coruña
Real Racing Club de Santander
Real Valladolid Club de Fútbol
Real Zaragoza Club Deportivo
Real Sporting de Gijón
Real Murcia Club de Fútbol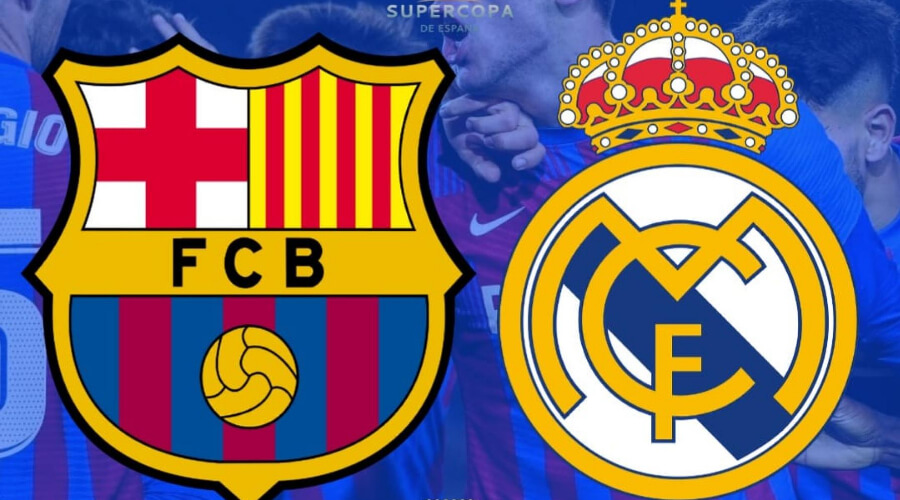 1. Real Madrid Club de Fútbol 
Real Madrid Club de Fútbol is a Spanish professional football club located in Madrid, and it is otherwise known as Real Madrid.  It was formerly known as Madrid Football Club when it was founded on the 6th of March 1902. The traditional white home kit we all know with this great club has been worn since its inception. Besides, it was King Alfonso XIII who dubbed the club "real" in 1920 which is Spanish for "royal". Real Madrid moved to their stadium "Santiago Bernabéu Stadium" where they play home games in 1947. The stadium has a 81,044 capacity. One notable thing here is that the club has been operated and owned by the members of Real Madrid, unlike other big sporting organizations in the world. 
In 2019, Real Madrid was estimated to be worth $4.2 billion (€3.8 billion) with annual revenue of €757.3 million, making it the second highest-earning football club in the world. With the numerous achievements the club has achieved in the past decades, it remains the most widely supported football club in the world. Just so you know, Real Madrid is one of the three founding members of La Liga Santander including Barcelona and Athletic Bilbao that have never been relegated from the top division since 1929. The club has a long-standing rivalry with Atlético Madrid in the popular El Derbi Madrileño. Another notable rivalry is the El Clásico with Barcelona. 
In the 1950s, Real Madrid went on a very successful run when they won five consecutive European Cups and reached the final seven times. Within the space of seven years, Real Madrid also replicated their success in Spanish domestic football, winning the league title five times. In this successful era, Real Madrid has some of the best football players in the world including Alfredo Di Stéfano, Ferenc Puskás, Francisco Gento, and Raymond Kopa. 
In Spanish domestic football competitions, the club has won 66 trophies; a record 34 La Liga titles, 19 Copa del Rey, 11 Supercopa de España, a Copa Eva Duarte, and a Copa de la Liga. In European competitions, they've successfully won a record 26 trophies which includes a record 13 UEFA Champions League titles (formerly known as European Cup), two UEFA Cups, and four UEFA Super Cups. 
Real Betis Balompié
Real Betis Balompié is a Spanish professional football club that's commonly known as Real Betis. It was founded in 1907 and it's based in Seville as part of the autonomous community of Andalusia. In the 2014-15 season, Real Betis won the Segunda División which happens to be their most recent achievement. By the way, they were the crowned champion of the league title in 1935 and the Copa del Rey in 1977 and 2005. 
Real Sociedad de Fútbol
Real Sociedad de Fútbol is also a professional Spanish football club founded on the 7th of September 1909 in the city of San Sebastián, Basque Country. The Anoeta Stadium is the stadium where they play their home games. They were crowned the champion of the La Liga in 1980–81 and 1981–82, and the last finished runner-up in 2002–03. In 1909, 1987, and, 2020, Real Sociedad won the Copa del Rey winner.  
Real Club Celta de Vigo
Real Club Celta de Vigo is a Spanish football club popularly known as Celta de Vigo or just Celta. The club was founded in 1923 and is based in Vigo, Galicia. Celta plays in the highest division of Spanish football with the Balaidos being the home stadium with 29,000 seat capacity. The club has reached the final on three occasions, but they've never won the Copa del Rey nor the league title. 
Real Club Deportiu Espanyol de Barcelona 
Real Club Deportiu Espanyol de Barcelona is a professional football club that's commonly known as Espanyol. It is was founded in 1900 and based in Barcelona, Spain. Espanyol plays in the highest division of Spanish football known as La Liga Santander. Their stadium known as RCDE Stadium has a 40,000 capacity. The club has been crowned champion of the Copa del Rey on four occasions. Besides, Espanyol got to the UEFA Cup final in 1988 and 2007. 
Real Club Derpotivo de La Coruna 
This is another football club, also a big one. It is known mainly as Depor or just Derpotivo. The main stadium is located in Coruna, Galicia, Spain. They are not in the same big division as Celta but they are a Spanish sports team with a lot of fans too. They were founded in 1906 and are now more than a hundred years old. Their president goes by the name Antonio Couciero with coach Borja Jimenez. 
Why do So Many Spanish Sports Clubs Have 'Real' As Part Of Their Name?
Many Spanish sports clubs have "Real" as part of their name due to historical royal patronage and the country's monarchical history. "Real" translates to "Royal" in English, signifying a connection to the Spanish monarchy. Here's why this tradition exists:
Historical Royal Patronage: During the late 19th and early 20th centuries, Spanish sports clubs sought recognition and support from the monarchy. Clubs that received royal patronage were allowed to include "Real" in their names. This was a symbol of prestige and approval.
Tradition and Tradition: The tradition of having "Real" in the name of sports clubs in Spain became a way to honor the monarchy and signify the club's commitment to certain values.
Distinguishing Clubs: The "Real" in the name helped distinguish clubs with royal approval from other local clubs. It implied a certain level of official recognition and support.
Symbol of Excellence: Over time, having "Real" in the name became a symbol of excellence, implying that the club had earned the favor of the monarchy and was associated with high standards.
FAQs 
We've compiled a list of frequently asked questions and answer to help you understand why some Spanish football clubs have real in their names. 
Why Do Spanish Clubs Have Real In Their Name?
Most Spanish clubs have "real" in their names because King Alfonso XIII dubbed the clubs his royal patronage which was derived in the form of the turtle "Real" meaning "Royal" in Spain. That's one major reason why you'd see Alfonso's crown was added to the crests of these football clubs. 
Why Are Some Football Teams Called Real?
Just like we said earlier, the main reason why clubs like Real Sociedad, Real Zaragoza, Real Betis, Real Deportivo La Coruna, and Real Club Celta De Vigo have "real" in their names is that they all received royal patronage from Alfonso XIII who was the reigning Spanish king back then. 
Closing Thoughts 
We've reached the closing chapter of this informative article. We hope you were able to find good and reliable resources in your quest to know the Spanish sports clubs that have real as a part of their names. If you have any questions or comments about the article topic, don't hesitate to contact us. Thanks!
References:
https://www.quora.com/What-are-the-Spanish-sports-clubs-that-have-Real-as-a-part-of-their-names
https://theuijunkie.com/why-spanish-clubs-called-real/