Last Updated on February 13, 2022 by
In the game of hockey, a points streak means consecutive games without a regulation loss. There have been great streaks in NHL history. Take, for example, 1983-84 Wayne Gretzky of Edmonton Oilers scored 61 goals, 92 assists, making up for 153 points in total. 
Scoring a goal or getting an assist on a goal scored by another player gets an NHL hockey player a point. Hockey players get a point for assisting on a goal and also a point for scoring a goal. The official scores can record a goal with 1, 2, or no assists at the discretion of the players. In this article, we are going to talk about a points streak and a top 10 point streak in NHL history. Let's roll! 
Top 9 Point Streaks In NHL History
After extensive research, we've prepared a list of the top 9 point streaks in NHL history. Let's check them out! 
28 Games Points Streak
1. 1985-86 Paul Coffey of Edmonton Oilers managed to score 16 goals and managed 39 assists, making 55 points in a total of 28 games. Paul gained all these points just within 28 games, making him finished tied for fifth in the NHL last year in points and goals scored by a defenceman.  For a defenceman with 48 goals, Paul finished the year with an NHL record for the highest goal. Unfortunately, he wasn't good enough to surpass Bobby Orr's record for points, with only 138 to spot number 4's 139. 
2. 1985-86 Mario Lemieux of Pittsburgh Penguins scored 21 goals and managed 38 assists, making 59 points in a total of 28 games. Being his sophomore year in the NHL, Mario surprised everybody with his staggering stats. He later finished the season with 141 points, more than anyone, with only Gretzky surpassing him. 
3. 1976-77 Guy Lafleur of Montreal Canadiens scored 19 goals and managed 42 assists, making 61 points in 28 games.  Lafleur enjoyed an incredible period with 80 assists and 136 points at the end of the season. It was only Steve Shutt, Lafleur's teammate, that had more than 56 goals. That same year, these outstanding players helped their team to win its second of four straight Stanley Cups.
4. 1984-85 Wayne Gretzky of Edmonton Oilers scored 20 goals and managed 43 assists, making 63 points in total 28 games. He later finished the season with 208 points. 
5. 1988-89 Steve Yzerman of Detroit Red Wings managed to score 29 goals and 36 assists, making 65 points. He became the only player in that season to achieve the feat of highest scoring of all the 28-game streaks. With 65 goals and 90 assists, he'd finish the season with 155 points.  
30 Game Points Streak
1992-93 Mats Sundin of Quebec Nordiques managed to score 21 goals and 25 assists, making 46 points in 30 games. He's the only non-indigene to ever achieve the feat. He ended up with more than 100 points for the only time in his NHL career with 114 points and 47 goals.  
39 Game Points Streak
1985-86 Wayne Gretzky of Edmonton Oilers scored 33 goals and 75 assists, making 108 points in 39 games. He later finished the season with 163 assists and 215 points. 
46 Game Points Streak
1989-90 Mario Lemieux of Pittsburgh Penguins managed to score 39 goals and 64 assists, making 103 points in 46 games. A lot of things happened to Lemieux that season. He had an injury in his back which stopped him from playing most of the game in that season. As a matter of fact, Lemieux missed 21 games but still wanted up with 123 points. 
51 Game Points Streak
1983-84 Wayne Gretzky of Edmonton Oilers managed to score 61 goals and 92 assists, making 153 points in 51 games. He holds one of the unbreakable records in the history of the NHL and sports in general. Wayne also holds the record for the most points per game average at three. The bitter truth is that only 15 players have ever managed to score 61 goals in a season. And only Yzerman and Lemieux have set the record of 153 points. 
FAQs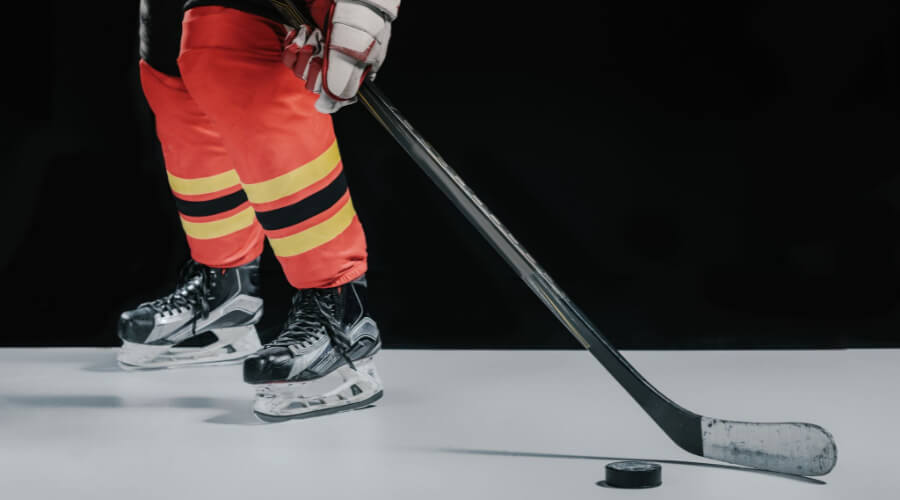 We've compiled a list of frequently asked questions and answers. These FAQs will help you understand everything you need to know about point streak in the game of hockey. Let's check it out!
What Is The Longest Point Streak In Hockey?
In NHL history, the 1979–80 Philadelphia Flyers have the longest undefeated streak after they went unbeaten for 35 consecutive games. The record for the most consecutive games with at least one point also belonged to the 1979–80 Philadelphia Flyers. In 2005, the NHL abolish the toe games in favor of a penalty shootout. 
How Do Points Work In Hockey?
For each goal scored or assist earned, a point is awarded to a player in the game of hockey. Total points are determined by the total number of goals plus assists. At the end of the regular season, the National Hockey League awards the Art Ross Trophy to the player who leads the league in scoring points. 
What Were The Most Points Scored In An NHL Game?
On the 11th of December 1985, Edmonton Oilers scored 12-9 over Chicago Blackhawks. This remains the highest-scoring NHL game in the modern era. Edmonton Oilers were practically blazing in the 1980s, thanks to the great work of Wayne Gretzky, rightly considered the best player of all time.
How Many Points Do You Get For A Goal In Hockey?
Just like we said earlier, a player gets a point for each goal that he/she scores. The player or players taking part in the play immediately preceding the goal gets an assist when a player scores a goal. Note that officials do not give more than two assists for a goal. 
Closing Thoughts 
We've reached the final session of this informative article. We hope you were able to find good and reliable resources in your quest to know about a points streak in the game of hockey. If you have any questions or comments about the article topic, don't hesitate to contact us. Thanks!