Last Updated on October 1, 2023 by Alex PT
Golf courses are often located near airports due to several reasons, including land availability, noise compatibility, and economic benefits. According to the National Golf Foundation, around 40% of golf courses in the United States are located within 10 miles of an airport.
Airports and Golf Courses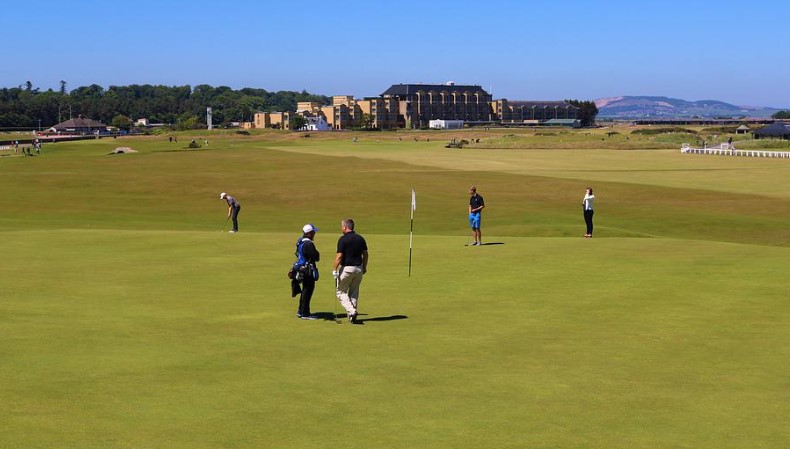 It is the wish of most passengers while traveling to grab their golf clubs from the baggage carousel and be on the first swing within the shortest time possible. This is becoming a reality for more golfers because an increasing number of airports now include golf course projects on their property or nearby. 
The reason is that an airport that chooses to build a course can enjoy economic benefits and other significant marketing advantages over its competition.
Examples of renowned airports that have seized these benefits and built golf courses include Pease International Tradeport in Portsmouth. New Hampshire also has a golf course in their airport complex and the Hyatt Bear Creek Hotel & Resort. The Dallas/Fort Worth International Airport is not left behind as it also boasts a 36-hole golf course.  
What Are the Economic Gains of Having a Golf Course Next to an Airport?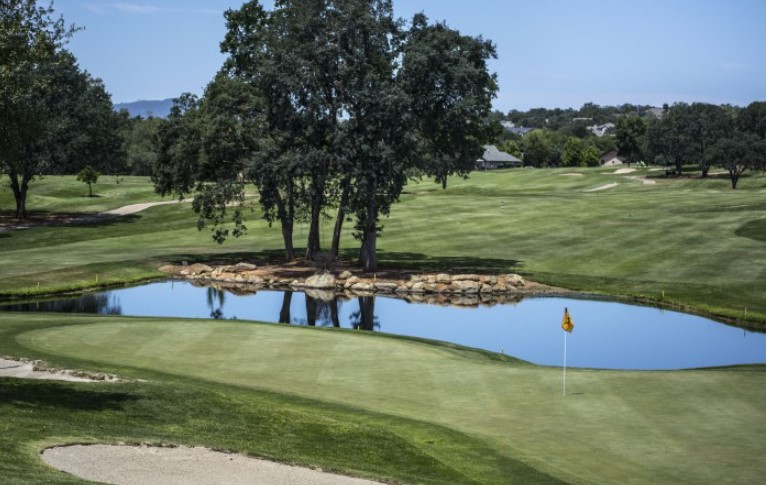 Having a golf course next to an airport has numerous economic gains for the airport and the people who live nearby. Below are some of the benefits:
Increased Revenue
The greatest economic advantage of having a golf course next to the airport is often indirect. This is because a golf course can provide a superior marketing edge over your competition. Given the option of leasing land near a course to prospect, many corporate tenants will choose these amenity for themselves, thus benefitting their employees. This means having an airport course can lead to increased land leasing revenues for the airport, especially along the fairway frontage.
Availability of Golfers and Landscaping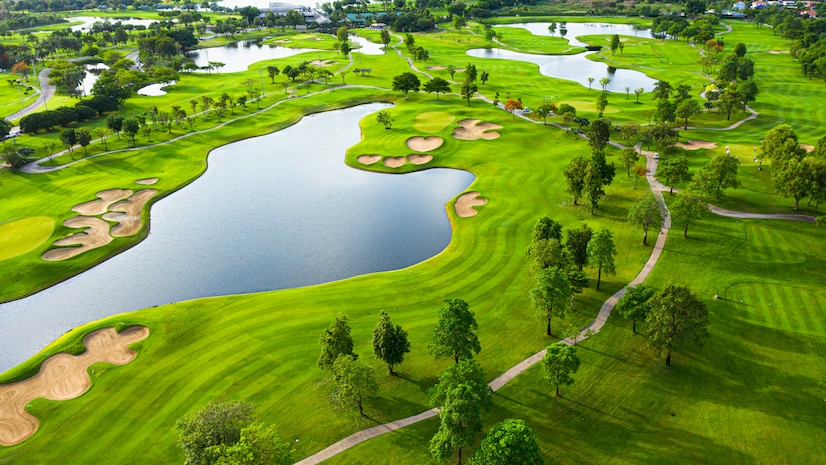 Many offices, high-tech companies, warehouses, "clean" manufacturers, distribution centers, and other businesses also enjoy the feeling of the nice neighborhood created by the golf course. 
This kind of environment creates an appealing and beautiful landscape and easy access to social opportunities and recreational centers for area employees. Golfers who work around the airport like the fact that they can play their favorite sport right in their backyard.
As a source of revenue for the golf club, the airport's employees and those corporate tenants form readily pool of potential golfing customers. These numbers will increase as the airport facility continues to expand. 
Additional Benefits
A golf course can also provide strong incentives for motels, hotels, and conference centers to lease buildings and land at the airport location. This is because having a golf course on site can influence golfing visitors to extend their stay while on vacation, conventions, and other events. Interestingly, many advantages of having a golf course near an airport make a project such as this appealing to potential golf course management firms and operators.  
An additional benefit is that the course operator doesn't have to make a significant initial investment by buying the land. Busy airports typically are more likely to be profitable because they have a significant local base to attract potential golfers and easy highway access. These advantages, coupled with the fact that many pilots and air travelers already enjoy playing golf, make airports very lucrative locations for golf courses.
Frequently Asked Questions
Why Are Most Golf Courses on the Coast?
You may have noticed from history that golf originated on the coast of Scotland. To maintain the heritage and rich tradition of the beautiful game, the tradition of building most golf courses along the coastline has continued to date.
Why Are There So Many Golf Courses in Chicago?
Metropolitan Chicago is an ideal location for golf lovers. Its thriving economy provides the social elite and an economy with the leisure time and wealth to chase the game, and its network of railroads offers easy access to the sizable number of suburban country clubs.
Why Do People Enjoy Staying Next to a Golf Course?
There are many significant advantages of living in a golf course community or a golf course. Among the primary reasons people prefer residing close to golf courses include quality schools, property values, community amenities, and the availability of the golf game in your backyard.
Is it Healthy to Stay Next to a Golf Course?
People living close to a golf course may be affected by dust or sprays from the golf course onto their home or property. Pesticides applied to the course may run off into surface waters or leach down to groundwater, which can then expose people to drinking contaminated water.
Conclusion
Most airports have an administrative staff and forward-looking board which quickly understands the advantages of building a golf course on their land. In virtually all cases, the airport staff and management would have to work closely with the golf course operator to create a cooperative business and friendly relationship for everyone involved in the vast project.
Besides the enormous benefits of having golf courses adjacent to airports, the facilities may pose challenges such as air and water pollution to people nearby. Nonetheless, the benefits always outweigh the dangers; thus, it is wise to have golf courses near airport facilities.
References:
shttps://golf.com/news/7-golf-courses-with-their-own-airstrips/