Last Updated on October 9, 2023 by Alex PT
Grayson Boucher, known as "The Professor," is not in the NBA due to factors like height (around 5'10"), competition, and the league's preference for taller, more traditional point guards. His career has thrived in street basketball and exhibition games, where his unique skills shine.
Possible Reasons Why "The Professor" Isn't In The NBA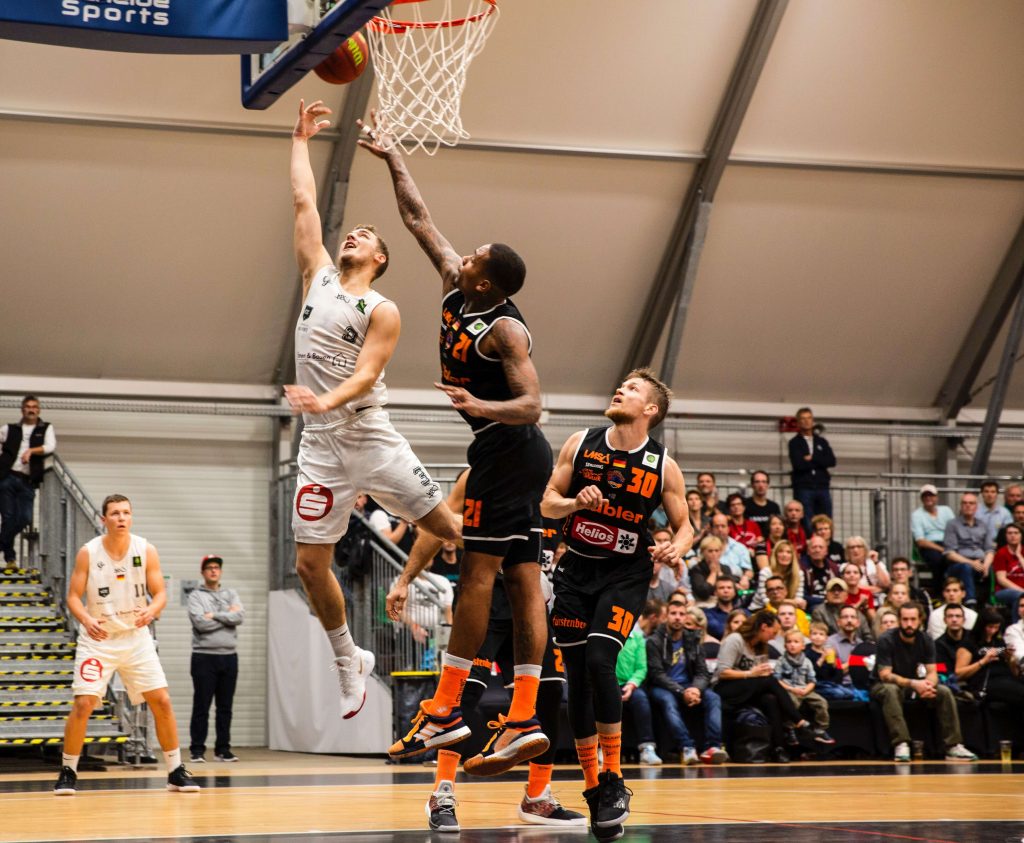 A plethora of reasons but known and unknown may have accounted for Grayson not making the NBA, the below are but a few.
Boucher Never Got Drafted
The quickest way to get into the NBA was if you made the MBA draft list. As simple as that sounds the NBA draft only occurs once a year in June. At the draft, the NBA chooses players, when a team chooses that player. Grayson never got drafted and consequently did not make the NBA.
Boucher Did Not Get Into College On Time
Boucher attended McNary High School but due to circumstances had to transfer to Salem Academy. After completion, he had no offer to proceed to college, and after a while he opted for Chemeketa Community College. He tried to make the best of it by playing on the basketball team.
Passed The Drafting Age
The minimum age regulation as stipulated by the NBA is 19 to be eligible to get drafted. It is expected that at this age you should be rounding up college. Since Boucher did not get a college offer and opt for a community college, he missed out on the age criterion to make it to the NBA.
Boucher Is Short
When it comes to the NBA height is part of the skill. The NBA has been known to have really tall players, players whose skill sets are in direct unison with their heist. 
The NBA officially does not put a criterion on heights and a lot of incredible players have made the MBA who were under 6 feet tall. But in basketball height can be both your advantage and your peril.
Grayson Boucher is 5′ 9″ and weighs about 155 Ibs. This may be an ideal side of a fully grown adult male, but by NBA requirements, it is small. It's but a handful of players of similar build that have made the MBA and even though Boucher has superb skill he falls short on size and height.
Boucher's Type Of Basketball
The reason Boucher isn't in the NBA could be due to the type of basketball he plays. He is a street basketball sensation and automatically not an NBA material. Boucher brings pain to the defense of street basketball but an NBA arena presents different professional players that could figure out his moves in seconds.
Street basketball has little or no rules as compared to the NBA which is bathed in rules.
Rules such as double-dribbling and travel do not hold much in street basketball but do in professional NBA and Boucher will not have the liberty to showcase most of his superior moves because of the referees. It would also be impossible to get away with most of his tricky moves even though it's amazing to watch.
Professional career of Grayson Boucher
1. Early Stage:
Grayson Boucher, popularly known as "The Professor," embarked on his basketball career at a rather young age. Born and raised in Keizer, Oregon, he initially struggled to create a strong impression in his school's basketball team. However, Boucher did not let initial failures deter him and honed his skills persistently.
2. Breakthrough– The AND1 Mixtape Tour:
Boucher's career witnessed an upswing in 2003. His participation in the AND1 Mixtape Tour, an open recruiting contest, offered him a major breakthrough. Even though he was one of the shorter players, he managed to impress everyone with his skills and agility, securing his place in the AND1 mixtape Volume Six.
3. Joining the AND1 Team:
After his show-stealing performance in the AND1 Mixtape tour, Boucher was invited to join the AND1 team in 2004. This marked a major milestone in his career as he got the chance to display his outstanding skills on a national and, later, an international platform.
| Year | Milestone |
| --- | --- |
| 2003 | Participation in AND1 Mixtape Tour |
| 2004 | Inducted to the AND1 Team |
4. Transition to Acting:
A new avenue opened for Boucher in 2006 when he debuted as an actor in the film "Crossover". Although the movie didn't fare well at the box office, it showed him a new path for diversification in entertainment.
5. Streetball and Beyond:
Grayson Boucher's reputation as a dazzling streetball player is captured in the series "Streetball: The AND1 Mixtape Tour". In 2008, he starred in another basketball-related film, "Ball Don't Lie", proving his versatility in both basketball and cinema.
6. Ball Up Streetball:
In 2011, Boucher joined Ball Up Streetball, a professional streetball league, marking another significant moment in his career. His signature spin moves and deceptive tricks kept audiences on the edge of their seats.
7. YouTube Stardom:
In addition to his streetball success, Boucher's fame exploded online. He launched his YouTube channel, Professor Live, where he showcases his unique basketball skills and tricks. The channel quickly gained popularity and boasts millions of subscribers today.
8. Present Career:
Presently, Boucher continues to tour the world, showcasing his exceptional skills in streetball games. He remains an influential figure in the sport, and his YouTube channel continues to inspire and train young aspiring basketball players.
What it Takes to Play in the NBA
Playing in the NBA, the highest level of professional basketball requires a combination of talent, hard work, preparation, and perseverance. Here are the key factors and steps to pursue an NBA career in detail:
Basketball Skills and Talent:

Develop exceptional basketball skills, including shooting, ball-handling, passing, and defensive abilities.
Excel in specific positions, such as point guard, shooting guard, small forward, power forward, or center.
Showcase versatility, adaptability, and a deep understanding of the game.

Physical Attributes:

Possess outstanding athleticism, speed, agility, and endurance.
Maintain good physical conditioning, strength, and agility to compete at the highest level.
Height and wingspan can be advantageous, but not all NBA players are exceptionally tall.

Competition and Experience:

Play at a high level of competition, such as NCAA Division I college basketball, international leagues, or the NBA G League.
Gain experience and exposure through high school and college basketball, where scouts and coaches assess talent.

Education and Eligibility:

Attend college or overseas leagues to further develop skills and gain exposure. Many NBA players have college experience.
Follow NBA eligibility rules, which may include age restrictions and the NBA Draft process.

Mental Toughness and Basketball IQ:

Develop mental toughness to handle pressure, criticism, and adversity.
Enhance basketball IQ by understanding game strategies, tactics, and situational awareness.

Networking and Exposure:

Attend NBA scouting events, combines, and showcases to get noticed by scouts, coaches, and team executives.
Build a network of contacts within the basketball community to increase exposure and opportunities.

NBA Draft:

Declare for the NBA Draft when eligible. Players must meet age and eligibility requirements.
Impress teams during pre-draft workouts, interviews, and evaluations to improve draft stock.

Work Ethic and Dedication:

Dedicate countless hours to training, practice, and skill development.
Continuously improve weaknesses and refine strengths.

Agent Representation:

Consider hiring an NBA agent who can negotiate contracts, guide career decisions, and help secure opportunities.

Team Tryouts and Contracts:

Attend team tryouts, summer leagues, and training camps to earn a spot on an NBA roster.
Sign contracts that may include guaranteed or non-guaranteed deals, depending on the player's status.

Professionalism and Adaptability:

Display professionalism, teamwork, and coachability to fit within team dynamics.
Adapt to different playing styles and systems based on the team's requirements.

Long-Term Development:

Maintain a commitment to long-term development and growth throughout an NBA career, which can span several years.
Frequently Asked Questions
We took the liberty of gathering some frequently asked questions about Grayson Boucher's The Professor.
Can Grayson Boucher Dunk?
The professor has created a name and an identity as a great ball-handler regardless of his little stature. Grayson Boucher has been seen making jaw-dropping junks.
Was Grayson Boucher In The NBA?
No! Grayson Boucher did not make it to the NBA. A few reasons account for his inability to take his basketball skills to the MBA Arena. His height and small bodily stature, college, missed drafting, and ultimately his type of basketball is the possible reason he didn't make the NBA.
Is The Professor Really Good At Basketball?
Yes! Grayson Boucher is great at Basketball. His fans have nicknamed him "The Professor" owing to his incredible dribbles and ball-handling ability that amazed both the opponents and the crowds. His dexterity in basketball is surreal!
How Much Better Is The Worst NBA Player Than The Professor?
The NBA is flooded with a plethora of great players with outstanding basketball careers and superb psychics. A possibility exists that the worst NBA player might outperform Boucher because of the rules of play in the NBA that are non-existent in Street basketball. 
Where Did Grayson Boucher Go To College?
Grayson experienced a few setbacks that crushed his NBA dreams and not getting a college scholarship offer was instrumental to him missing out on the NBA. He eventually attended Chemeketa Community College, where he played on the basketball team.
Final Thought
Grayson Boucher, The Professor never made it to the NBA and perhaps never really wanted to. However, he has managed to develop and sustain an enduring career in street basketball and other endeavors such as Acting, and a thriving YouTube channel where he teaches and showcases his amazing moves.
He might have made it to the NBA to some extent and become a legendary player and maybe a Hall-of-Fame but we will never know.
Grayson undoubtedly possesses skills and his moves will set him apart amidst contemporary basketball players but owing to the aforementioned possible reasons he didn't make it to the MBA. Regardless, The Professor has tagged a basketball legend with fans scattered around the world.
References:
https://www.quora.com/Why-isnt-Grayson-The-Professor-Boucher-in-the-NBA
https://justlovebasketball.com/why-isnt-grayson-the-professor-boucher-in-the-nba/