Last Updated on October 2, 2021 by
Mexico, Canada, Brazil, Egypt, Poland, Israel, Austria, Bahamas, Belgium, Australia, China, Cuba, France, Germany, Italy, Denmark, India, Serbia, South Africa, South Korea, and many more are the non-American countries that play American football. According to the International Federation of American Football, there are about 80 countries that have either professional or non-professional American football leagues. This game of football is rapidly increasing in global viewership and popularity. 
There has been a lot of followings of the Super Bowl which is the NFL championship game. It is a very popular and most-watched annual sporting event in the whole world after the UEFA Champions League final. About a billion sports fans view the NFL championship game yearly in over two hundred countries. That's just to tell you that the sport is growing wide even in the unexpected parts of the world. In this article, we'll talk about the countries that play American for all other than the United States. 
Counties That Play American Football Outside The USA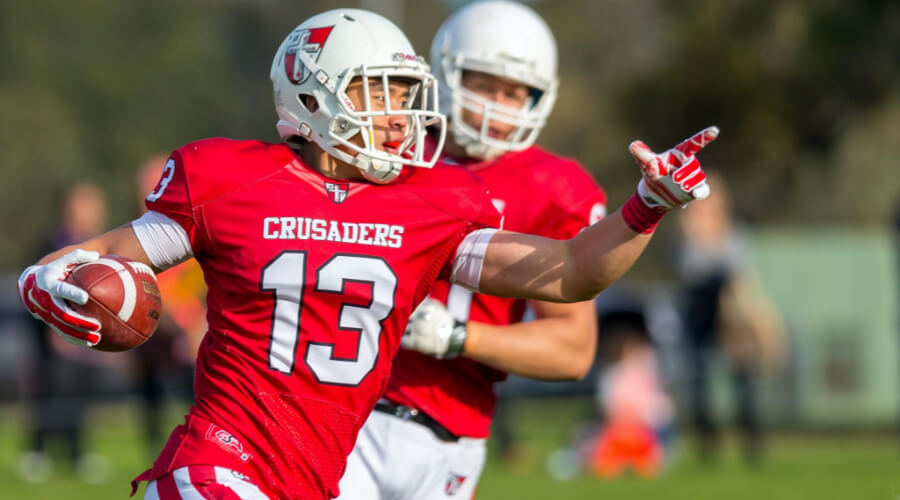 We've prepared a list of the top countries that have a functioning American football league. 
Mexico
Mexico has been one of the countries that cherish American football the most. Dating back to 1896, this country has gotten a rich history of football. The Liga Football Americano is the native version of the NFL in Mexico, having been we'll develop and established it in 2016 with about 9 competing teams. There's no doubt about it, the Liga Football Americano is the third if not second-best after the NFL. 
Canada 
A lot of Canadians are diehard fans of American football. As a matter of fact, Canada has a sizable NFL audience of 7.21 million people according to the Global Web Index. That's to tell you that people really love that game over there. They have Amateur Gridiron Football League, Bills Toronto Series, and International Bowl. 
Brazil 
Brazil is still the second country with the highest NFL audiences of over 19.7 million people according to the statistics from the Global Web Index. To help reduce the impact of the physical contacts and reduce the use of imported equipment from the US, American football games were played mainly on the beach or sand. Recently, the Torneio Touchdown Tournament and Carioca Bowl have been developed in most Brazilian states. In the quest to get more fans to watch American football on ESPN, a Brazilian Portuguese association was established in 1998. Ever since then, the sport has been loved by many natives and currently about 2,500 Brazilians play American football. In 2008, the match between the Curitiba Brown Spiders and Barigui Crocodiles was registered as the first organized American football game in Brazil. 
Egypt 
Don't be surprised! We know you'd not expect Egypt on our list. But it is still the only African country with a fully-fledged American Football league. In 2013, the Egyptian Federation of American Football (EFAF) was fully established. 
The table below contains the countries participating in American Football and their professional/professional leagues. 
| | |
| --- | --- |
| Countries Participating In American Football | Professional/Non-professional Leagues |
| Australia | Australian Gridiron League and Down Under Bowl |
| Austria | IFAF World Championship and EFAF European Championship |
| Bahamas | Only Bahamas Bowl |
| Belgium | Belgian Football League (BFL), The Belgian Bowl, and Flemish American Football League (FAFL) |
| Brazil | Carioca Bowl (beach American football league) and Torneio Touchdown Tournament |
| Canada | Amateur Gridiron Football League, Bills Toronto Series,  and International Bowl |
| China | China American Football League |
| Cuba | Bacardi Bowl |
| Denmark | National Ligaen |
| Egypt | Egyptian League of American football |
| Finland | Vaahtera Liiga season |
| France | Ligue Élite de Football Américain (LEFA) |
| Germany | German Football League (GFL) |
| India | Elite Football League of India (EFLI) |
| Ireland | Irish American Football League (IAFL) and Shamrock Bowl |
| Israel | Israeli Football League |
| Italy | Italian Football League (IFL) and Spaghetti Bow |
| Japan | Atomic Bowl, Koshien Bowl, and Rice Bowl |
| Mexico | Organización Nacional Estudiantil de Futbol Americano (ONEFA) and Global Kilimanjaro Bowl |
| Netherlands | AFBN Division One, Tulip Bowl, and Roots indoor American football tournament |
| New Zealand | Capital Bowl, Haka Bowl, and American Football Wellington |
| Poland | Polish American Football League and Polish Bowl |
| Portugal | Liga Portuguesa de Futebol Americano (LPFA) |
| Puerto Rico | ArenaCup Championship |
| Romania | Campionatul Naţional de Fotbal American (CNFA) |
| Russia | Russian American Football Championship |
| Serbia | Serbian National League |
| South Korea | Kimchi Bowl |
| Spain | Spain's American Football Cup and Liga Nacional de Fútbol Americano (LNFA) |
| Sweden | Superseries |
| Switzerland | Nationalliga A, Non-Professional Swiss Romande Americain Football League (NSFL), and Swiss Bowl |
| United Kingdom | British American Football League (BAFL), British Gridiron Football League (BGFL), British Collegiate American Football League, Capital League, and BritBowl |
FAQs 
For a better understanding of the major countries that play football outside the US, we've compiled a list of frequently asked questions and answers. Let's check them out! 
Where Is American Football Most Popular Outside The US?
Outside the US, there are a lot of American football fanatics and supporters. According to the statistics from the Global Web Index, Mexico has a sizable NFL audience of 23.3 people, Brazil has 19.7 million, while Canada comes third with a sizable NFL audience of 7.21 million people. 
What Is American Football Called In England?
Gridiron! In the UK, American football is normally called "gridiron" because the famous soccer is known as "football"  within the country. Don't forget that American football was invented from the variant of Rugby in the early 1900s. 
Why Is Football Not That Popular Outside The US?
The cost of the game is one of the reasons why other countries in the world don't really play American football. You'll need a lot of equipment and protective gear to learn or play the game. Unlike basketball which requires a hoop and a ball or soccer which requires only your soccer boots and the field. There are many under-developed countries in the world today that can not afford to organize professional or non-professional American football leagues.  
Do They Play American Football In China?
Yes! American football is played in China. The Chinese National Football League, which is formerly known as the American Football League of China (AFLC) organizes and regulates the sport in China. About 92% of the players recorded in the 2016 season of the China American Football League are Chinese citizens. 
Final Thought
Though American football might not be as popular as rugby and soccer in most parts of the world, it is still fast-growing and distinguished in North America. It is still regarded as the most popular North American sport in Europe. The following, viewership, and overall participation of American football will continue to grow in coming years. We've come to the final chapter of this informative article. We hope you were able to find good and reliable resources in your quest to know the countries that play American football outside the US. If you have any questions or comments about the article topic, don't hesitate to contact us. Thanks!