Last Updated on October 28, 2023 by Alex PT
There are differences between sneakers and tennis shoes even if people are forgiven for conflating the two terms. In terms of history, we can say sneakers were the first to originate, and the first tennis shoes were made from sneakers. But since the invention, tennis shoes have now taken their originality.
| | |
| --- | --- |
| Top Brands Of Tennis Shoes | Top Brands Of Sneakers |
| Adidas | Balenciaga  |
| Puma | Gucci |
| Nike | New Balance  |
| K-Swiss | Vans |
| Asics | Converse |
The Differences Between Tennis Shoes VS Sneakers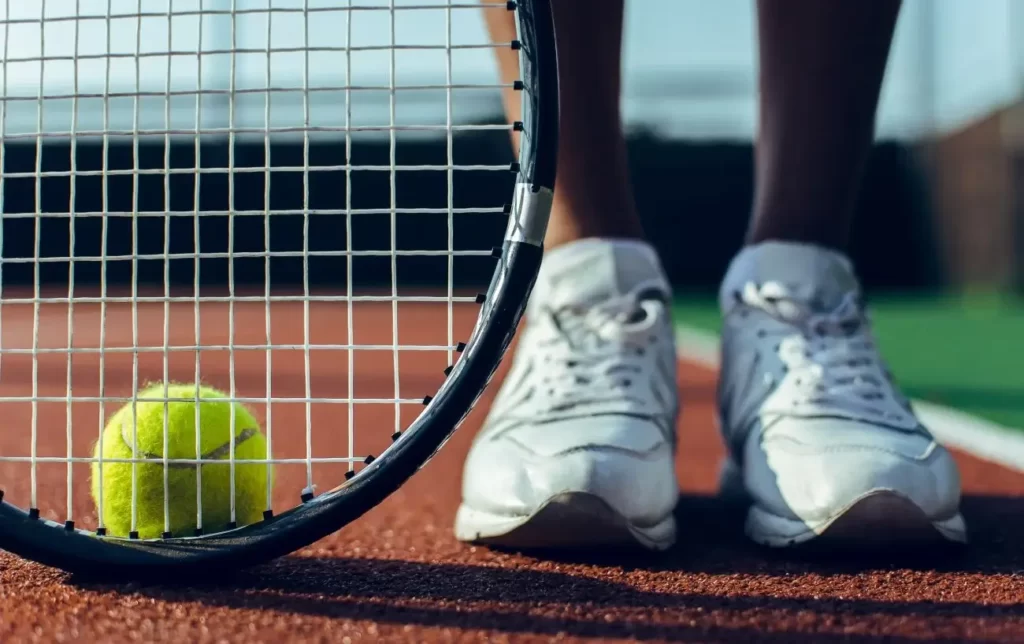 | Feature | Tennis Shoes | Sneakers |
| --- | --- | --- |
| Outsole | Hard and durable | Soft and flexible |
| Upper | Supportive | Flexible |
| Tongue and collar | Padded | Not always padded |
| Toe box | Reinforced | Not always reinforced |
| Purpose | Playing tennis | General athletic use |
| Ideal for | Tennis | General sports, running, and walking |
| Support | More supportive | Less supportive |
| Durability | More durable | Less durable |
| Price | More expensive | Less expensive |
| Examples | Nike Court Air Zoom Vapor X, Adidas Adizero Ubersonic 4, Asics Gel-Resolution 8 | Nike Air Zoom Pegasus 39, Adidas Ultraboost 22, Puma LQDCELL Method |
Misconceptions About Tennis Shoes And Sneakers
Misconception: Tennis shoes and sneakers are the same
Fact: Tennis shoes and sneakers are two different types of shoes that are designed for different purposes. Tennis shoes are designed specifically for playing tennis, while sneakers are designed for general athletic use.
Misconception: Tennis shoes are only for tennis
Fact: While tennis shoes are designed for playing tennis, they can also be used for other activities, such as walking, running, and playing other sports. However, they may not be as comfortable or durable as sneakers for these activities.
Misconception: Sneakers are only for casual wear
Fact: Sneakers can be worn for a variety of activities, including casual wear, athletic activities, and even some workplaces.
Misconception: Tennis shoes and sneakers are made of the same materials
Fact: Tennis shoes and sneakers are typically made of different materials. Tennis shoes are typically made of synthetic materials that are designed to be durable and supportive. Sneakers may be made of leather, synthetic materials, or a combination of both.
Misconception: Tennis shoes and sneakers are the same price
Fact: Tennis shoes are typically more expensive than sneakers. This is because they are made with higher-quality materials and are designed to withstand the rigors of playing tennis.
Misconception: Tennis shoes and sneakers last the same amount of time
Fact: Tennis shoes typically last longer than sneakers. This is because they are made with more durable materials. However, the lifespan of both tennis shoes and sneakers will vary depending on how often they are used and how well they are cared for.
Misconception: Tennis shoes and sneakers should be replaced every six months
Fact: Tennis shoes and sneakers should be replaced when they show signs of wear and tear, such as holes in the upper or worn-down outsoles. It is important to inspect your shoes regularly to ensure that they are still in good condition.
Misconception: Tennis shoes and sneakers can be cleaned in the washing machine
Fact: Tennis shoes and sneakers should not be cleaned in the washing machine. The washing machine can damage the shoes and shorten their lifespan. Instead, spot-clean your shoes with a mild soap and water solution.
Brief History 
Have you ever wondered why we call them tennis shoes, how they came to be, and when they first appeared? We will provide answers to this as well as more questions. If you want your tennis game to move to a new level of excellence, consider buying a pair of tennis shoes that will definitely impact your tennis game. 
When Was The First Tennis Shoe Made?
It was during the early 18th century that the very first types of tennis shoes with canvas uppers and rubber soles were manufactured and designed for a reaction against the slippery decks of the British Navy. Tennis shoe later came into the market around 1892 when it was dubbed Plimsolis. These shoes with rubber soles were designed with no right or left foot and were called sneakers because when you walk with them, they don't make any noise, unlike the shoes with hard solid soles that make a loud noise when walking with them.  
Not until late 1960, did the design of the shoe remain the same from that time of invention. It was during the 1960s that numerous companies began to make different designs of tennis shoes. After that year, several different designs became popular and widespread. As a matter of fact, the sneakers or the original athletic shoe as we all see them today, it is very different from the tennis shoes that are available on the market today as they were specially designed for a tennis player, while the other shoe forms were designed for runners and other sportsmen. 
A rubber company in the United States of America began its own brand of rubber-soled tennis shoes, or canvas shoes in 1916, called the Keds. Another brand named Converse Rubber Company surfaced with its own unique version in 1917, dubbed the All-Star shoe. The design of these shoes only changed a little even with many brands, designs, and styles available on the market, until 1960 when plenty of shoe designers started looking for ways and innovative ideas to enhance the standards of tennis or athletic shoes. 
Bill Bowerman who was a tennis coach at the University of Oregon played a leading role here. He tried to build lighter shoes that would also deliver a lot more traction to the player. All that was in his mind was to get an improved enhanced pair of shoes that would provide more comfort to his players using nylon instead of canvas with soft inner soles to make them more comfortable and lightweight. He later named his brand Nike, which is now the leading brand in the shoe industry. Big brands like Puma, Prada, Gucci, and Adidas also got established and they started making tennis shoes into the popular ones we see today. 
Where Did The Name Tennis Shoes Come From?
If you've ever marveled at where the name "Tennis shoes" was gotten from, then you deserve to know the truth. Quickly, we are going to talk about where the name tennis shoes come from. The description of a tennis shoe is varied and to some, tennis shoes are by another name mere sneakers, but you can trace back tennis shoes to the British Navy. Sailors on large British caravans during the 1800s needed something they could wear on slippery decks. It was the wealthy aristocrats that made the shoes popular when they started wearing the shoes to a renowned sport "tennis", which brought about the name tennis shoe. 
It was in 1839 that Charles Goodyear designed vulcanized rubber which makes its soles more resistant to heat and more stable on the floor. Also, it was after that time that the first athletic shoe was created. The first rubber company was established in 1900 in the United States of America, and they made the first very famous shoe used in the game of tennis called the Keds, in 1917, the famous All-Star was born. It was in 1932 that Adidas joined the league and made the first tennis shoe. An attempt was made to change the way the shoes were to be used and the way people played the game by Adidas in 1960. 
They introduced leather into their uppers of rather than synthetic. This was a significant result with other businesses following suit and this also sparked the expansion in experimentation with various other components making tennis shoes. Throughout 1970 Adidas once again was a forerunner introducing footwear with a Polyurethane outsole, suede on the toe along a mesh top. This not only made the footwear stronger comfy and breathable but was an excellent success for Adidas.
It was in the 1980s that an additional step in the evolution of tennis shoes occurred with the creation of the brand new Nike Air Trainer, which provided not merely lateral support, a strap that secured the foot for the side-to-side movement you need in tennis and a heel lift which was a bit larger compared to the typical running shoe of yours. Hence the modern-day era of tennis shoes came into this world and it's gone from strength to strength through the years with businesses bringing out far more supporting, stable, and comfortable tennis shoes that allow players to do much better on the court.
Why Are They Called Tennis Shoes?
The main reason we call them tennis shoes is because the shoes were used by the wealthy aristocrats even though they were primarily designed for the British Navy and were largely used for a popular sport of the time which was the game of tennis. What primarily brought about it was the need for the comfort of a soft rubber sole and shoes that would not cause damage to the tennis courts. Athletic shoes, tennis shoes, or sneakers were the shoes that were invented for the navy to wear on slippery deck floors. 
As a matter of fact, the humble tennis shoe was where all athletic-styled shoes originated from in the early eighteenth century. Today, most people still call their sneakers, tennis shoes, if even they were invented for different purposes. People should be aware of the main reasons for the creation of tennis shoes, maybe by then, they would not mistake them for sneakers. 
In the 1880s, Goodyear began to produce the very first rubber-soled shoes under the title Keds. Eventually, since they had been exceptionally silent on all surfaces, these shoes had been nicknamed sneakers for enabling you to walk silently around in them. In 1931, Converse released their first tennis shoe the Jack Purcell tennis footwear, Adidas followed suit by releasing some popular sneaks back then. Since that time, the tennis shoe is now special for the game of tennis. In the 1950s, sneakers became increasingly popular among teenagers and increasingly important in popular sports like running, basketball, and football. Sneakers became more popular all around the world and soon became both useful in sports a well as a fashion statement. 
Prices
The price of sneakers as well as tennis shoes depends on the innovative technology designed for the shoe, the model as well and the brand. Affordable sneakers are going to have reduced quality rubber soles, much less intricate stitching, along with small or maybe no air in the bottoms. Sneakers are the mid-range and are typically priced higher when they are marketed with special comfort or added technology. The budget range is often above that of athletic shoes since tennis shoes should fit particular credentials to be court-ready. Athletic shoes as well as tennis shoes are marketed as specialty or versions that are limited at top quality. 
Accessibility
Sneakers are usually simpler to discover than tennis shoes. Sneakers can be found at almost any shoe shop. The ideal spot to locate quality tennis shoes is in a tennis retailer since they choose shoes that suit a selection of tennis players' requirements. You can additionally buy sneakers or maybe tennis shoes online, but check to ensure you can get back them in case they do not fit incorrectly.
Final Words 
We've come to the end of this lengthy article. We hope you found resources in your quest to know the difference between Tennis shoes and Sneakers. If you have any related questions or comments, do not hesitate to let us know. Enjoy!
References:
https://www.alpineswiss.com/blog/tennis-shoes-vs-sneakers-whats-the-difference/
https://tennisracketball.com/guide/tennis-shoes-vs-sneakers/