Last Updated on October 26, 2023 by Alex PT
The cost to reshaft a golf club varies depending on the type of shaft you choose, the labor cost of the golf shop, and any other additional services you request. However, the average cost to reshaft a golf club is around $24 per club plus the cost of the shaft and grip.
| | |
| --- | --- |
| Service | Price Range |
| Rattle in Head | $25 |
| Grip Installment Provided by the Customer | $5-$7 per club |
| Regripping  | $3-$5 per club |
| Re-size grip | $25 |
| Reshaft (Bore through)  | $25-$28 plus the price of shaft |
| Reshaft (Graphite) | $40-$100 |
| Reshaft (Steel) | $20-$80 |
What Is The Real Price To Reshaft Golf Clubs?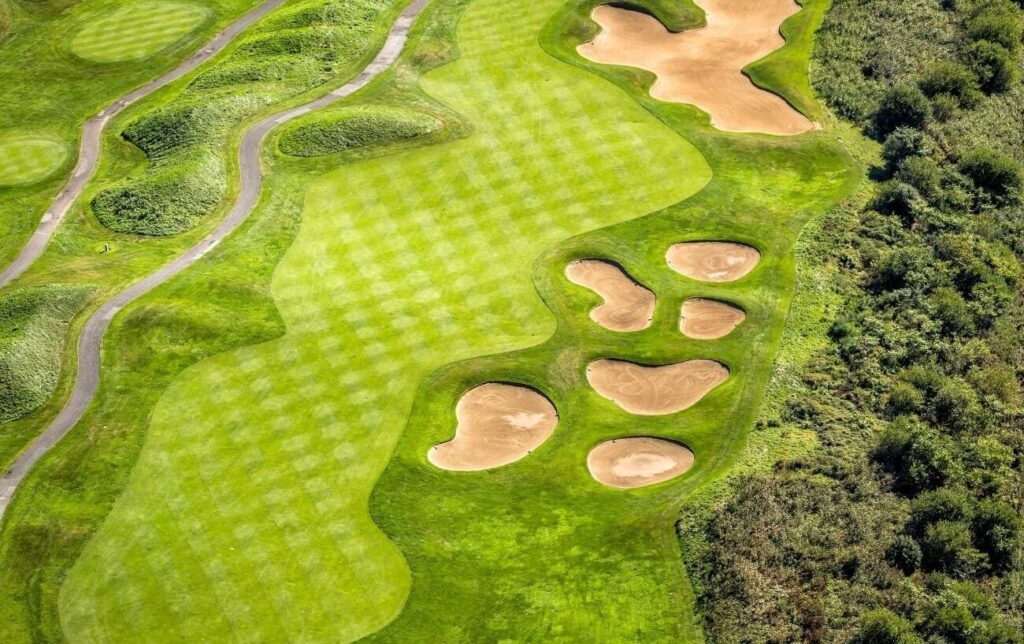 There are two shaft types that normally come in irons – steel and graphite. Steel is much more inexpensive to replace than graphite. But it all depends on the specification and the type of steel shaft, you will need to spend something closer to $20-$80 to reshaft your golf club per shaft. If you wish to reshaft the entire set, it will definitely cost you more than just re-shafting a single golf club. 
Graphic, on the other hand, is much more costly to replace than the steel shaft. It is more expensive because of its extensive manufacturing process and material, and it just is a general reality in the game of golf that graphite shaft is costly. You will be spending something closer to $40-$100 if you want to replace your iron's graphite shaft with a new one. 
Some Other Costs Involved In An Iron Reshaft
You will definitely need to pay for the labor and grip apart from the proof of the shaft itself. You know what is impossible? Trying to save a grip from your former club to a new shaft! Yes, it's impossible. You will definitely need to purchase a new grip to get your club back in the best condition. The new grip is priced anywhere from $8-$15 per grip. 
The labor costs for shafting golf clubs vary and it's determined by the location of the place where you want to have the work down. Surely, you should not be surprised if it costs you more to reshaft your clubs at the local country club repair center than at a small golf club repair shop. It all depends on how many clubs you need re-shafted and the location of the place you want it done, but it should not cost anywhere from $15 to $100 in labor. 
| | |
| --- | --- |
| Can I Do My Golf Clubs Reshafting Myself? | Reshafting with steel irons is normally really straightforward. Nevertheless, to finish this project, you'll certainly need the appropriate space and tools. . |
| How Do I Know What Shaft To Use?  | You should almost certainly demo some clubs in case you believe the golf irons of yours aren't working properly anymore, though you are not sure of what you need to replace them with. |
| Should I Reshaft My Old Club Or Buy A New Set?  | Reshafting a hybrid, or perhaps a driver is a way specific choice from reshafting a set of irons. Honestly, if you add up the expense of reshafting 6 or maybe 7 golf clubs, it may need you to spend from the pocket of yours. |
Can I Do My Golf Clubs Reshaftng Myself? 
Unlike reshafting a driver, you can easily reshaft your golf irons. Reshafting with steel irons is usually pretty straightforward. However, to complete this project, you will definitely need the right tools and space. But it is better you have someone do it for you to skip the stress and cost of setting up a shop with needed equipment. Regripping a set of golf clubs is pretty easy. However, a professional might be needed when replacing the old shaft with the new one correctly. 
How Do I Know What Shaft To Use? 
You should probably demo some clubs if you think your golf irons are not working properly anymore, but you're not certain of what you should replace them with. Try out several shafts in various materials. When you try different shafts in various materials, you should have a good idea of what shaft feels good and what does not feel good. Make sure you start with one club if you're going to replace the whole set of golf shafts. Try to place the new shaft in your seven iron and then try golfing with it for nothing less than two weeks. After trying it out, you should know if it feels good and gives your game the right vibes. If it does, then replace the other shafts too.
Should I Reshaft My Old Club Or Buy A New Set? 
Reshafting a hybrid or a driver is way special decision from reshafting a set of irons. Honestly, when you add up the cost of re-shafting six or seven golf clubs, it might require you to spend out of your pocket. If the hybrid you wish to reshaft isn't gonna worth it for your game, then it's not worth changing it. You should probably consider buying a new set of clubs rather than reshafting it. Another idea here is to look around for a used set of golf clubs with the shaft intact. This will definitely save your time and money. 
Closing Thoughts 
You will find various instances that could warrant the reshafting of your irons of yours. Among the single clubs of may be broken, or you simply feel like the shaft has to be changed since it doesn't work properly any longer. In this post, we're gonna discuss several critical materials about the price of reshafting a golf club, and if it seems sensible for you and your game of yours as a passionate golfer. We've reached the final session of this informative article. We hope you were able to find out the cost of reshafting your golf clubs. Please do not hesitate to contact us with questions or comments about the article topic.
References:
https://outofboundsgolf.com/average-cost-to-reshaft-golf-clubs/
https://golfworkoutprogram.com/cost-to-reshaft-irons/