Last Updated on March 4, 2021 by
While the world of golf is totally influenced by American manufacturing brands, not all of their equipment and clothing are produced in the country. But nevertheless, American manufacturing brands like Ping, Titleist, Warrior Custom Golf, Gigagolf, and Callaway still produce golf clubs in the country. We will know even better in this article. 
We all have heard about European and Japanese golf brands like Scottsdale, Honma, and Mizuno – but what golf clubs are manufactured in the United States of America? 
For the past two decades, millions of golf clubs have been manufactured in different locations overseas and this trend grows continually.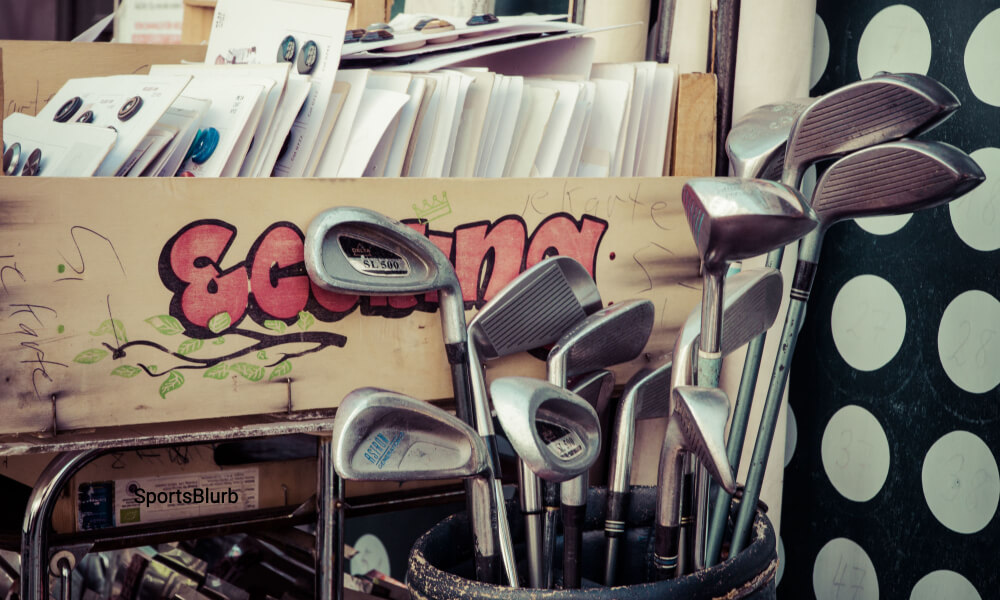 However, It Is Very Important To Identify The Remaining Golf Clubs That Are Proudly Made In America. 
| Golf Club Brands | Location In The United States  |
| --- | --- |
| Ping | Phoenix  |
| Titleist  | Fairhaven, Massachusetts  |
| Sassy Malassy | Philadelphia  |
| Warrior Custom | Irvine, California  |
| GigaGolf | Oldsmar, Florida  |
| Callaway  | California  |
What Golf Clubs Are Made In the USA?
While the world of golf is completely influenced by American manufacturing brands and companies, not all of their equipment and clothing is produced in the country. Most of these companies rearrange the manufacturing processes overseas to reduce costs and abode by some laws and regulations that restrict their production.  It might surprise you that these are even top-tier companies. But for now, we will be talking about all-American brands. Let's take a look at the golf clubs that are made in America;
1. Ping
Ping is one of the leading American golf companies in the world today. They are the only family-owned golf producer and they based in Phoenix, Arizona. Karsten Solheim built the company out of their home garage, which can be traced back to Redwood City. If you were to ask many golfers about the gold clubs made in America, Ping will be the first answers they'll provide. Ping makes their golf clubs locally in the United States, and also have broadened their brands overseas. 
Ping's brands overseas like Vietnam and Japan are run by their international subsidiary. Some of their workers abroad are citizens of the United States, although many of them have already worked in Arizona. 
This is why Ping has gained prestige for retaining extremely enthusiastic and devoted employees. 
Here are some significant all-American products from Ping;
Ping produced pure golf grips and steel shafts that are all made in the United States of America. They manufactured most replacement iron heads with classic design locally in Arizona. Also, their notable Groove for Gorge wedges is proudly produced in America. Furthermore, milled putters like the Anser, Sydney, and Nome are machined from scratch in the United States. Their best-selling G25, G20, G15, and G1 are all made in America. Also, the P53 which is one of their newest models was made from scratch in America. The P53 designer says the model is their finest and strongest golf club yet. He added that the newest model can be customized and modified according to the user's needs. The P53 model was considered as a classic, authentic, American iron. However, one of the brand's major challenges is getting good chrome playing services in the country. Also, since the brand has to obey the laws and regulations of EPA, getting carcinogens and other vital chemicals are more challenging. Nevertheless, Ping has endured remaining a top-notch brand following protocol and laws abiding manufacturing companies in America. 
Where Is Ping Located?
Ping is well-known for its reputable Dolphin foundry, and manufacturing factory located in Phoenix, which is always at the top of the game. From repairing golf clubs and forging irons. 
The Ping manufacturing company has authority all over the United States and overseas. Honestly, the many reason for Ping's sovereignty was that when they started, they usually advertise themselves as local manufacturers. They had manufacturing plants in the state, and all their golf clubs are locally manufactured in United States. But lately, that has changed. Most people are unaware that Ping has moved most of its plants to somewhere else. They still purchase Ping's product thinking they are investing in American economy, but they never it's otherwise. Most of Ping's golf clubs are now manufactured in Asia, mostly Japan, Taiwan, and China. Just few of the major golf club manufacturer still produce golf club shafts and heads in the state, including Ping. 
Although the reason for this is quite simple – it's because it is cheaper for these brands to make their golf clubs somewhere else. Also, employees' wages and salaries are really high in US, so are the costs of the raw materials. Since Titanium is much more costly in the US, manufacturers that use that specific material imports them from other countries like China and Japan. Honestly, all of these materials are less expensive in Japan and China, so we now know why most golf club manufacturers decided to manufacture over there. Bu if we see from the customer's perspective, its not good enough that there are few golf club brands that manufacture their products locally in the United States. Most citizens want to invest in the county's economy by buying locally made golf clubs, but there are few options available to do that. Definitely, there are some golf clubs locally made by unpopular brands, but they are too expensive and are not with the best quality. Their design is compromised and some of them are not reliable and trusted. 
But things are not as bad as it looks. Some golf club brands, like Ping, still assemble their golf clubs here in the US. This is because assembly is considered the most vital processes in golf club production. Ping still hires American citizens to assemble those clubs, so even though it is not as much as they used to, they still help the economy of the United States. 
2. Titleist 
It is an American brand that produces apparel and equipment in the US. Titleist is based in Fairhaven, Massachusetts. You might just be wondering where they make all their golf clubs, Titleist has its own golf club manufacturing factory in Carlsbad, California. They also manufacture their world-renowned golf clubs just close to the headquarters in Bedford, Massachusetts. Titleist' commitment and reputation to manufacture the premium quality golf clubs remain untarnished immaculate because they have highly skilled and experienced craftsmen. Also, they have artisans and engineers that are one of the best around the world. It should not surprise you that Titleist golf clubs are considered immaculate an used by most elite golf players. 
Our list of golf clubs made in the USA would never be complete without adding the Titleist brand. Through the years, this brand has made advancements in its manufacturing technologies and have modified their craft. 
What We Love About Titlest Brand
We loved that Titleist have developed strict manufacturing policies and protocols to abide by the obligatory EPA laws and regulations. The continuously machined top-class golf clubs and other equipment despite facing many challenges in the US. It is quite difficult to differentiate which golf club is made in the United States with the fastest-growing number of brands. But that's the benefit of upcoming local companies, most of these companies are supporting homegrown resources and talent by building their companies in the state. 
3. Sassy Malassy
They are also a popular golf club brand in the United States. They are popular to produce top quality golf clubs at affordable prices. Their manufacturing plant is located in Philadelphia, USA. Also, their putters are designed with made in USA head over and comes at affordable prices. 
4. Warrior Custom 
If you're looking for a premium quality golf club that is built to stand the test of time, then Warrior Custom products should be the best choice for you. This brand was established to manufacture, develop, and market custom golf clubs for elite golfers around the world. Their headquarters is located in Irvine, California. Warrior Custom is a proudly all-American golf club manufacturer, with over one million product sold worldwide. 
5. GigaGolf 
GigaGolf are reliable and trusted golf club brands in the United States. With over 20 years of experience in producing high quality golf clubs, they have maintained their reputation for designing and building top-tier golf clubs for golfers around the world. Their innovative edit system helps to build golfers clubs perfectly no matter their age and ability level. GigaGolf manufacturing plant is located in West of Tampa, Florida. Their headquarters is right in Oldsmar, Florida.
6. Callaway 
Callaway is another prominent and well-known manufacturer of top quality golf clubs in the United States of America. They are popular for producing high-quality clubs that elite and top professional golfers use. If you're looking for something more reliable to buy as a golfer, why don't you consider Callaway today! They have been around for so long and they have not for once disappointed their customers.  They used to have many manufacturing plants in the states and their headquarters is located here in California, United States. Not until 2010 when they moved most of their manufacturing plants to Mexico to reduce their expenses and make huge gains on their golf clubs. Most American citizens are huge fans of Callaway products, especially its Big Bertha line with up to standard and exceptional qualities. But some citizens were broken-hearted when they figured out that Callaway cares more about profits rather than the economy of the country. 
Conclusion 
With over forty-five million golf clubs sold worldwide annually, most of these golf clubs are produced in Asia countries like China, Japan, and Vietnam as well as Taiwan. But there are still some that are proudly American-made. We hope you now know the golf clubs that are made in the USA.