Last Updated on March 21, 2022 by
There are a plethora of websites that exist on the web where you can shop cheap golf clubs set aside on craigslist. For obvious reasons craigslist has towered above another website (even eBay) as the most preferred site to shop but another myriad site still exist that sell just as cheap or little below what craigslist offer. 
Purchasing a new golf club is not always best if you are either a millennial golfer or new to golf. Owing a golf club means that you are serious about the game of the game and have either of these intentions. You want to play golf professionally as a sport and hope to challenge the records of veterans such as Tiger Woods or you want to play golf for relaxation and prestige that is associated with the clubhouse you want to join and the game ultimately.
Regardless of your reason, when you fully decide to own a golf club, the next question is the cheapest site available for you to procure a club of top-shelf quality and affordable (if possible cheap) price.
eBay
This is obvious as eBay has been labeled as the largest online marketplace to buy and sell. eBay provides a wide range of products and features pretty much anything. One disadvantage of eBay is the huge fees associated with selling and buying clubs. More so, eBay often has a high cost for shopping. eBay features over 400,000 used golf clubs and a few of these might just suit your golf need.
Globalgolf.com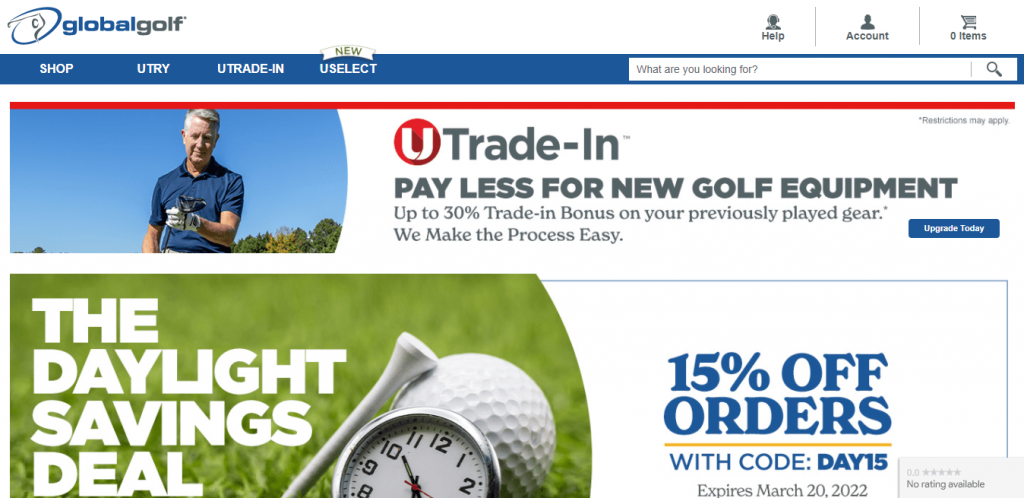 Globagolf.com features a solid resource for clubs.  Their stock and inventory are great with claims of stocking about 125,000 golf clubs for sale and always ready for shipping. Their flat shipping cost is always great. However, their website appears as though their stocks are filled with an older model which suggests they bought from the manufacturer and not a good club at a premium price.
3balls.com
Obviously, it does not sound like a golf site but it actually it. 3balls.com has a wide selection of used clubs. In 2017, their advert claims that they have over 40,000 golf clubs for sale. The beauty of the site is its easy navigation and coupons that help you save a few bucks.
Local public golf courses 
Many golf courses, especially public courses always have an old set of clubs for sale. The chances are higher if the golf course does club repairs or has a driving range.
Golf retailer Stores 
Golf retail stores are gradually going out of business but a handful still operates. You can procure a golf club at any retailer in your vicinity. You should also be informed that most clubs at the retailers have probably been used at test clubs (also called "demo clubs")
Sideline Swap Side
Sideline Swap is a new company in the use golf club business. Though new, customers have tagged them to be the "eBay of sporting equipment" because they offer a wide range of sporting equipment.
PlayitAgain Sports
It seemed as though this company went under, although its franchise may be plummeting in the local market, however, this company still exists has a great website that you can easily find used golf clubs. Their inventory provides a robust selection of clubs with a fair deal on shipping costs.
GolfWRX Buy And Sell
GolfWRX has a forum where users can sell and buy golfing equipment such as clubs from one another.
2ndswing.com
2ndswing.com is known for it beautiful website, but without a robust inventory to match (at least not as robust as globalgolf.com, 3balls.com or eBay). Their inventory is fair and provide a range of golf club for sale and offer a fair cost on shipping.
Frequently Asked Questions
What is the average cost of golf clubs?
The cost of golf clubs is not fixed. The new clubs are more expensive than they used ones. The new clubs can be within $250 -$1,000 depending on whether you're playing professional or intermediate or you're procuring a female club. The used club is quite cheaper as you can get within £5 -£325 on eBay
New or used golf clubs which is better?
Depending on your intention. If you need a club to practice golf at a public course. It might be rational to get the used club but if you want to play golf professionally either as a sport or relaxation then it's better to a new club within your budget.
Which site is the cheapest golf club?
We cannot categorically state that a site offers the cheapest golf since it's not the site but users that post an advert and accrue a price tag to it. However, it's best to visit site with a wide range of inventory as a greater chance exists that you'll find a "cheap" club therein.
Which offers free shipping?
All websites offer shipping costs and others don't depend on your location of residence. If your residence if close to their contact office, you might get free shipping or a "next-to-nothing" fee but if your residence is sited in another county or province a standardized shipping fee might be attached.
Which site offers a wide range of golf clubs?
Quite a lot of website has been known to offer their customer a wide range of golf clubs thus increasing the possibility of purchase and traffic to the site. These sites include but are not restricted to Globalgolf.com, 3balls.com, or eBay)
Conclusion
Craigslist no doubt is the go-to for new or used items online such as golf clubs but there is other great websites that provide just the same (if not more) offer. Other sites also provide a wider range of inventory, easy to navigate website, cheaper stock, and cheap (even free delivery). The next time you are in need of a golf club (or know someone who does) check out one or more sites mentioned above and you'll be sure to see clubs that suit your golfing need.