Last Updated on May 6, 2022 by Jim Kein Kein
In simple terms, a blackout football game is an NFL home game that is not televised on local television due to a lack of tickets sold out before kick-off. The black-out policy is designed to encourage the physical attendance of fans in the stadiums during NFL matches and ultimately generate more revenues from ticket sales. For several reasons, football fans might decide to watch NFL games on television in the comfort of their respective homes as opposed to buying tickets and seeing the games live in the stadium. 
For several decades, the blackout rule has been embraced the NFL to ensure massive turnout of football fans in the stadiums as a means to facilitate ticket sold out. For various reasons ranging from the cost implications of attending an NFL game to fans displeasure at their respective teams performances, a larger percentage of football fans prefers to watch the games from home on live television rather than going to the stadiums. 
Fans whose team is on a strong run of consecutive wins will probably attend all games in the stadium out of passion and encouragement while teams suffering from a poor run of results will likely experience low turnouts of fans in stadiums during games. Some NFL teams have a loyal fan base who attends games regardless of the team's performances but getting massive ticket sales for teams to generate revenue is the utmost concern of the NFL. In an attempt to persuade fans to attend NFL games which would lead to gaining revenue from ticket sales, all games that are not sold out within 72 hours ahead of the kickoff will not be televised locally.
Further in this article, the subjectivity of the blackout policy in the NFL has raised a few eyebrows among football fans who felt the rule is a subtle attempt to force football fans to attend games. When was the blackout policy enacted? Is the rule still effective in the NFL? Answers to this and more will be looked into in detail as we continue this write-up. Let's proceed!
What is really a blackout in a football game?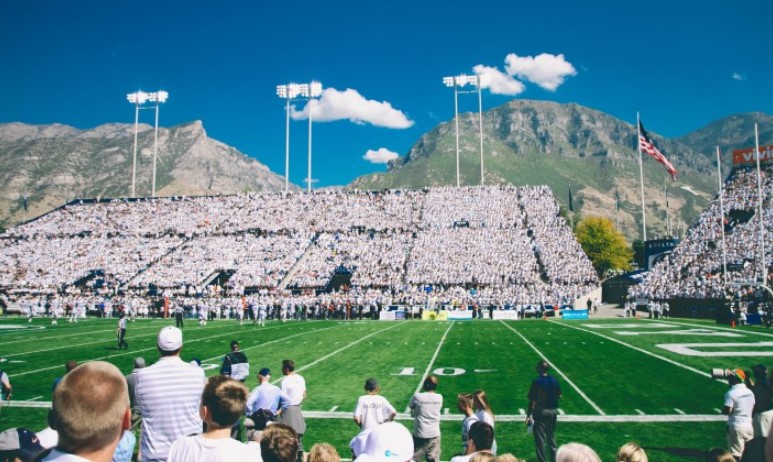 A blackout football game is a game that is not televised or broadcasted by the television programmers or stations in a particular area due to contractual obligations. A blackout occurs majorly when teams failed to fill up the stadiums with enough audience. Teams that constantly sell out tickets and usually have a massive turnout of fans attendance in games don't have blackout issues and their games are aired in their local television for fans to in the comfort of their homes. 
Historically, the NFL has experienced a decline in fans turnouts at the stadiums during games with the  lowest average attendance recorded in 1998 and 2011. This occurrence is linked to the fact that a large percentage of football fans prefers to watch NFL games on TV rather than attending the games in stadiums. This move has an adverse effect on ticket sales which is a necessary avenue to generate revenue for team's sustainability. 
As a means to tackle this challenges, the NFL enacted a rule which prohibits teams from airing football games that is not sold out in 72 hours ahead of kickoff. In a broad term, blackout football game is an NFL match that is not televised locally for fans to watch at home due to lack of sell out, particularly within 72 hours before the kickoff.
Why does NFL impose blackouts policy?
In general terms, all NFL teams earn a substantial revenue from ticket sales. Although they make profits from TV contracts which covers its basic expenses, revenue gained from gate receipts contributes a great deal to the sustainable development and smooth running of the teams in NFL. In reality, tickets sales revenue can only be achieved by massive turnout of fans during games physically at stadiums. However, there are fears that football fans will prefer to watch games on television rather than attending stadiums for several reasons. 
The blackout policy was put in place to encourage stadium attendance by fans which will ultimately lead to sold-out tickets. In addition to that, it is a designed rule to discourage fans from waiting around hoping tickets will be sold out before games. By NFL rules, It is required that 85% of tickets for a particular match must be sold out to avoid a blackout. However, a blackout will be lifted and the game with be televised if the game's ticket is sold out within 72 hours of the start of the contest.
When did the blackout policy start in football?
The establishment of black out policy can be traced back to the 1950s but gained more credence from 1973 to 2014. Through this period, the NFL maintain this policy on all home games. As a rule, all teams without an 85% ticket sales within 72 hours before kick off will not be aired on TV locally for fans to watch in the comfort of their homes.
Is the blackout policy still effective in football?
No! The NFL officially droped the blackout rule in 2014, ahead of the 2015 season. This decision was unanimously made after a voting process involving all NFL clubs.
FAQs
We have a complied list of frequently asked questions on what blackout football game is all about. Let's have a look at them!
Why does the NFL care so much about the blackout rule?
Simply to generate revenue from ticket sales! Fans watching from home rather than buying tickets will lead to a potential revenue loss for NFL teams.
Does the NFL have blackouts? 
NFL is the only league that impose such policy on all its clubs throughout the United States. However, the policy has been suspended in the NFL since 2015.
Can I watch a blackout game?
It is possible! Several TV platforms like ESPN allows viewers access to watch live and replay of blackout games.
Final words 
We have come to the end of this informative article and we hope this write-up has provided enough resources in your quest to know the meaning of blackouts in football. Kindly reach out to us via the comment section for more questions. Thanks!