Last Updated on February 7, 2021 by
You're probably spending out of your pocket if you're not shopping around when booking your golf tee times. Rather than calling a course directly, you'll find a great deal with so many golf deal sites out there today. Most golf booking sites have high prices, but you don't necessarily need to break the bank to get yourself one of the best golf booking sites. After extensive research, we've compiled a list of the best golf booking sites to help you choose the right golf booking site. That's not all, we've also compiled a list of the things to look out for before making a deal with these golf booking sites. Without wasting time, let's hit the review! 
5 Best Golf Booking Sites Reviews 
1. Golf Now (Deal Caddy) 

If you're talking about the clear leader in the golf booking sites field, the Golf Now should never be undermined. For people living in Central Florida, the Golf Now booking site offers you tee times at a discounted price. Furthermore, the site delivers prepaid tee times at steep discounts and "hot deals" are its best bargain. If you frequently book on this site as a golf player, you'll be rewarded immensely. That is, after booking 10 rounds, you may receive your first reward which may include discounts on hot deals, discounted tee times, and reward cards for manufacturers. 
For you to get emails from Golf Now's Groupon-type site Deal Caddy, ensure you sign up successfully. We loved that this booking site offers great bargains at some of the highly ranked courses in America. Many of these bargains include discounted drinks, a meal, and range balls. To avoid paying extra money every weekend, make sure you take advantage of these great deals in the winter. 
The only downside is that Golf Now charges a $2.49 fee per golfer, which considered a high price when compared to their competitors. The site used to waive online fees for the rest of the year after a certain number of reservations. However, that policy was discontinued back in 2015. 
2. Group Golfer 
After much examination on this site, we discovered that it was created similarly to Deal Caddy. If you're a golfer looking for a Groupon-like-site, you'll never regret choosing the Group Golfer. There's something interesting about this site. If enough people buy the deal offered by this booking site, it is automatically activated but if not, the deal is off and no one will be charged at all. Sounds nice? Just like the Deal Caddy, Group Golfer offers so many deals. If you wish to see a lot of deals you'll like to jump on, then you should sign up for the emails. One thing about this site is that it doesn't offer a tee time booking service. 
3. Golf18Network.com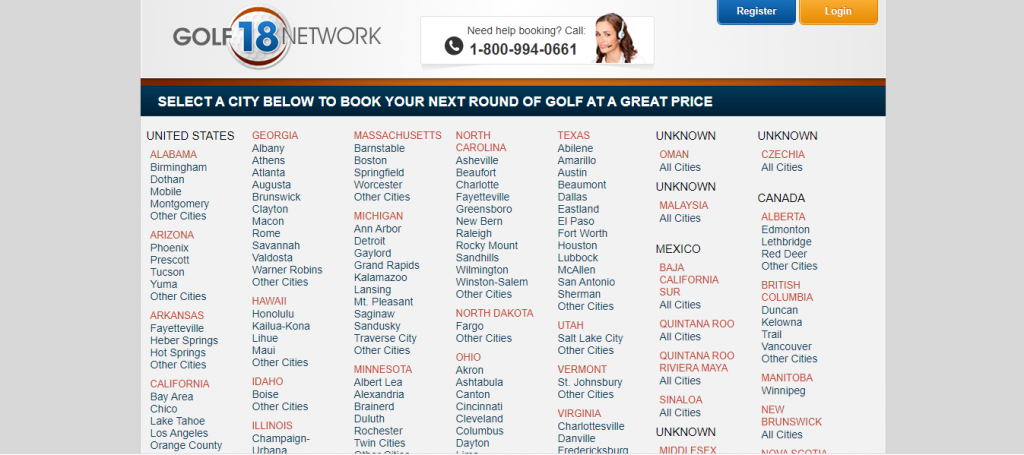 There are similarities between this site and Golf now, but the only difference is that Golf18Network.com has fewer courses. In terms of rewards, Golf18Network.com is much better. You should probably check it out if you're a golfer that books a lot of rounds. One thing we loved about this site is that it gives $15 credit rewards to you after booking your first five rounds and it also increases from there. Furthermore, your fees will be waived for the rest of the year after booking 10 rounds. We were surprised to find out that your fees are waived for a lifetime with a $150 credit after 50 rounds booked. Also, we loved that Golf18Network.com charges $1.95 per golfer which is considered inexpensive. 
4. Groupon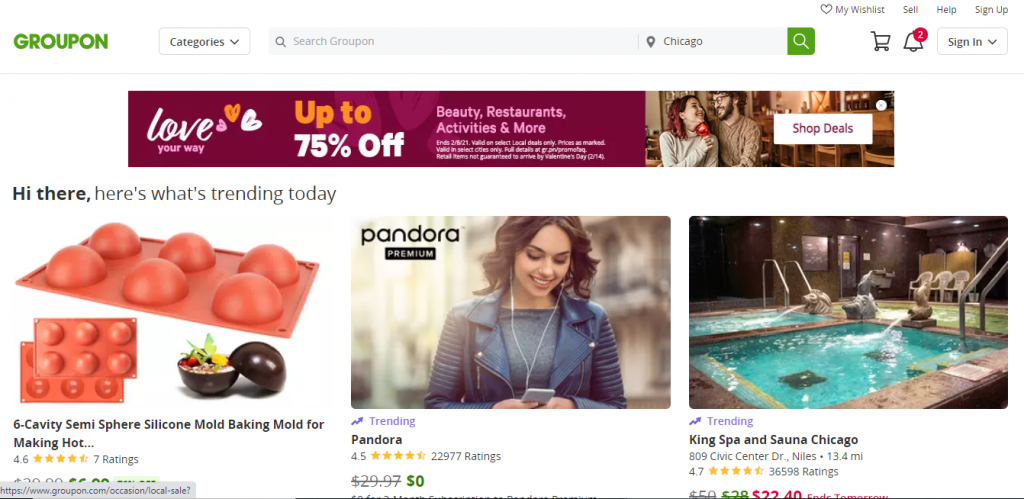 Even if you can't compare the actual golf deals of this site to that of the Group Golfer and Deal Caddy, Groupon still offers good deals on golf lessons. 
5. TeeOff.com

This golf booking site is formerly known as EZlinks.com. Firstly, we loved that this site is strictly a tee time booking site. The truth is that this site's normal tee times are generally costlier than booking on Golf Now. But we noticed there are some fantastic deals that are available only in the early morning or afternoon. TeeOff.com charges a $1.99 booking fee per golfer.
Things To Look Out For Before Making A Deal With Golf Booking Sites 
Early planning helps to make your time on golf courses enjoyable, that's why we've gone the extra mile to make a guide that will help you decide on which golf booking site to visit. There are a few factors that need to be considered to help you choose the best golf booking sites. 
1. Budget 
The budget is one of the factors that you need to consider before making a deal with any golf booking sites. Like we all know that a great plan starts with a decent working budget. Make sure you set a budget at the beginning of your planning. It is important that you plan your golf booking choices around this budget choosing the best sites. Furthermore, You should check out for great deals and bargains when choosing a golf booking site.  
2. Period Of Your Stay
Here's another factor you have to consider when choosing a golf booking site. Considering your period of stay on the golf course will not only help to stay within budget but will also help organize all the necessary activities you'd love to do. Furthermore, knowing how long you'll be staying can also help you get special discounts and packages. 
3. Check The Facilities
Before making a deal with any golf booking site, you should be sure that the golf resort/course is of great quality and is worthy of every penny you want to pay. Ensure that the facilities are readily available and are in good condition. Look out for other amenities like a restaurant, spa, and swimming pool that you may require. You're advised to check the reviews of the booking site you'd love to make a deal with. 
Closing Thoughts – Wrapping It Up! 
There are numerous golf booking sites in the world today, but choosing the one with high-quality deals and bargains is not an easy task. But with the help of this article, we hope you were able to choose one out of the list of the best golf booking sites. Do not hesitate to contact us with any questions or comments. Thanks!